PaulaG (Paula Grubbs)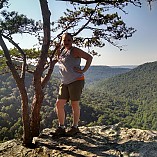 I am a:
46-year-old backpacker
Location
: Knoxville, TN
Occupation:
Possum Trainer
Activities
I'm a ultralight backpacker. I back country backpack year round with a hammock.
I've been hiking for years. Past couple of years I've gone full ultralight. That's the only way to go in my opinion.
Gear Reviews (6)
Forum Posts