Paula Johanson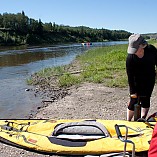 I am a:
kayaker
Occupation:
Writer
Website:
http://paulajohanson.blogspot.ca
Affiliations: I've written 34 books on science, health, or literature for two educational publishers. With my paddling friends, I've been writing on our blog Kayak Yak for years. I also post on the Advanced Elements community forum. Because of my enthusiasm for my first Advanced Elements kayak, the company gave me two other models to write about. I am now one of their Ambassadors with a new Lagoon kayak and three new gear bags to use and review.
Activities
Hiking
Snowshoeing
Kayaking
Fishing

Biking
crafts
gardening

Vitals
| | |
| --- | --- |
| Height | 5'1" |
| Boot/Shoe Size | Ladies 6 or Boys 5 |
I love paddling my kayaks! Most often I use a folding inflatable as I paddle in sheltered waters, and the Necky Eliza sea kayak is for paddling with friends. Paddling in the Discovery Islands, and a solo river camping trip on the Red Deer River have been the highlights of the last ten years! The loss of much of my hearing and sense of balance means hiking and paddling are helpful therapy as well as fun. At home I like to ride my upright tricycle around town, and I'm saving up to buy a recumbent tricycle.
Gear Reviews (19)
Forums
Paula Johanson has participated in 1 discussion. View all »