Pika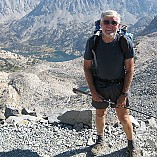 I am a:
84-year-old mountaineer
Location
: Rural SE, AZ
Occupation:
Retired scientist
Activities
Backpacking
Mountaineering

Canyoneering

Vitals
| | |
| --- | --- |
| Height | 5' 9" |
| Weight | 160 |
| Torso Length | 17 |
| Boot/Shoe Size | 11.5 |
| Jacket/Shirt Size | L |
| Pant Size | 34/30 |
I am a retired university scientist living in the rural Sonoran Desert of SE Arizona. I started backpacking in 1946 and climbing in 1952. I have hiked and climbed in the western US, western Canada, Alaska, Antarctica, Japan and North Africa (Morocco). I have climbed most of the major peaks in Washington, Oregon and California and some of the major peaks of Alaska and western Canada. My climbing is much less ambitious now; my hands are arthritic and easily prone to cold damage. I through-hiked the John Muir Trail, solo, in early September of 2008 while in my early 70's. This was a reprise of a solo through-hike of the JMT in 1954 when I was a teenager. This past summer at age 75 (2012) I hiked the PCT from Kennedy Meadows to Vidette Meadow averaging 12 miles per day.  I have section-hiked a fair stretch of the PCT; I still have major blanks in southern and northern California.
Gear Reviews (2)
Forums
Pika has started 3 forum threads (including 1 trip report) and participated in 31 discussions. View all »