Pilgrim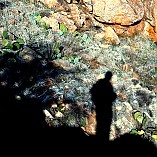 I am a:
41-year-old hiker
Location
: Kansas City, MO
Occupation:
Environmental Technician
Website:
http://pilgrimandastranger.blogspot.com
Activities
Hiking
Backpacking
Snowshoeing

Trail running
Canoeing
Fishing

Vitals
| | |
| --- | --- |
| Height | 6'0" |
| Weight | 200 |
| Torso Length | 18-20 |
| Boot/Shoe Size | 12 |
| Jacket/Shirt Size | XL |
| Pant Size | 40 |
I love the outdoors, for all the beauty and terror and wonder and joy and pain that it forces us to face. It's a big, marvelous sign, pointing away from itself, toward its Lord and Maker, calling us to humble ourselves before Him, and leading us to the more perfect revelation of His person, Jesus the Word.
A Waorani Indian named Mincaye, a native of Amazonian Ecuador, said, "How can a man walk God's trail if he doesn't see God's carvings?"
God's carvings, like Psalm 95, blaze the trail for us, so we can walk in the Way and rightly hear what nature has to say.
For the LORD is a great God,
and a great King above all gods.
In his hand are the depths of the earth;
the heights of the mountains are his also.
The sea is his, for he made it,
and his hands formed the dry land....
Today, if you hear his voice,
do not harden your hearts....
Gear Reviews (6)
Forums
Pilgrim has started 6 forum threads and participated in 7 discussions. View all »