pillowthread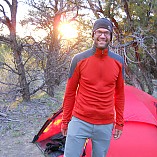 I am a:
40-year-old backpacker
Location
: United States
Occupation:
Forestry Technician/Wildland Firefighter
Activities
Hiking
Backpacking
Snowshoeing
Trail running
Orienteering
Mountaineering
Ice climbing

Rock climbing
Canoeing
Kayaking
Mountain biking
Cyclocross!
Masochism?

Vitals
| | |
| --- | --- |
| Height | 6'2" |
| Weight | 170 |
| Torso Length | 20" |
| Boot/Shoe Size | 12 |
| Jacket/Shirt Size | M |
| Pant Size | 31/32 |
I am very honored to be a member of the Trailspace community; this website hosts some of the most passionate, knowledgeable persons I know. I am truly fortunate to be in the same room as these folks. For myself, I've been hiking and backpacking for longer than I can remember. If there is something I can offer to the community, I try to make it as valuable as possible, if only because I do not spend much time writing. Otherwise, I glean what I can from my peers. I have much to learn.
I grew up in various southern suburbs of Chicago, climbing in trees and digging up worms. I spent a decade or so in the Scouts, did a stint in the military, and eventually settled into the field of Resource Management, acquiring a degree in Forestry from Southern Illinois. During this time I was fortunate enough to be able to hike the River to River Trail: a 160-mile path wending through the Shawnee National Forest and its surrounding fields. One end is at the Ohio River, and the other at the Mississippi, and it effectively "cuts off" the bottom tip of Illinois. It's a beautiful trail, if sparsely marked. Tracing through the best of the Shawnee Hills, the trail offers myriad opportunities which allow one to take a very light pack.
I love to spend time in the Upper Peninsula of Michigan...And I'm there right now! I've Kayaked the Pictured Rocks National Lakeshore, and love spending time in the Porcupine Mountains; with Hemlocks some 180' tall and 3' in diameter, there really is much at which to marvel in the Porkies. It remains the most beautiful length of woods through which I've ever had the pleasure to walk.
I took a week-long mountaineering course in Washington's North Cascades through Outward Bound, which covered rudimentary roped travel and mountain ambulation techniques. We had two great guides, and were lucky enough to have the regional director along as well, himself an accomplished mountain guide. Spent a week at treeline, getting basic instruction in anchor building, knots, and actual climbing. We got 5 inches of snow in a two-day period, in early September; snowflakes like drink coasters. We had a bunch of fun in the good ol' Black Diamond 'mids. It was a blast.
I recently finished a year with the BLM in the Grand Valley of Western Colorado. I served as a Park Ranger, monitoring some 1,500,000 acres of canyons, cliffs, and mountains. I'd put the beauty of Unaweep Canyon up against any National Park out there...
I just wrapped up a stint as a Forestry Technician for the Shawnee National Forest--a "Forest Ranger" if you will. Any given day might've seen me at Garden of the Gods, Jackson Falls, or Lusk Creek...or all three...
I've been climbing for a while, and definitely have a love for sandstone. I'm a certified Wilderness First Responder and Leave No Trace Master Educator. In my personal pursuits I've spent more nights out under the stars than I can count. Simply put, I love a good walk. I have limited technical mountaineering experience, but am comfortable with an ice axe and crampons. I have extensive extreme weather conditions experience resultant from both my military training and personal endeavors. I wouldn't be angry if I became a professional mountain guide or SAR operator.
Gear Reviews (32)
Forums
pillowthread has started 129 forum threads (including 3 trip reports) and participated in 855 discussions. View all »