Redbeeerd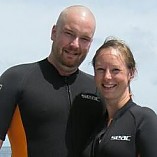 I am a:
fisherman
Occupation:
Architect student
Activities
Hiking
Backpacking

Fishing

Vitals
| | |
| --- | --- |
| Height | 187 cm |
| Weight | 115kg |
| Boot/Shoe Size | 43 |
| Jacket/Shirt Size | XL |
| Pant Size | XL |
I am a 30-something architect student who dreams of leaving the city (Stockholm) behind to live out there instead of in the middle of things. I have been an outdoors person since I started walking, and I think it is what has made me into the confident  and self reliant person that I am.
I am a generalist when it comes to the outdoors, although fly fishing is probably what I would answer most of the times when asked about interests. There is something magical with flowing water, and the grace and feel of the fly line as it flows out over the surface is hard to describe if you have not experienced it.
As we own a cabin in Åre, Sweden's foremost skiing resort, thers is naturally a lot of hiking and skiing as well. 
Gear Reviews (1)