redpatch5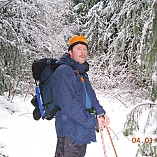 Full Name: private
man
B.C.
Email: private

Gear Reviews
redpatch5 hasn't written any gear reviews.
About
Live South of the North Pole, and West of almost every thing. Born after the Dinosaurs died and when the Dirt was almost still new. I am always happy to be outdoors. Either on land or on the water. As I live on an Island that helps a lot.
The new picture shows me hiking the Loss Creek area 04 Jan 2009. There are worse ways to spend ones time.
Activities
Hiking
Backpacking
Snowshoeing

Canoeing
Fishing