Rick-Pittsburgh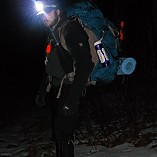 I am a:
45-year-old backpacker
Location
: Meandering Aimlessly
Occupation:
Adrenaline Junkie/Part Time Professional Crash Test Dummy/Jack of All Trades, Master of None... Oh, and I am a ridge runner on the LHHT. (My "occupation" has to do with industrial & commercial construction.)
Activities
Hiking
Backpacking
Snowshoeing
Canoeing

Kayaking
Mountain biking
Fishing
Hanging out on Mons Agnes/Ina Caldera

Vitals
| | |
| --- | --- |
| Height | 5' 10" |
| Weight | 215lbs. |
| Torso Length | 18.5"(although I think I am shrinking.) |
| Boot/Shoe Size | 46.5/47(Euro) 12.5/13(US) |
| Jacket/Shirt Size | L/XL(dependent upon manufacturer and layering needs) |
| Pant Size | 34-36(dependent upon manufacturer and layering needs) |
I spend more time in the outdoors than I do in(or at least I make my best attempt to do so.)  I have been playing around in backcountry settings all of my life in all seasons and have made mistakes over the years as to what works and what doesn't...
My shoulders/back hurt because I didn't distribute the load in my pack right, I froze my tail off because I was sweating in sub zero temps, I've had ground beef for feet because I thought I knew how to fit boots, and a whole slew of other things that I don't wish on anyone. I have learned alot over the many years that I have been meandering around in the backcountry; at the same time I don't know everything(I become ever so increasingly aware of this as time goes on... Thanks to my loving wife. :)
I am sure I can learn quite a bit here and at the same time I hope to give some useful info back. If I can offer any type of insight pertaining to a subject I will, if the subject of discussion is something I have little or no experience with I will just sit back and watch the replies from other Trailspace members. The info could quite possibly be beneficial to me as well.  
One can never have "too much" knowledge. 
A few favorite quotes:
"Climb the mountains and get their good tidings. Nature's peace will flow into you as sunshine flows into trees. The winds will blow their own freshness into you, and the storms their energy, while cares will drop away from you like the leaves of Autumn."
      -John Muir 
"Yesterday I was clever, so I wanted to change the world.
      Today I am wise, so I am changing myself."
      -Rumi
"The worst form of failure is the failure to try." 
      -unknown
"Our task must be to free ourselves... by widening our circle of compassion to embrace all living creatures and the whole of nature and it's beauty."





― Albert Einstein



Gear Reviews (18)
Forums
Rick-Pittsburgh has started 164 forum threads (including 9 trip reports) and participated in 1,542 discussions. View all »