Rob R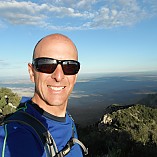 I am a:
hiker
Location
: North, TX
Occupation:
Civil Service
Affiliations: No other relations
Activities
Hiking
Backpacking
Snowshoeing
Trail running

Rock climbing
Geocacheing
Mountain biking
Fishing

Vitals
| | |
| --- | --- |
| Height | 6 ft |
| Weight | 188lbs |
| Torso Length | 18.5 |
| Boot/Shoe Size | 11.5 |
| Jacket/Shirt Size | large |
| Pant Size | Large or 34 to 36 |
I was born in NJ and lived in Lodi until I went into the Air Force in 1987. After going overseas, I was stationed in the Nation's outdoor playground for 12 years, Colorado. I lived there (Denver) for 12 years taking part in some of the country's best fishing, skiing, mountain biking, camping, hiking and off roading. I also returned to civilian status in 1999 but stayed in the reserves. 911 occurred and I went to active status again. I was stationed in Texas and remain here to this day. I have since retired from military service but I retained alot of the "outdoor skills" I learned during my enlistment. These days, the areas of west Texas, southwest Oklahoma and the mountains of NM have become the playground. My wife and I are fortunate to be able to afford a 2nd home in NM very close to a wilderness area and this makes it easy for me to plan and execute my "objectives".
Gear Reviews (19)
Forums
Rob R has started 45 forum threads (including 14 trip reports) and participated in 574 discussions. View all »