ronrude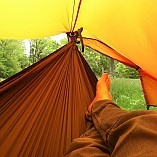 I am a:
backpacker
Location
: Iowa
Occupation:
Field Service Engineer
Activities
Backpacking
Motorcycling

BBQ


Vitals
| | |
| --- | --- |
| Height | 6' |
| Boot/Shoe Size | 13 1/2 |
As a boyscout, camping most of my youth around Eastern ND and Western MN when time allowed, I caught the camping bug.  
Spring Break in 1984 was canoeing in the BWCA for 8 days, and 1985 backpacking the Hetch Hetchy in Yosemite for 11 days
Now in my 50's and years of back pain eliminated in the last 8 months, my goal is to get back to backpacking.  Back pain kept me from walking more than a block for 20 years.  My cure was stopping statin cholesterol medication. 
For the last few years I have been messing with alcohol stoves and collected different cook pots.  Purchased and built.  With the pain gone, it is time to hit the treadmill and the trail and get myself back into some backpacking.  I'm working toward gearing up for ultralight to super ultralight.  Starting low cost and adding quality over time as needed.  
Gear Reviews (10)
Forums
ronrude has participated in 6 discussions. View all »