Rory B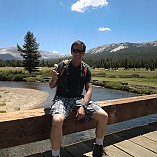 I am a:
backpacker
Location
: Orange County, CA
Occupation:
IT
Activities
Hiking
Backpacking

Fishing

Vitals
| | |
| --- | --- |
| Height | 5' 10" |
| Weight | 170 |
| Boot/Shoe Size | 9.5 |
| Pant Size | 32 32 |
I've been a lifelong backpacker. Started as a scout in the southern Sierra's and deserts, but did most of my early serious trips in Germany and France when I was in the army. When I came back to the States I went back into every part of the Sierra's and the southern Cascades. I did my first PCT hike in 1978!  I've got three kids, and I brought them all into the wild and we still do a major trip every year or two.  In 2020 we're heading into the Trinity Alps for a couple of weeks.  I spent some time up there alone many years ago and am looking forward to revisiting the place again.  
Gear Reviews (1)