Rowdy Yates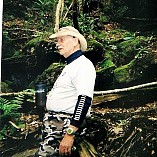 I am a:
81-year-old backpacker
Location
: Moss, TN
Occupation:
Methodist Evangelist
Activities
Vitals
| | |
| --- | --- |
| Height | 5' 8" |
| Weight | 196 |
| Torso Length | 19 |
| Boot/Shoe Size | 8 |
| Jacket/Shirt Size | 42 |
| Pant Size | 38 |
I am an avid Hiker/Backpacker and have section hiked approximately 740 miles of The Appalachian Trail. I have modified my gear and gone ultralight. My pack, with all gear (less food & water), now weighs in at approx. 25 lbs. In July of 2009 I attempted to close the section from Dennis Cove Road to Damascus. It rained, no it poured, every day but one. On our next to the last day of hiking, again in pouring rain, I turned my left ankle and took a tumble of about 20 feet down the side of a mountain. I twisted my back, bruised my left hip and sprung my left shoulder & wrist. I stopped at US 431, 15 miles short of my destination. Due to arthritis in both of my knees I can no longer hike, so I have had give up my dream of completing the A.T. I still have hundreds of memories that remain so I reckon I can live with that.
Gear Reviews (5)
Forums
Rowdy Yates has started 13 forum threads and participated in 25 discussions. View all »