Samantha (Samantha 2)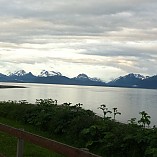 I am a:
42-year-old hiker
Location
: Anchorage, AK
Occupation:
Paralegal
Affiliations: Nope. I have to pay for my stuff.
Activities
Hiking
Backpacking

Kayaking
Fishing

Vitals
| | |
| --- | --- |
| Height | 5' 7" |
| Weight | 160 |
| Boot/Shoe Size | 8.5 |
| Jacket/Shirt Size | L |
| Pant Size | 12 |
I mostly do day hikes and camping, most of the time in the company of my two dogs.  I love exploring Alaska, and I look forward to doing as much as possible with the rest of the world.  I believe in buying good gear right away instead of buying inferior stuff and replacing it every year.  The hard part is not going overboard.  
I also note that I have very sensitive skin, so my reviews may be geared towards that. I can wear leather and silk, but not wool, cashmere, angora, or any type of fur.  I also have to be studious about what detergents I use on my gear.  Trust me, you do not want to see the hives I break out in.
Gear Reviews (2)