Shari Galiardi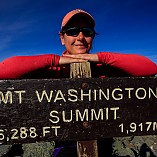 I am a:
51-year-old
Location
: Suttons Bay, MI
Occupation:
Educator / Photographer
Website:
http://freedominacan.com
Affiliations: As a member of TheDyrt's Ranger gear review program, I occasionally receive free products to test in exchange for reviews.
Activities
Hiking
Backpacking
Snowshoeing

Kayaking
Sailing

I am an outdoor educator, naturalist, photographer, traveler, and all-round nature nerd.  I continue to be inspired and amazed by the landscapes and wildlife of our shared public resources.  
My husband and I have spent the last 5 years living in our tiny traveling home, while exploring, working and volunteering across the country.  You can find our stories, images, or invite us to do a public speaking engagement for your group at freedominacan.com. We love to share what we discovered about ourselves, our relationship, and our country when we downsized our life to 72 square feet.  
Gear Reviews (12)