shashiraj8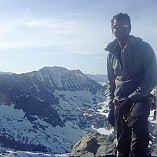 I am a:
37-year-old rock climber
Location
: Columbus, IN
Activities
Hiking
Backpacking

Mountaineering
Rock climbing

Vitals
| | |
| --- | --- |
| Height | 5' 7" |
| Weight | 145 |
| Boot/Shoe Size | 9 |
| Jacket/Shirt Size | S |
| Pant Size | S |
I was born and brought up in India and came to US in 2008 for my MBA at Vanderbilt University in Nashville, TN
I started rock climbing in 2009, by going out on trips with Vanderbilt Outdoor Rec group. In May of 2010 did a 12 day mountaineering course with American Alpine Institute and was humbled by the experience. I was not prepared for this course. Although, I used to do the strength training classes and climb regularly, I didn't have the physical and mental fitness for mountaineering. The first day of the climb to first camp on Mt. Baker was the worst experience, rest of the days was not so bad. In this course we climbed Mt. Baker (10,781 feet), Ruth Mountain (7115 feet) , South Early Winter Spire (7807 feet) and did some multi pitch rock climbing in Mazama area.
Next year in 2011, I put in more efforts into training and joined the Vanderbilt Outdoor Rec group on a trip to High Sierra. We camped at Third Lake and climbed Temple Crag (13,000 ft). We also spent couple of days rock climbing / bouldering close to Bishop, California and some other areas. It was a fun trip.
In 2012, I wanted to go another mountaineering trip. Some friends were planning on doing Mount Rainier and I really wanted to join them. I trained for three months and then booked the tickets. On July 31, 2012 I summited Mount Rainier with six other friends. It was a 2 day climb through Disappointment Cleaver route. It felt good.
I don't know what I will do in 2013, but I will continue with my training for the next challenge.
- shashi
Forums
shashiraj8 has started 3 forum threads (including 1 trip report) and participated in 7 discussions. View all »