shenora1116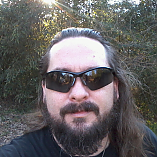 I am a:
45-year-old backpacker
Location
: Laurel, MS
Occupation:
Truck Driver/ Tattoo Artist
Activities
Hiking
Backpacking
Orienteering
Mountaineering
Canoeing

Kayaking
Fishing
Wilderness Survival
Bushcrafting
Animal Tracking

Vitals
| | |
| --- | --- |
| Height | 5'11'' |
| Weight | 205 |
| Boot/Shoe Size | 11 |
| Jacket/Shirt Size | xl |
| Pant Size | 34 34 |
Hello out there,
My name is Kinzie, i'm a 36 year old avid outdoorsman. I do a lot of back country hiking and camping, along with a few select friends. I'm not your typical backpacker. At least, not the typical trail heads I've met or read about.  Most of the sites I've checked out before, the folks come off a little snotty. You know, those guys that think the only gear worth having has to be looked at in ounces, and cost an arm and a leg. And with that being said, of course we all love new gear and toys to throw in our packs. But, I don't buy into many of the trends that seem to be on going during our current time. I'm not an ultra lighter, or a tech nut, or to put it in other words, a gear head. I would much rather keep it simple. I lean toward ideas and gear that have multiple uses, or of course those old tried and true ways that can hold thier own. The only time I carry a tent in the bush, is if my wife is coming along for the fun. I'd much rather cook on an open fire than have to lug along and use a camp stove. I use a sleeping bag, but also know that a good wool blanket will never fail you. I have three children, and of course... my beautiful wife, so dumping money on any gear for myself takes much research before hand. And if I review anything and give it a good thumbs up... you can be asured that its been through the ringer on multiple treks and is well worth its wait in gold.
Though I've been on many hikes from the Sierra Nevada's, Devil's Canyon, Mount Shasta, and many in and around Gatlinburg, TN. The better majority of my experience is based here in Mississippi. Yeah, I know it's not Montana. (I wish) But, this is where i've grown up and had a lot of my trial and error. Though the better part of our area is flat. You can find a good bit of solitude here. And when it comes to hitting the outdoors, I think thats what we all strive for. If your familier with anywhere in the south, I'm sure you've heard of Sipsey Wilderness in AL, if not you should check it out. It's one of the great spots in the deep south.  Plus, I'm never far from grabbing a canoe and hitting Honey Island Swamp. Which I may add is one of our other diamonds in the rough. Several thousand sq miles of unihabitted swamp. To me it's next in line only behind the Everglades. Or a canoe trip to Deer Island here in the gulf. About 1/2 mile from shore... but lots of solitude there as well. Not to mention spear fishing. And dodging bull shark.
When I can't plan any trips or I only have a day to hit the bush, we have 600+ acres that are chock full of wildlife and family trails that we blazed back when I was no more than 10. I love being in the wilderness as much as I love breathing. I look forward to learning from the fellow Trailspacers here. And maybe I can help someone else learn something too. See you guys on the dirt.
BE COOL
Gear Reviews (19)
Forums
shenora1116 has started 6 forum threads and participated in 30 discussions. View all »