Siltloam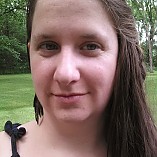 I am a:
36-year-old
Location
: Fitchburg, WI
Occupation:
Soil Science
Activities
Hiking
Backpacking
Snowshoeing
Orienteering
Adventure racing
Rock climbing

Canoeing
Kayaking
Fishing
Cross Country Skiing
Ultimate Frisbee

Vitals
| | |
| --- | --- |
| Height | 5'7" |
| Boot/Shoe Size | 7.5 |
| Jacket/Shirt Size | M/L |
| Pant Size | 12 |
I grew up in a Scouting family, and not being able to go on trips with the boys made me determined to become better at all outdoors activities than my brothers. We started with paddling and backpacking and BSA's Venturing program helped me hone these skills in high school and college. 
I got my degrees in Soil Science and Environmental Conservation, so knowing about the outdoors is my job, but being outside only continues to be more and more fun. These days I can totally own my brothers at almost any outdoor activity.
Since relocating for work, these days I adventure on my own more than 60% of the time, but I'm always looking for new companions. I'm also always on the quest for deals on outdoor gear. I pride myself on gently-used and refurbished finds. When I do buy things full price I spend hours reading reviews, and Trailspace has some of the best reviewers.
Gear Reviews (7)
Forums
Siltloam has started 6 forum threads and participated in 10 discussions. View all »