Sir Inch-a-lot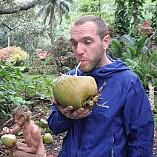 124 reviewer rep
4 forum posts
joined Nov 8, 2012


I am a:
45-year-old backpacker
Location
: Taylors
Occupation:
Owner of Mann's Best Friend Dog Park
Website:
http://www.mannsbfdogpark.com
Affiliations: e worked at an outdoor retailer called Sunrift Adventures for a while. I was their inventory guy. But I enjoyed selling tents, backpacks, hammocks and stuff like that. I asked them to put me on the floor and they fired me. Said they didn't think I'd be happy there and gave me a nice little severance package. So no hard feelings. Hi Bo and Frost and Matt and Heather and Christine and
Activities
Hiking
Backpacking
Trail running

Orienteering
Road cycling

Vitals
| | |
| --- | --- |
| Height | 5' 11" |
| Weight | 165 lbs. |
| Boot/Shoe Size | 10 1/2 |
| Jacket/Shirt Size | Medium |
| Pant Size | 33/32 |
Hi! I'm a Wisconsinite who found his home in the upstate of SC in 2000 and fell in love with the mountains of the Appalachian and Smokies regions. Not to mention Paris mountain just six miles from my house. A great State Park situated on an old growth monadnock mountain that use to be Greenville county's watershed. Beautiful lakes, trails, dams and scenery. This is a blessing to have in my own backyard not to mention that Table Rock and Caesars Head state parks are also just an hour or so from my house. I can see them both clear as day from the top of the hill in my neighborhood. How could I not love it here? I don't get out enough and just recently started going more with my beloved canine companion, Miss Molly. She has turned out to be the best trail dog I've ever come across. Everyone loves her and she seems to love everyone. It's been great. 
I like dogs so much I've opened (or am in the process of opening) Mann's Best Friend Dog Park. I have 11 acres of river front property and can't do much with it so I came up with the idea of a dog park. But not just any old dog park. I've started a member based club that donates the property to area shelters and rescue groups once a month to help find homes for dogs in need. Mainly focusing on older dogs and breeds that seem to be a little more difficult to place ie, Pit/ Pit mixes, Rotties, Black dogs, etc. All the rescue groups and shelters are on board but I have had some trouble getting people to sign up early to generate the money needed to get open. Persistence will pay off and these dogs are worth the work.
I'm also interested in organic farming. I'm currently clearing out some property to start my backyard aquaponics garden. It utilizes fish poop from a koi pond ,or fish of your choice, to feed rows of vegetables through hydroponics. You can grow 10 times as much food with as little as a 5th of the water as a tradition dirt farm would use. If done correctly you can raise the fish as a food source or to sell. It's brilliant. My hopes are to get the concept working and start a larger farm on the open fields I already have and start supplying local food chains and caterers and putting up a nice little vegetable shed by the road. You see them everywhere around here. Mine will be the best. I've already made plans to visit the Friendly Aquaponics Farm in Hawaii this year. They are the ones that turned me on to it. After I get back I'm building the whole thing including my bamboo greenhouse of my design that's made from the bamboo in my yard. I've already harvested the bamboo. I can't wait to get started. If it all works out I'll have tropical fruits like lilikoi growing within the first year. I already have my avocado tree started. I'll keep you updated  on it's progress.
I've been hiking the south eastern mountains for probably only 5 years. Everything from the Foothills trail to endless miles of the AT and too many other trails and rivers and old overgrown roads to count. But my favorite place of all time is Hawaii. Mainly the Big Island but Kauai is worth a visit or two if not more if you can afford it. Iv'e been to the islands three times and am going again this year. Backpacking and hitchhiking, sleeping on beaches in your hammock tied off to coconut palms....I could just keep going. Every visit opens up new unexplored corners of the island. Many of these places aren't even visited by locals. Unbelievable? Not really. How many people around here have never been to our mountains. Probably most of them have not. The funny thing is is that Hawaii's tropical mountains are very much like the old mountains around here. I'm always saying how a particular trail or local fauna in one place reminds me of the other. But Hawaii is Hawaii. Paradise. And I'll eventually move there I think. If you've been you know what I mean. So refreshing and tranquil. mmmmmmmmmm
Gear Reviews (3)
Forum Posts