smithcreek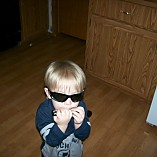 I am a:
59-year-old camper
Location
: Smithcreek, FL
Occupation:
mechanical systems o&m supervisor
Activities
Backpacking
Canoeing

My life pretty much revolves around my boys so i seldom do anything they can't do with me.

Vitals
| | |
| --- | --- |
| Height | 5'6" |
| Weight | 160 |
| Boot/Shoe Size | 7d, 7.5d |
| Jacket/Shirt Size | lrg |
| Pant Size | 34x32 |
grew up exploring the apalachicola nf  which was litteraly our backyard with my younger brother who still lives whithin a few miles of the old home place. i now live southwest of there in the middle of the forest with my wife Michelle and our three mutts, jug the great pyrenees, tinker the yorkie and lou the pomapoo. our daughter Terri and grandchildren Brady-6, Hayden-3 and Abby-1&1/2 mnths live within a couple of miles of us so we have grandchildren several times a week which keeps us pretty sleep deprived. i have always been active outdoors but have slowed down since i quit hunting several years ago so backpacking will be my re-entry i guess. i scouted for hunting year round, including the brutal months of july and august when anyone in florida with any sense at all would have been inside praying for the a/c to last one more summer but i have not actually camped in the heat since the early 80's and have become pretty spoiled on a/c so i am curious to see how long i can stretch the season. i stumbled upon TrailSpace while searching  "summer camping in florida" and after reading a few post thought this might be just the place to gain some wisdom tax free. i appreciate the site and hope that one day i may help someone else with what i glean from these pages.
Forums
smithcreek has started 9 forum threads (including 2 trip reports) and participated in 48 discussions. View all »