Steve Brown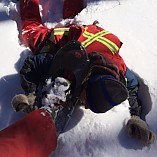 I am a:
53-year-old forestry tech
Location
: QUESNEL, BC
Occupation:
Forest Tech
Affiliations: am looking to test snowshoes. oh, you want us, or don't. depends if you have something worthy.
Activities
Vitals
| | |
| --- | --- |
| Height | 6'1" |
| Weight | 225 |
| Boot/Shoe Size | 10 |
| Jacket/Shirt Size | XL |
No fancy, flashy gear used here. You take it out with us and if it aint tuff, it's coming back with new ventilation, pin stripes, or used for butt wipe. In the Forestry business we don't walk around it, we walk through it. Been hunting for good snowshoes for what seams like forever. Best ones ever were the first Tubbs Mountaineers. Work buddy bought like 10 pairs at an auction years ago. Over time these things have worn out. Been repaired a zillion times, no more parts. Have had a couple offers this year to try some different kinds and give reports. Still waiting !!
Don't even want talk about skidoos.
Gear Reviews (2)