Terry S Burnside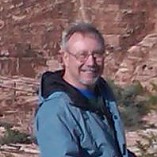 I am a:
71-year-old backpacker
Location
: Tallahassee, FL
Occupation:
Software Sales
Activities
Hiking
Backpacking

Canoeing
Fishing

Vitals
| | |
| --- | --- |
| Height | 5' 9" |
| Weight | 195 lbs |
| Boot/Shoe Size | 9.5-10 |
| Jacket/Shirt Size | 40 |
| Pant Size | 36 x 29 |
I'm 64 years old, father of four. Have need family camping for decades and just started backpacking about three years ago. It has been a wonderful experience, and I am a fanatic packer/hiker now. I also draw, paint and carve, and have sold a number of pieces in art/craft shows. I read voraciously, love fact/fiction history, horror, sci-fi and fantasy novels. Have worked in information technology for forty years, and currently sell software for IBM. I am a bit of gear head, love tools, gadgets, electronics etc. and try to keep up with innovations and products in the hiking/backpacking/camping industry. I have purchased and used outdoor equipment from Gregory, Osprey, Platypus, Snow Peak, MSR, Big Agnes, Thermarest, Camelbak, Uereka, Loki, ExOfficio, North Face and many more. As I said I do like gear. I've also experimented with making some of my own gear. The last bit of equipment I made was a beer can alcohol stove. I have been hiking and camping in many locations around the US ( including Alaska ). My retirement is not too far away. I plan on walking parts of the AT and PCT when that time arrives.
Gear Reviews (4)