C.C. @tevatrekker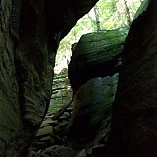 I am a:
36-year-old backpacker
Location
: Mogadore, OH
Occupation:
industrial and medical gases
Activities
Hiking
Backpacking
Snowshoeing
Adventure racing
Geocacheing
Canoeing

Fishing
Cross-country skiing
bouldering
paddling
fishing

Vitals
| | |
| --- | --- |
| Height | 5'7" |
| Weight | 175 |
| Boot/Shoe Size | 9 |
| Jacket/Shirt Size | medium |
| Pant Size | 34x30 |
I truly enjoy the outdoors and sharing the experience with other like-minded people as well as introducing new people to the power of nature and what it does for the soul. I grew up in a family that embraced winter sports such as snowshoeing, cross-country skiing, downhill and backcountry skiing/snowboarding. I worked at a ski resort throughout high school and enjoy introducing these activities to my two young children. I consider myself more of a backpacker today but also enjoy paddling sports to great extent. I have whitewater rafted throughout the U.S. , Peru, Chile and have had the privilege of backpacking parts of Patagonia, the Appalachian Trail and Death Valley. Having served in the Navy I had the ability to visit and explore 37 countries across 6 continents.One of my favorite experiences was backpacking into the southernmost city in the world Ushuaia, Argentina in 2007. My all time goal would be to thru-hike the Appalachian trail.
Gear Reviews (16)