Tord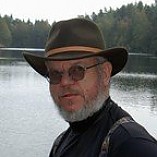 Full Name: private
65-year-old male kayaker
Göteborg, Västragötaland, Sweden
Occupation: Bus driver
Email: private

Gear Reviews
Tord hasn't written any gear reviews.
About
I've been an outdoor kind of guy as long as I can remember, often on my own as a young kid, making a makeshift camp under a fallen tree, or just exploring, often by rowboat. Now it is usually by kayak, but I still love exploring!
After a motorbike accident in 1990 couldn't go trekking any more, as my left leg isn't what it once was :-(! Before the accident I had gone trekking through most of Sweden's northern national parks, and some Norwegian, but also gone on winter expeditions and a long paddling expedition in Swedish Special Forces Klepper Aerius IIs (note: We borrowed their kayaks, we were more of a gang of various youngsters, most of us academic students, but I was a security officer, by trade). I just loved the Kleppers!
I returned to paddling some years after I met my wife, who proved to be a more experienced paddler than me, but I had been paddling Kleppers, and she Canadian canoes. We both returned to outdoor activities, after a number of years without, so most of the equipment had to be renewed. And now I could afford a Klepper of my own (now two!)!
Activities
Hiking
Canoeing
Kayaking

Nature photography
canoe sailing
outdoor cooking

Vitals
| | |
| --- | --- |
| Height | 1.75 m |
| Weight | 90 kgs |
| Boot/Shoe Size | 45/47 |
| Jacket/Shirt Size | 42/44 |
| Pant Size | D104 |