Trail Hobbit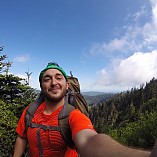 I am a:
30-year-old primarily.. an enjoyer of all
Location
: Cullowhee, NC
Occupation:
Student
Affiliations: Forest Stewards. A non-profit forestry consultant. The future of our forests is not guaranteed. Unregulated development, forest fragmentation, air-pollution, acid rain, global warming, and the introduction of invasive-exotic pests will continue to pose serious threats. Forest Stewards promotes a proactive approach to dealing with these threats. In many cases we need to treat our forests to speed the restoration from past abuses, and to make our woods more resistant and resilient to the new and ever-changing threats they will face.
Activities
Hiking
Backpacking
Orienteering
Mountaineering
Canoeing

Kayaking
Fishing
Hunting


Vitals
| | |
| --- | --- |
| Height | 5' 6" |
| Weight | 155 |
| Torso Length | 16" I think |
| Boot/Shoe Size | 7.5 |
| Jacket/Shirt Size | S/M |
| Pant Size | 29-30 |
I am a current student of Western Carolina University majoring in Natural Resource Conservation Management with a minor in Biology. I am an outdoors regular. My uses are from recreational to hunting/fishing. I love venturing in mature forests and off trails, though trails are nice when one is side-sloping. Cutting-up and having fun while taking in the joys of nature is what I am about.
Gear Reviews (2)