Gary Leatham @TrailFrog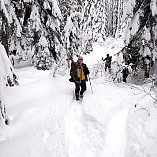 914 reviewer rep
7 forum posts
joined Sep 6, 2015


I am a:
70-year-old hiker
Location
: Greater Seattle Area, WA
Occupation:
Research Scientist (Biochem) >morphed into> College Representative
Affiliations: NONE, just an average hiker needing gear to help make our ~weekly outings more comfortable, and thus enjoyable. And it never hurts to get back safely too! However, I would welcome the opportunity to test new gear designed to make to make a quality difference in one's experience of outings. (Significant gear durability is much valued.)
Activities
Hiking
Backpacking
Snowshoeing
Backcountry skiing
Mountaineering

Kayaking
Mountain biking
Music Performànce
Photography
Gardening

Vitals
| | |
| --- | --- |
| Height | 6' 1" and shrinking |
| Weight | 240 and decreasing with each hike |
| Torso Length | tall, 32" leg inseam |
| Boot/Shoe Size | 12 |
| Jacket/Shirt Size | XL <-- XXL |
| Pant Size | 39-40 ouch! & decreasing |
My wife and I really enjoy the outdoors, particularly around mountains and water.  We're often out with different MeetUp outing clubs, or just together.
For us good gear EQUALS safety, functionality, durability, comfort, as well as the farther and longer that I can go.  I currently shop most frequently at RE (member since early 70's), Outdoor Research, Northface, Columbia, Exofficio, Sierra Trading Post, Back Country, Back County Edge, Moosejaw, Campmor, Cabellas ... and also consider any other outdoor focus stores that I can find.
I'm QUITE selective before I buy.  And we try to be frugal as makes sense to reduce purchases and weight in our packs.  Being an analytical/science type, I take A LOT of time to compare before buying, to help ensure some level of success.  If at all possible, I like to examine gear in person.  When I can't, comparisons between several different source online reviews really helps.  
Sure we all have somewhat different body types, personal bias and goals, as well as select different levels of gear challenge.  Having honest, open minded, informative reviews to compare really helps in selecting the best gear for our particular use.  
I've been a researcher, published, taught at a university and been a marketing research director and product representative before in technical areas (microbial production, mictobe genetic ID, wooden musical instruments, and biodegradable plastics).  When hiking became such as personal focus, it only made sense to help others by writing some reviews on what gear works for me/us, starting with things that I/we like best.  I do not shy away from humor, especially when it can help convey meaning and teach.  Ain't life just chock full of shades of gray and contrary aspects anyway?!!
For me reviews are a living thing.  They need to be updated as i gain more experience with the item and perspectives about it.  Gear creators are similarly evolving in opinion and attempt to fulfill a design goal.  This ol' frog is still learning, so Comments are ALWAYS appreciated.
NOTE:  photos, GPS navigation to trailheads, stored trail map viewing, review postings and communications are primarily done with a smartphone.  In the outback around here, Verizon generally has the best coverage.  I can post hike pictures as a rider coming back from a hike, research and photograph gear, and even purchase gear while mobile. If not driving, it gives me something to do while getting to and back from a trail head. I'm currently using a Motorola Turbo Droid due to its really great 21 megapixel camera, view screen characteristics, and speed.  I use their standard camera and a Photo Editor Android app to help correct my mistakes, or help things look more like the way that they seemed in person.  Apple, Samsung, Microsoft, HTC, LG and others also make highly capable devises.  Take pictures of your outings and share the beauty!
Gear Reviews (25)
Forums
Gary Leatham has participated in 4 discussions. View all »