trouthunter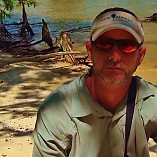 I am a:
56-year-old backpacker
Location
: Charleston, SC
Occupation:
Semi - retired Carpenter / Woodworker
Activities
Hiking
Backpacking
Snowshoeing
Canoeing
Kayaking

Fishing
Woodworking
Ham Radio
Wildlife Rehab
Target & Skeet Shooting

Vitals
| | |
| --- | --- |
| Height | 5' - 7" |
| Weight | 152 lbs. |
| Torso Length | 17" |
| Boot/Shoe Size | 9 1/2 - US |
| Jacket/Shirt Size | S - M |
| Pant Size | 32W - 30L |
I was born in 1965 and grew up near Charleston SC, I moved to the Chattanooga TN area in 1986 and also lived on the Cumberland Plateau for a couple years. I worked in the construction business building new homes and cabins in the mountains.
During my time in TN I developed a strong interest in hiking the local mountain trails, and soon began thru hiking the longer trails including sections of the Appalachian Trail.
I also started fishing the many streams and tail waters in Eastern TN and Western NC. and merged my backpacking and fishing interests. One of my favorite places was Pisgah & Cherokee National Forests due to the many pristine watershed areas.
In 2000 I moved back to the Charleston SC area to continue working in the construction industry in the coastal region, and on the barrier islands.
I have continued to travel back to TN and NC to backpack and fish, but I have also learned to enjoy exploring the many islands and waterways here on the coast by boat or canoe.
No matter where I live, I will continue to explore the
back country that each area has to offer.
I enjoy talking with, and learning from others who feel the same way, and that is why I am a member of Trailspace.
Gear Reviews (18)
Forums
trouthunter has started 92 forum threads (including 13 trip reports) and participated in 2,120 discussions. View all »