troyfromtexas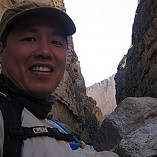 I am a:
backpacker
Location
: Texas
Website:
http://www.theadventurebegins.tv
Affiliations: As a member of TheDyrt's Ranger gear review program, I occasionally receive free products to test in exchange for reviews.
Activities
Hiking
Backpacking
Orienteering
Canoeing
Kayaking
Mountain biking

Fishing
Travel
Photography
Bushcraft
Motorcycling

Vitals
| | |
| --- | --- |
| Height | 6 ft |
| Weight | 175 |
| Boot/Shoe Size | 11.5 |
| Jacket/Shirt Size | M |
| Pant Size | 34 W 32 L |
Hello, my name is Troy (a.k.a. troyfromtexas). I think that I am a pretty ordinary person, but I know that I have had extraordinary opportunities in my life. My passions include adventure travel, hiking, fishing, motorcycling, photography and playing just about any sport. I'm a Native Texan which means that I am honest, gentlemanly, proud, strong willed, entrepreneurial and adventurous. 

I have been fortunate enough to visit live in and travel through a number of countries throughout North America, Europe, Asia and Latin America. Some of my favorite places include Chile for it's natural beauty, Spain for it's old world charm, Singapore for it's modernity and Texas for it's warm friendly people.


I've been truly fortunate to have had the opportunity to hike in the US and internationally. Some of my favorite hikes have been the John Muir Trail, the W in Patagonia, the Inca Trail in Peru and Mt. Kilimanjaro in Tanzania. It seems like just about every year I find a new trail in my home state in Big Bend National Park. I'm not an ultralight backpacker, but perhaps a light backpacker. I try to keep my all in pack weight below 30lbs (including food and water). I buy gear that will function as intended and last for years. Whenever possible I like to hammock camp. Second option is cowboy camp. Third option is a tent.
Happy trails,
Troy
Gear Reviews (29)
Forums
troyfromtexas has participated in 5 discussions. View all »