Twig
TOP 10 REVIEWER
REVIEW CORPS
Reviewer of the Month: August 2014 ,
November 2017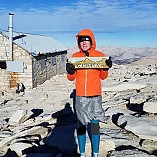 6,518 reviewer rep
175 forum posts
joined Dec 24, 2007


I am a:
41-year-old female backpacker
Location
: Miami, FL
Occupation:
long-distance adventuring
Website:
http://twigadventures.com
Affiliations: I am an activity leader for the Florida Trail Association.
Activities
Hiking
Backpacking
Trail running
Orienteering
Adventure racing

Canoeing
Kayaking
Mountain biking
Sea kayaking

Vitals
| | |
| --- | --- |
| Height | 5'9" |
| Weight | 130 |
| Torso Length | 16 |
| Boot/Shoe Size | 9.5 |
| Jacket/Shirt Size | 6 |
| Pant Size | 4-6 |
I love the great outdoors, and whatever kind of pursuits that get me out there and in it. I have lived in a lot of different places/climates, which has allowed me to 'sample' a wide variety of activities (master of none). I grew up land-locked in Colorado but somehow found a passion for the ocean too.  My all-time favorite pursuits are sea kayaking, surfing, and backpacking/thru-hiking.
In the summer of 2017, I started doing some serious section/thru-hiking, completing over 500 miles of the Colorado Trail (all of it plus some) and the first 270 miles of the Appalachian Trail. In December 2017, I hiked/paddled/bicycled the Te Araroa, a 3000 km journey the length of New Zealand. Then from July through October 2018, I hiked the entire length of the Pacific Crest Trail. All combined, I walked over 5000 miles in a year and a half.
As much as I love the outdoors, I love all the fun gear that makes it more enjoyable. Yes, I am a gear head, with no desire to seek help for my condition. I don't see it as a problem that I own multiple tents, tarps, quilts, bags, stoves, headlamps, etc. My closet is full of shoes but none have heels. I proudly have a collection of titanium and aluminum stakes. Need I say more.
So if you have a similar affliction, you have come to the right place! You can receive support here but don't expect to find a cure. Your condition may even worsen.
Thank you for feeding my addiction Trailspace!
Gear Reviews (78)
Trip Reports
Forum Posts
| | |
| --- | --- |
| "Adventures can be found in many ways"—Oliver, Reviewer of the Month | June 12, 2019 |
| Meet Phil: New England Hiker, Snowshoer, Reviewer of the Month | December 12, 2018 |
| Icy Thanksgiving in Norwegian Hut | December 1, 2018 |
| Getting lighter not a new Idea... | November 7, 2018 |
| Five days on the Paria | May 26, 2018 |
| Ball Pass, Mt. Cook/Aoraki National Park, New Zealand | May 31, 2018 |
| Meet Patman: Lover of Mountains and Trip Reporter Extraordinaire | May 23, 2018 |
| Two March Snow Trips | April 18, 2018 |
| Te Araroa, New Zealand | February 2, 2018 |
| Iceland: August 2017 | October 13, 2017 |
| Trekking Poles: Do you really need them? | September 21, 2017 |
| Meet Kelly: Mountain Biker, Backcountry Skier, Reviewer of the Month, and "Trailspace Junkie for Life" | April 12, 2017 |
| Summer Trip Planning? | April 17, 2017 |
| Congratulations, Top Gear Reviewers of 2016 | March 24, 2017 |
| Life expectancy of cuben fiber tarp? | February 19, 2017 |
| "Don't put things off" says Mike, Reviewer of the Month | December 14, 2016 |
| Seeking particular buckle | November 7, 2016 |
| "Breathtaking Moments" Near and Far: Meet Tyler, Reviewer of the Month | October 12, 2016 |
| Lighten Up: Illumination is Outdoor Essential #4 | October 3, 2016 |
| "Chart a Good Course" and Meet Phil, Solo Backpacker, Reviewer of the Month | September 10, 2016 |