Twig
TOP 25 REVIEWER
REVIEW CORPS
Reviewer of the Month: August 2014 ,
November 2017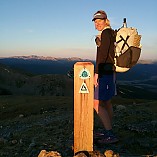 7,768 reviewer rep
194 forum posts
joined Dec 24, 2007


I am a:
43-year-old backpacker
Location
: Miami, FL
Occupation:
long-distance adventuring
Website:
http://twigadventures.com
Affiliations: I am an activity leader for the Florida Trail Association.
Activities
Hiking
Backpacking
Trail running
Orienteering
Adventure racing

Canoeing
Kayaking
Mountain biking
Sea kayaking

Vitals
| | |
| --- | --- |
| Height | 5'9" |
| Weight | 130 |
| Torso Length | 16 |
| Boot/Shoe Size | 9.5 |
| Jacket/Shirt Size | 6 |
| Pant Size | 4-6 |
I love the great outdoors, and whatever kind of pursuits that get me out there and in it. I have lived in a lot of different places/climates, which has allowed me to sample a wide variety of activities (master of none). I grew up land-locked in Colorado but somehow found a passion for the ocean too.  My all-time favorite pursuits are sea kayaking, surfing, and backpacking/thru-hiking.
Beginning the summer of 2017, I started doing some serious section/thru-hiking, completing the Colorado Trail (500 miles) and the first 270 miles of the Appalachian Trail. December 2017 through March 2018, I hiked/paddled/bicycled the Te Araroa, a 3000 km journey the length of New Zealand. On a roll, I hiked the Pacific Crest Trail in 2018 (2700 miles), the Continental Divide Trail in 2019 (2700 miles), immediately followed by the Arizona Trail (Oct 2019, 800 miles). All combined, I've walked/hiked/backpacked (whatever you want to call it) about 10,000 miles in 4 years. My plan is to finish my Triple Crown (PCT, CDT, AT) by hiking the Appalachian Trail southbound summer/fall 2021. After this... I wish I knew.
As much as I love the outdoors, I love all the fun gear that makes it more enjoyable. Yes, I am a gear head, with no desire to seek help for my condition. I don't see it as a problem that I own multiple tents, tarps, quilts, bags, stoves, headlamps, etc. My closet is full of shoes but none have heels. I proudly have a collection of titanium and aluminum stakes. Need I say more.
So if you have a similar affliction, you have come to the right place! You can receive support here but don't expect to find a cure. Your condition may even worsen.
Thank you for feeding my addiction Trailspace!
Gear Reviews (87)
Forums
Twig has started 6 forum threads (including 3 trip reports) and participated in 152 discussions. View all »