Uncle Air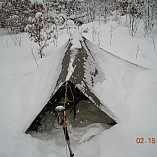 0 reviewer rep
29 forum posts
joined May 7, 2012


Full Name: private
male backpacker
Mattawan, MI
Occupation: Telecommunications
Email: private

Gear Reviews
Uncle Air hasn't written any gear reviews.
About
Started Backpacking in '12 when I met my Son-in-law who did did a thru hike of the AT. Always loved paddling, camping, snow sports, and the like. Love winter best and am prepping for more winter trips. Would like to live in mountainous area, but probably never will.
Wish the Mrs. shared my outdoor love, but glad at least some of the children do and am able to take trips with them. Looking forward to the grandchildren growing up and getting them into this beautiful Creation which we have the privilege to enjoy!
Activities
Backpacking
Snowshoeing
Kayaking
Fishing

Snowboarding
Beginning Snowkiting and KiteSurfing
Fastpitch Softball