utah backpacker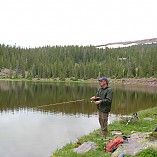 680 reviewer rep
5 forum posts
joined Aug 15, 2011


I am a:
58-year-old backpacker
Location
: Salt Lake City, UT
Occupation:
Business Development Manager
Activities
Hiking
Backpacking
Snowshoeing

Canoeing
Fishing

Vitals
| | |
| --- | --- |
| Height | 5'9" |
| Weight | 170 |
| Torso Length | 20" |
| Boot/Shoe Size | 10 |
| Jacket/Shirt Size | Medium |
| Pant Size | 34/30 |
I've been hiking and backpacking since I was a kid.  When I was 16 years old, I spent 5 nights solo in the backcountry on the border of Yellowstone and Grand Teton National Parks.  No bears but I did share my camp with a cow moose I could have sworn was tame.
I grew up in the shadow of the Tetons but never climbed The Grand.  It's still a goal.
I was an alpine skier into my 30's when my knees finally took the fun out of it.  I turned to snowshoeing and have as much love for it as I ever had for skiing.  And it's a hell of a lot less expensive, which probably accounts for some of the love!
Living in Utah, the diversity of the backcountry is astounding!  From slick rock, to vast expanses of desert, to glaciated alpine lakes, it seems you really can have your cake and eat it too!
Last but not least, you don't have to spend a fortune on gear.  I have very little patience until it comes to finding the best deals on gear, and then I wait until what I want is on sale.  Who cares if it's last year's, or a discontinued model - most high quality gear will last years.  Just like my dad always said, "It pays to do your homework!"
Gear Reviews (32)
Forums
utah backpacker has started 4 forum threads and participated in 5 discussions. View all »