Vikki N @Vikki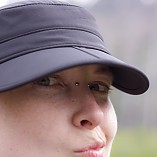 I am a:
backpacker
Location
: Idaho
Occupation:
RN
Affiliations: No conflicts of interest.
Activities
Hiking
Backpacking

Amateur peak bagger
photographer

Vitals
| | |
| --- | --- |
| Height | 5'11 |
| Weight | 220 |
| Boot/Shoe Size | 9.5W |
| Jacket/Shirt Size | XL |
| Pant Size | XL |
I live in Idaho and my first backpacking trip was when I was 6 years old with my Dad - still my favorite hiking partner although I can carry my own gear now. I have hiked cross-country, multi-week, and solo hikes with various gear requirements. I have found over the years that you get what you pay for and gear reviews are an important part of making sure I have what I need to survive anything from a quick weekend trip to a couple of weeks with unexpected weather conditions. 
My luxury item: my camera & tripod! I think this keeps me from ever considering myself as an UL hiker but I'll take the extra weight without complaints because of the incredible images I've acquired over the years.
What's your luxury item?
Gear Reviews (3)