whomeworry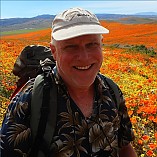 I am a:
backpacker
Location
: Torrance, CA
Occupation:
Restaurant Owner
Activities
Backpacking
Backcountry skiing
Mountaineering
Fishing
Geezering around

astro projecting
gastro sonic technician
semi-pro marriage counselor


I am a well preserved, cranky, apprentice codger, who backpacks to get away from people, then invites some to join him anyway. I will argue just to hear myself speak, except I am hard of hearing, so I guess that's my excuse for not knowing what I am talking about. I have found nothing beats good company around a camp fire, except maybe enjoying a good camp fire in solitude. I have the dubious pleasure of discovering trash atop a few peaks that were not previously summited, according to AAC records. I have also discovered while on said peaks strands of my wife's hair amid gear which she has never seen or touched. How both trash and hair made it there is a mystery. I have actually cried out for mommy on a trek, feeling so miserable and afraid. Things only got worse when I had to eat a team member's cooking. I have seen nature so beautiful the gods must have used photo shop, and wildlife behavior so bizarre I thought I was being punked on hidden camera.
As you may deduct, I don't take myself seriously, except maybe to have a seriously good time. I like the vibe of this web site and forum members; they are generous souls, some who like a good debate too. Should you disagree with one of my posts, however, do not tell me I am wrong – my wife and daughter consider that THEIR divine commission, and you would only be encroaching on their domain. Besides, why argue with a fool who has at least three answers to a yes/no question?
Perhaps someday we will cross paths in the backcountry. I'll be the guy who looks like a lost and stoned tourist wearing a Hawaiian shirt (and other clothes of course, I am not a perv). I'll be shouldering a pack that looks heavy enough to include every comfort conceivable. And it does. If you see this guy, RUN IN THE OTHER DIRECTION, my mental illness is contagious. I am likely to invite you over to my fire for a smoke and drink, and through words and actions leave no doubt in your mind that monkeys are descended from man, and not vice versa.
Gear Reviews (3)
Forums
whomeworry has started 39 forum threads (including 5 trip reports) and participated in 2,162 discussions. View all »