David Drake @WildDrake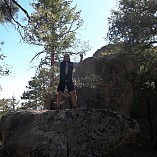 887 reviewer rep
34 forum posts
joined Jan 30, 2014


I am a:
55-year-old backpacker
Location
: Tucson, AZ
Occupation:
http://www.wilddrake.com
Website:
http://wilddrake.com
Email:
david.wilddrake@gmail.com
Affiliations: wilddrake.com … is primarily concerned, at the moment, with the development of cuisine dedicated to elite athletes, of all backgrounds, cultures, environments and traditions, including backpacking and hiking. We're almost there... We have product, food and beverages, finalized and awaiting nutritional analysis and package development. In the meantime, we're constantly developing and testing additional product and will notify all of you once we've completed all preliminaries. Wish us luck! We believe you're going to love our product!! I am not affiliated, nor am I sponsored, by any other outdoor industry manufacturer, retailer, or entity!
Activities
Hiking
Backpacking
Snowshoeing
Trail running
Orienteering
Backcountry skiing
Mountaineering
Canyoneering

Canoeing
Kayaking
Mountain biking
Fishing
Weight training
Crossfit
Yoga
Pilates

Vitals
| | |
| --- | --- |
| Height | 6' |
| Weight | 180 |
| Torso Length | 20.5" |
| Boot/Shoe Size | 10.5/43 |
| Jacket/Shirt Size | Medium/medium |
| Pant Size | 33 inseam, 32 waist |
I'm always interested in discussion with like-minded folks...
Friend me on Facebook… https://www.facebook.com/DavidDrake.org
A student of various interests including biochemistry, mathematics, exercise and nutritional sciences, I've developed a lifestyle of exploration, fitness and nutrition. My greatest desire is to share my healthy lifestyle with those whom also desire the same. I've been an endurance athlete (marathon, ultra-marathon, biathlon and triathlon including finisher status in the Hawaiian Ironman world championship) and personal fitness trainer for well over 20 years catering to general fitness and endurance athlete enthusiasts. There are several major distinguishing factors encompassing my life, each of which includes the highest nutritional compliment to an ever-engaging (hiking sole) soul.
At the moment, I'm tremendously thrilled to reach my next summit. Backpacking has been as rewarding an activity as all other endurance activities… this one with a diversified view. And the views have been amazing! I'm always in the kitchen whipping up my next favorite backpacking meal (going commercial very soon) or searching for the latest and greatest backpacking equipment that will lighten my backpack, keep me warmer and simply serve a function that will continue to inspire me to summit another peak… of course, the view alone is inspiration enough!
Reach Your Summit!
One of my most humble pleasures, while I'm on the trail, is consuming my homemade backpacking food. My food may be organic, non-GMO, dairy-free, wheat-free, gluten-free, vegetarian, vegan, paleo, conscious, 100% natural, etc. etc., and although you may not find these titles very humble it's the way I've eaten my entire adult life. My food, as I see it, is an extension of who I am. I may not necessarily include each of these titles in any one food item, and it's certainly possible to do so, however, I have been an omnivore for the past 6 years, which now implies / requires me to eat a bit of animal product. Following years of fitness and athletics my body simply needed to be more than vegetarian. When I do incorporate animal product into my meals it is always organic, cage-free, grass-fed and pasteur raised with all the sunshine they desire, if possible.
Many years ago, six years as of 2014, as a sovereign organic vegetarian (raw food vegan at times), I had an extremely difficult time finding a packaged backpacking meal that I would consume, purchased from a retailer, in fact, it was impossible! As a result I began producing my own meals, which turns out has been an outstandingly efficacious turn of events. I have had many backpacking friends suggest that I offer my food commercially. This endeavor has not been as easy as I would like it to be, of course, but I'm pushing ahead, nonetheless. There's something quite interesting about the subtlety of enjoying a personally prepared meal on the trail and considering the meal for market. My desire is to prepare each commercially-available meal with as much love as I do each meal I prepare for myself. This is a tough proposition. Questions, including "will I be able to acquire all specialized ingredients in large enough quantities for commercial purposes", "how do I maintain consistency with such specialized ingredients", and "how do I produce such a product at an affordable price" are extraordinarily difficult to answer. In any case, I eat very well, I'd love to share, and I'm moving forward! 
- - - - - - - - - -
Now that I'm here on Trailspace, and super happy to be here, I have a few words I'd like to say in regard to my character… I plan on contributing consummate information, as best I can, enabling this community to decipher for themselves, based on mine as well as other reviews, whether or not the equipment may or may not work for them in their particular situation or environment. In this manner I intend on submitting objective material and information with as much subjective interference, as I'm able, with full disclosure, based entirely on my experience. With that said, I believe our thoughtful experiences are exceedingly important and require some investment, both time and money. I have no interest in wasting mine and I'm sure you have no interest in wasting yours. I have, unfortunately, spent a lot of $$$ in the past on equipment that simply didn't work for me and, furthermore, have found equipment that has remarkably exceeded my expectations. I appreciate your honest, thoughtful, creditworthy reviews; tried-and-true is what I intend on posting.
Thank you, all, for contributing your wonderful reviews on gear you have enough experience with to competently review!!! I'm enjoying them, the conversation and the education!
Gear Reviews (12)
Forums
David Drake has started 1 forum thread and participated in 8 discussions. View all »