Wilderness Gal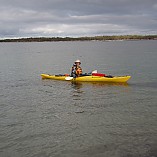 I am a:
56-year-old backpacker
Location
: Dartmouth, Nova Scotia
Occupation:
Animal Technician
Activities
Hiking
Backpacking
Snowshoeing

Canoeing
Kayaking
Camping-all seasons

Vitals
| | |
| --- | --- |
| Height | 5' 10" |
| Weight | 160lbs |
| Torso Length | 19.5 |
| Boot/Shoe Size | 10 |
| Jacket/Shirt Size | womens large, mens medium |
| Pant Size | mens medium |
I love the outdoors and everything about it, wilderness adventures are most favored. I camp all year round and especially enjoy the winter months. It is sooo peaceful.
I adore all animals, in fact, I have never met one I didn't like! They are my career and have been for the last 26 years and I can't imagine doing anything else except for maybe a job that combined animals and the wilderness, wouldn't that be grand!
I am fortunate to live in beautiful Nova Scotia, Canada. We have a lot of great wilderness hiking trails, protected wilderness areas and National Parks. I take advantage of these when ever possible whether it be by foot or boat!
Gear Reviews (3)
Forum Posts
| | |
| --- | --- |
| Would love your feedback on a concept chair | December 23, 2010 |
| Latest Work | February 5, 2011 |
| Backpacking: Female Hygiene (outdoor bathroom tips) | December 22, 2010 |
| Snow shelter | November 19, 2010 |
| Winter is Approaching! | October 18, 2010 |
| Need to share this chair | September 16, 2010 |
| sleeping bag | September 16, 2010 |
| Wrist gaiters, anyone? | August 18, 2010 |
| I really want to get out and do some backcountry camping. | August 14, 2010 |
| Long lasting and durable pack | August 10, 2010 |
| Whats your pack weight? | August 11, 2010 |
| To Ultralight or Not to Ultralight? | July 4, 2010 |
| Camera | June 12, 2010 |
| Wicking Material | June 21, 2010 |
| Marmot or Eureka | June 8, 2010 |
| 3 or 4 Season Tent | May 18, 2010 |
| Dogs and the backcountry | June 2, 2010 |
| Leave No Trace camp fire??? | May 18, 2010 |
| Aluminum VS Fiberglass tent poles | May 17, 2010 |
| Row trolling boat | May 6, 2010 |