Wolfman (Wolfgang Greystoke)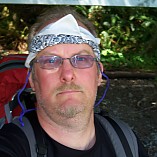 134 reviewer rep
456 forum posts
joined Jul 7, 2011


Full Name: private
53-year-old male hiker
Everett, WA
Affiliations: Non Yet! I do want Snickers to Sponsor my hiking though!
About
I started back packing as a kid in the late 60's early 70's and have been backpacking ever since.  Now I am trying to get my kid involved and lose some weight at the same time. :) 
Looking for information on gear and getting lighter.  I also like to hear about others and what they do or recommend. 
Currently planing for a 2014 thru hike of the 1200 mile PNT! (Pacific Northwest Trail)
Activities
Hiking
Backpacking

Fishing

Vitals
| | |
| --- | --- |
| Height | 6' 6" |
| Weight | 265+ To much :( |
| Torso Length | 21 |
| Boot/Shoe Size | 12 |
| Jacket/Shirt Size | XXL |
| Pant Size | 48 |