XterroBrando
Reviewer of the Month: December 2013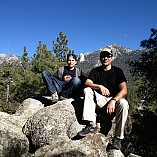 I am a:
50-year-old trail runner
Location
: Temecula, CA
Occupation:
VP International Development, Popeye Energy
Website:
http://www.drinkpopeye.com
Activities
Hiking
Backpacking
Snowshoeing
Trail running
Mountaineering

Canoeing
Mountain biking
Fishing
All-Terrain Triathlons

Vitals
| | |
| --- | --- |
| Height | 6'2" |
| Weight | 185-190 |
| Torso Length | 19.75" |
| Boot/Shoe Size | 13 |
| Jacket/Shirt Size | 41/ 16x34-35 |
| Pant Size | 33/34x32 |
My outdoor experiences started before I even knew what the outdoors were. Family  cabins in the Oak Creek Wilderness of Northern Arizona served as our home for a few weeks every Summer (and occasionally in Winter), which was a nice contrast to the coastal life of being born and raised in San Diego. I fell in love with the majesty of nature through fishing, hiking, and trail running throughout the wilderness area of Oak Creek Canyon, marveling at the giant Pines and Manzanitas painting deep shadows on the vibrant red earth. I learned to cross country ski and downhill ski near Flagstaff under the watchful eye of Humphrey's Peak. My family camped in the Mountains of East County San Diego on those rare occasions when my parents didn't want to travel to Arizona or the Colorado River for a getaway. I had my first camping trip to Yosemite in my junior year of high school, and I was officially hooked on the outdoors. I was introduced to mountain biking and backpacking while attending college on the California Central Coast near Hearst Castle, and would sleep out under the stars almost every weekend on the coastal sand dunes in Montaña De Oro State Park, overlooking Morro Bay. 
I hope to develop my mountaineering and climbing skills over the next 10 years with my son, who has joined me on a path to climb a peak with an elevation gain of 1000 feet +/- every year until we get to Kilimanjaro. 
My favorite trails are the West Fork trail in Oak Creek AZ and the PCT to San Jacinto Peak via Devil's Slide Trail near Idyllwild, CA. There is nothing like standing atop San Jacinto peak and seeing snow-covered mountains, dense forests, dry and barren desert, Los Angeles County (sans smog), and the Pacific Ocean, all in a single, sweeping view. I've had the pleasure of hiking in Oregon, Washington, Nevada, Utah, Hawaii, BC, the UK, Austria, and of course CA and AZ. I look forward to visiting and hiking in many other states and countries in the years to come.
My backpacking style is "Light", but not Ultra-Light. I am more than happy to add weight to my kit if I desire extra comfort or items that may enhance the experience of the trip. But I typically look for the lightest weight option for a specific type of Gear, whether it's a Winter backpack or sleeping bag, or a 3 season sleeping pad. My hiking, biking, and trail-running style are described by my friends and family as "insane", pointing to the fact that I like to cover ground quickly. I prefer to backpack and camp in the Fall and Winter here in Southern California, where the cooler temps keep me from over-heating.
I am so honored to be part of the wonderful Trailspace community and have learned so much from it's members. 
Gear Reviews (135)
Forums
XterroBrando has started 9 forum threads (including 1 trip report) and participated in 240 discussions. View all »