Osprey Extends Pack Recycling Program with Mountain Fund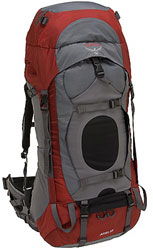 Osprey Packs, Inc., an independent pack company located in the high desert and mountains of Southwestern Colorado, announces an extension of its successful pack recycling program in partnership with The Mountain Fund. The program was originally launched on March 1, 2007 and was slated to expire at the end of September. It will now continue through the end of the year.

Osprey and The Mountain Fund encourage pack owners to "Pass on the Passion" with the Triple 'R' Offer – Recycle and Redeem for Reuse. Donate old daypacks or backpacks by December 31, 2007 and the packs will be routed for reuse with a wide variety of organizations focused on improving the quality of life in mountain communities. As a thank you, you'll receive a 10-percent refund from Osprey when you purchase a new Osprey pack at your favorite retailer.

To date the program has received over 100 packs for re-use by organizations such as Outdoor Outreach in San Diego, Maywood Environmental Park in Sheboygan, Wis., The Alpine Fund in Kyrgyzstan, Empowering the Women of Nepal, Girls' Education International in Pakistan, the ClimbHigh Foundation in Uganda and others.

For full details on the Osprey and Mountain Fund Triple-R Offer visit your favorite Osprey dealer, www.ospreypacks.com or www.mountainfund.org.

About The Mountain Fund
The Mountain Fund is a not-for-profit that works everyday to bring health care, human rights, responsible tourism and environmental progress to those who need it most in mountain communities around the world. It improves lives by mobilizing the caring power of their communities. Inspired by their partnership with Osprey in establishing the Pass on the Passion Pack Recycling program, the Mountain Fund has created their own Gear for Good program that finds new homes for used gear or auctions it on their e-bay charity site to raise money to support their other programs.