"Pass on the Passion" with Osprey's Pack Recycling Program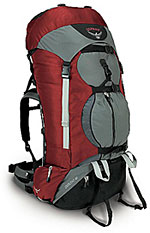 Osprey Packs has put some fresh highlights on their Pass on the Passion program, which has been around since 2007. This program allows Osprey owners to recycle their old packs for a good use. Reusable packs go to various organizations through the support of the Mountain Fund, to help people around the world get a great, used pack. From the Alpine Fund in Bishkek, Kyrgyzstan, to the Climb High Foundation in Uganda, many people from various organizations benefit from the contributions of used packs. As an added bonus, the recycler also gets a 10-percent discount on the purchase of a new Osprey pack.
"We initiated this program with the Mountain Fund to continue our business goals in community outreach and sustainability, and can accomplish both with the Pass on the Passion program," said Gareth Martins, director of Marketing for Osprey. "This program offers a wonderful avenue to essentially 'recycle' your old pack so that it may get many more years of use out of it and help the organizations and the people involved achieve their community goals and ambitions."
The Mountain Fund works for mountain communities bringing health care, human rights, responsible tourism and environmental progress. Many of these programs need your old pack, including outdoor experience education programs for kids in Bishkek and outdoor leadership programs for women in Nepal. Once the donated pack is received and determined in good condition, the customer will receive an email detailing how the old pack is getting used, and how to purchase their new pack at the discounted rate.
To download the form to recycle your old pack and read more about the Mountain Fund and the organization that benefit from this program, please visit http://www.ospreypacks.com/OspreyLifestyle/PassonthePassion/