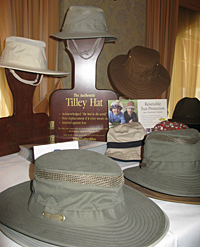 When the American Association for Nude Recreation holds its annual convention in Oklahoma in August, you can expect members to go clothes-free —with one notable exception.
For the seventh year in a row, Tilley Endurables is the official hat of the nudist event, providing various models of their sun hats to the bare recreationists. So, even when nudists start shedding clothes, they won't be parting with their Tilleys.
Why Tilley?
All Tilley Endurables hats are certified UPF 50+. So, you know at least your head will be well protected from the sun. And each sports a secret pocket, handy if you're not wearing pants. They tie on in the wind, won't shrink, are crushable/packable and machine washable.
At MSRP's of $69 to $95, depending on style, a Tilley hat is an investment. Tilley claims to make "the best, most practical outdoor hats in the world," and their many fans would agree.
The hats are guaranteed for life not to wear out and come with a two-year, all perils 50-percent deductible insurance policy against loss or theft. As the Tilley Guarantee states, "If there is a problem caused by poor workmanship or faulty material, please send your freshly washed garment to us and we'll replace the garment free — whatever's fair."
Tilley debuted several new styles for spring 2010 at Outdoor Retailer, and has a soft shell hat out for winter.
Soft Shell Winter Hat (TW5SS)

Based on their popular TW2 Winter Hat, the Soft Shell Hat uses Schoeller fabric — a 100% nylon face with a bonded polar fleece backing — to keep you dry from the outside (repelling moisture and stains) and dry from the inside (transporting moisture away so it can evaporate).

Available now
MSRP: $85

Eco-Airflo Hats (T4MO and T5MO)

Modeled after Tilley's popular Airflo hats, the new line of Eco-Airflo hats are made from natural, organic cotton. The T5MO has a medium down-sloping brim, and the T4MO has a wider down-sloping brim. Both have 3/4" mesh at the crown for breathability and will repel rain.

Available: Spring 2010
MSRP: $77
Outback Hats (TWC4 and TWC5)
The Outback Hats are made from waxed cotton, can be washed and worn, and do not have a "sticky hand" (unlike the traditional waxed cotton fabrics that could only be spot cleaned and were known to "melt" in the sun). The fabric, with its waxed finish, will take on a leather-like appearance. The TWC5 has a medium brim. The TWC4 has a broad brim.

TWC5 Available: September 2009
TWC4 Available: March 2010
MSRP: $74

Airflo Hat LTM2
Tilley's broadest brim (it's very broad), now comes in the lighter weight Airflo design. Based on Tilley's T2 style, this version is lightweight and breathable and will cover you from the sun and repel rain.

Available: Spring 2010
MSRP: $72