3M Ultrathon 33 Insect Repellent Sponge Applicator

Most effective, longest lasting insect repellent I've ever used. Period.
Pros
Lasts longer than ANY other insect repellent I've ever used.
Sweat resistant, water resistant. (At the LEAST!)
Sponge applicator eliminates over applying of repellent.
It says; "Lasts 8 to 12 hours." And it actually does! I've spent thousands of hours in horrifying mosquito, blackfly, and no-see-um territories, and I've used every brand, every chemical or natural concoction ever to grace a store shelf. (Literally, not figuratively; I've tried EVERYTHING.) Some stuff works for a little while, some stuff lasts a little while longer, some stuff shouldn't even be allowed to call itself "insect repellent". Most stuff lasts an hour, two max.
Then finally, one day, I got some 3M Ultrathon for a gift. It was a gift that keeps on giving. I would never have bought the 3M Ultrathon on my own due to it being two to three times more expensive than the other "Big Name" insect repellents (of equal or greater volume than the 3M). 
There's a reason it's so expensive; it's because it works, and can actually live up to its claims (And MORE). 3M can't claim that it's waterproof, 'cause it's probably not. But it sure seems to pretend it is. I've gotten seriously rained on, on more than a few occasions while wearing the Ultrathon. If it lost its effectiveness, I didn't notice.  They can't claim it's sweatPROOF, 'cause it probably ain't. But yet, if I've managed to sweat it off on any length of time trompin' around the bush, then I sure don't remember that either. 
The tubes that it comes in (Cream or Cream w/sponge applicator) look too small to last more than an application or two. But, you end up using so little of it per application, (A little dab goes a LONG way) that a single tube of the cream last a LONG time. My fist tube lasted me nearly one and a half insect seasons. I still haven't finished the tube with the foam applicator, but it's lasted me since June 2012. (End of July 2013 now.) 
I don't normally wax rhapsodic about bug repellent, but this stuff is GOOD. Everyone who whines around me about how bad the bugs are, gets my "Ultrathon Lecture" and I send them hightailing it to the most likely places to find a tube. It's that good, it really is. But it's also ridiculously expensive. (Or so it seems.)
What's a better value? Two bottles / tubes of some bug repellent that wears off so quickly that it seems like it was a waste of time to even bother putting on? Or, one tube that costs as much as two bottles / tubes of the competitors product, but may last as long as buying a six pack of any other bug repellent?
Personally, since I discovered 3M Ultrathon, I have not even contemplated buying one of the "other" brands products, not even for a second. 
In summary;
Best bug repellent on the market.
Crazy expensive.
Lasts seemingly forever.
Makes-you-want-to-cry expensive.
Real hard to sweat it off or rain it off.
Real easy to justify the cost. IT WORKS!!!
Period. 
Source: bought it new
Price Paid: $12.99

A bug repellent in a little package, with a lot of promise, that ultimately turned into a lot of disappointment. If you want to lose ten bucks and gain a few dozen bug bites, this one's for you. Otherwise, stick to the spray-applicated repellents.
Pros
Small and packable tube
Non-aerosol and better for the environment
Cons
Sponge applicator does not apply evenly to skin
Sponge applicator inconsistent in amount of lotion distributed
Cannot be applied near eyes
$10.50 for 1.5 oz!!!
I read a recent review of this that painted it in a pretty positive light. While stocking up on supplies at REI before a recent trip, I picked up a bottle of this and spared myself fifteen-minutes'-worth of comparison shopping in the insect repellent aisle. Hate to say it, but after putting it to the test this past weekend on the trail? I wish I spent that fifteen minutes finding another product.
For context, this was used on my first solo backpacking trip to Mississippi Palisades State Park (Savanna, IL). The days reached the low 80's, the nights, the upper 50's. The day was clear, sunny, and hot. The park employees, before seeing me off to one of the primitive sites I chose, made darn sure to remind me to have bugspray.
Well, they weren't kidding around. Armed and ready with a tube of this, I thought I wouldn't have to heed their warning. Boy, was I wrong. The hoseflies and mosquitoes (and ticks, too) were waiting for me, and apparently better armed than I was.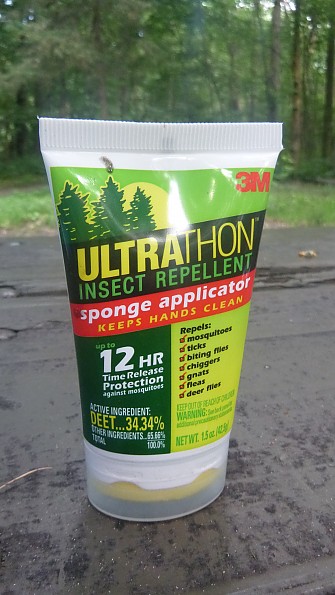 Here's the little bugger — no pun intended — sitting on my campsite table.
That said, let's first talk about the positives:
Packabililty. The 1.5 oz tube is a LOT smaller than the bottles you'll find most bugsprays in, and this made it immediately more appealing to me. If less product could be used (and carried) in, but have the same effect, why pack more weight for yourself?
It's made here in the USA. If you like Springsteen and apple pie, this'll keep you thematics consistent.
And that's as much as I've got.
Sticker-shock, obviously, doesn't make this the most affordable or accessible form of insect protection. At $10.50 for 1.5 ounces, it's literally a $1 per 1/10th an ounce. I'm a performing artist, and I've never been much of one for mathematics or economics...but that seems steep to me.
Now, had it proven effective? I wouldn't have minded the cost.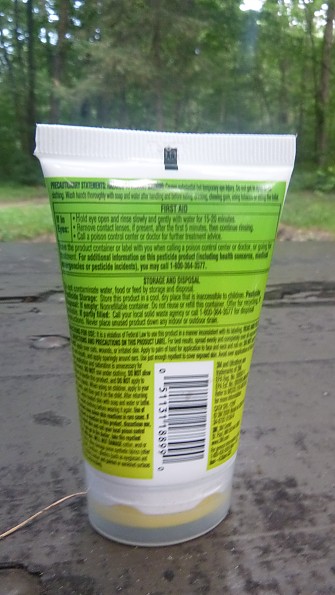 They maintain, because of the 34.34% DEET content, and the unique sponge-applied lotion, that this repellent last s12 hours, through sun, sweat, water, or rain. Now, I didn't go swimming or find myself in a monsoon, but there was plenty of sun on my backpacking trip, and plenty of sweat that accompanied it.
On the parts of my body I was able to consistently apply this to, it did work for the first few hours. On the parts I wasn't able to get a consistent application (if any at all), I was eaten alive.
A.) The sponge applicator. It isn't an open and pourous sponge. The "sponge" is more of a dense, rubber-like material, with only one "X" shaped hole in its middle for the lotion to be dispensed through.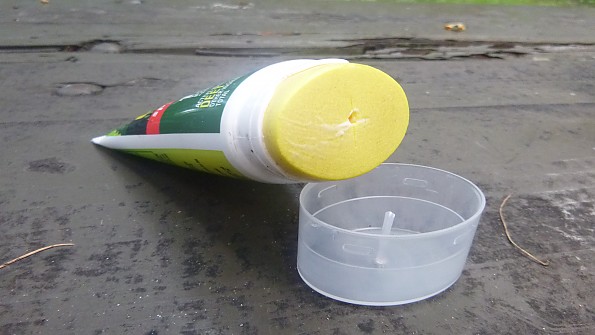 It doesn't absorb the lotion and disperse it evenly across the entire sponge. Rather, it comes out the center perforation and it's up to you to smear it around yourself. Trouble is, this stuff's REALLY loaded with DEET, and it's not like you're going to use your hands and rub it on like you would sunscreen. The flow seems inconsistent, too, and either you find none coming out at all, or all too much at one time. I eventually wound up rubbing one leg with another, etc., to redistibute excess lotion.
Also, being a dude, and being a dude with hair on his legs and arms? This lotion had a hard time not getting caught up in it, and made it, very, very frustrating to apply. For the record: I'm not as caveman-hairy as Robin Williams, and have the typical amount any adult male would have on his arms and legs.
B.) Again, because of the chemical cocktail this lotion's rockin', you can't get it anyplace near your eyes. Since I didn't want blindness as an obstacle to work around during my trip, I opted to use this no further than the bottom of my jawline, around to the nape of my neck.
Normally I'll opt for an aerosol or spray-pump repellent, which is exactly what I'll defer to after being disappointed with this one. For warm weather days where sweat could cause lotion to run into the eyes, I couldn't advise someone to use this. Maybe for cooler weather, but certainly not for the summer.
Because I've gained a couple dozen bug bites and lost $10.50 from my wallet?
2 stars. 2 very firm stars.
Source: bought it new
Price Paid: $10.50

Your Review
Where to Buy
Help support this site by making your next gear purchase through one of the links above. Click a link, buy what you need, and the seller will contribute a portion of the purchase price to support Trailspace's independent gear reviews.
You May Like
Specs
Price
Historic Range: $8.99-$12.50
Reviewers Paid: $10.50-$12.99

Recently on Trailspace