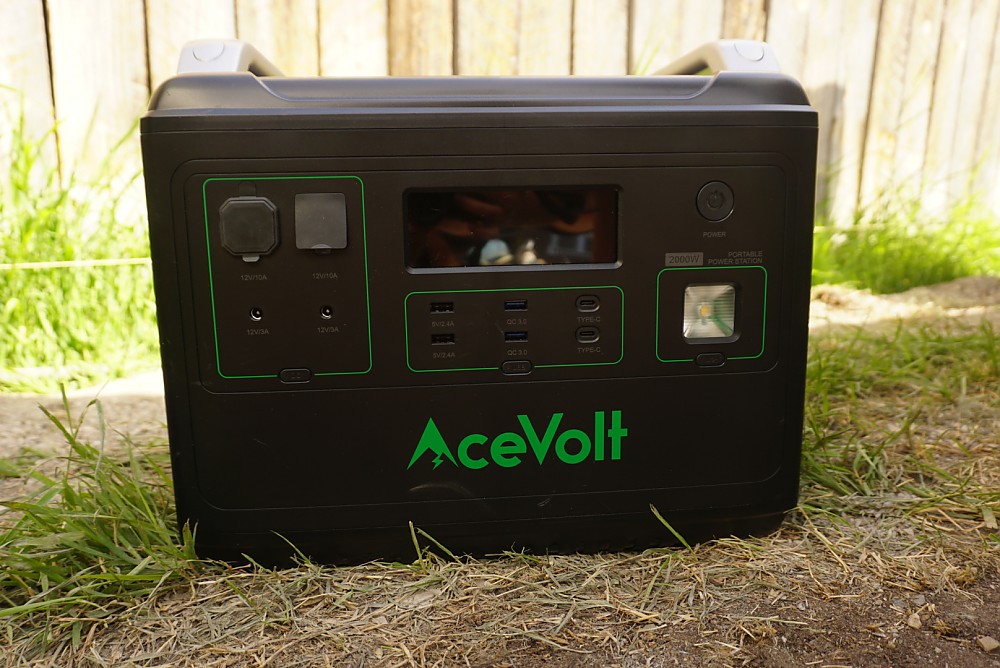 The AceVolt Campower 2000 is a powerful generator that can be used to charge your electronics while you're off the grid.
Pros
Powerful
13 charging outlets
2-year warranty
30-day return
Solar enabled
Comes with a car charger
Fast wall-charging
Cons
Heavy
Slow solar charging
Cost: $1,699
Weight: 48.5 pounds
Volts: 100-120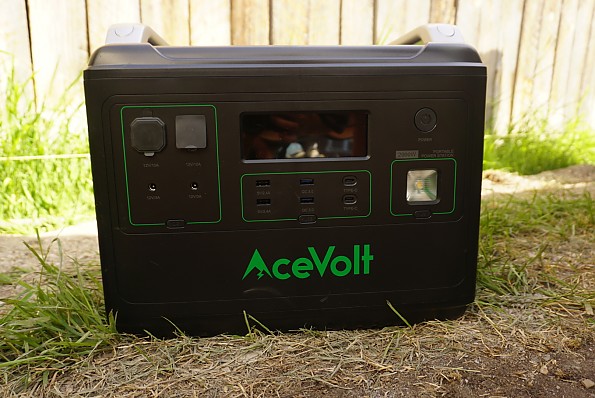 Staying self-sufficient while you're camping or on the road can be really challenging. You might be able to charge your phone while you're driving, or mooch off of a nearby cafe for a quick electricity fix. But a small generator is a complete game changer for travelers like me. I've been on the road for 5 months. Over the course of my journey, I've lived in a tent, hotels, and a teardrop trailer, where I've had the chance to test the Acevolt Campower 2000. And this is how it performed. 
Charging Capabilities
The manufacturer claims that the Acevolt Campower 2000 is capable of charging your smartphone 154 times, your laptop 31 times, and your mini fridge for 28 hours on a single charge. This generator is also capable of powering a blowdryer for 66 minutes, a coffeepot 18 times, a toaster 50-70 times, a microwave for 102 minutes, and a drone 42 times. You might also be able to use it to keep your blender, electric grill, and CPAP machine powered up.  
During my testing, I predominantly used the AceVolt Campower 2000 for my gadgets. Charging my phone and laptop barely put a dent in the power supply. Since I work on the road, it's extremely important for me to be able to keep my computer powered up, and the AceVolt had no problem doing just that.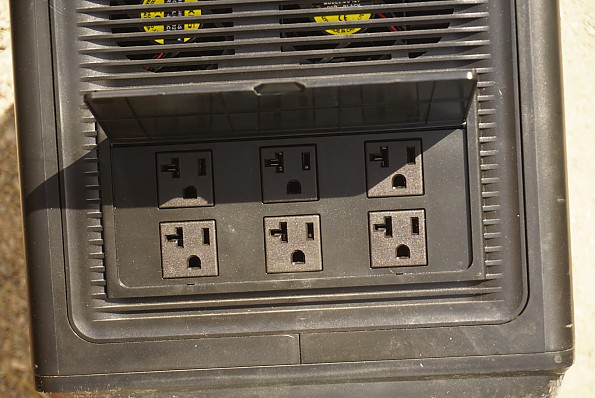 I also tested this generator's capabilities in my teardrop trailer and I found that it was capable of powering our AC unit for about an hour. Our fan lasted 18 hours. And it even handled our mini fridge, vacuum, and microwave a handful of times. If you need your power supply to be consistent and bullet-proof, you might benefit from a full-blown generator. But I found that the Acevolt Campower 2000 provided me and my partner with plenty of electricity to meet our basic needs. 
Generator Cost
If you're going to buy the Acevolt Campower 2000, you can expect to spend $1,900. To turn this device into a solar-powered one, you can invest in a 100-watt panel for $399, or a 200-watt panel for $599. Comparatively, the Jackery Solar Generator Pro costs $2,229. Its 200-watt solar panel can be purchased for $699. And the 100-watt panel costs $299. This makes the AceVolt Campower 2000 slightly more competitive in price. 
Weight & Size
The AceVolt Campower 2000 weighs 48 pounds, which is a little bit heavier than I'd like it to be. When you're as mobile as I am, you need your gear to be packable, and easy to manage. But I found myself dreading handling the AceVolt simply because of its weight. It was also a little bit of a challenge to store in my car. I was able to tuck it behind the passenger's seat. But in order to do so, I had to move the seat all the way forward, which would make it a bit uncomfortable for any passengers. Once the AceVolt was set up, it was easy to use. And I seldom had to move it. It also may be helpful to note that competitive generators will likely be in the same weight bracket. 
Longevity
Most compact generators claim to last from 3 to 5 years. While I can't personally vouch for the longevity of this product, the AceVolt Campower 2000 claims to have a 10-year lifespan, which is about 2 to 3 times longer than other products. For serious campers and vanlifers, you want to know that you're getting the most out of your money, and the AceVolt seems to support long-lasting use. If it actually does support 10 years of use, it's even more competitive in price than other products. And, during my use, it did seem like a particularly sturdy product. 
Generator Charging
While you're using a wall charger or a car charger, the AceVolt Campower 2000 charges quickly. The manufacturer claims that you can bring it back to 80% in 87 minutes (which I found to be a little bit generous of an estimate, but it is relatively fast).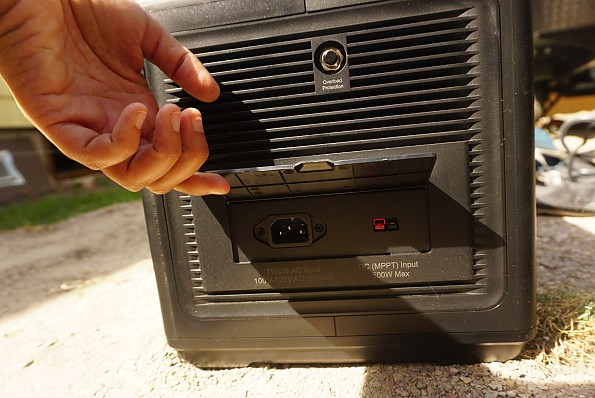 I was a little bit bummed out by this device's solar capabilities. While it is capable of charging using solar, I connected two Jackery 100 panels to this device, and over the course of an hour, I barely saw a 3% charge increase. I realize that some of this could be attributed to the sun exposure. Or maybe the Jackery solar panels aren't as efficient at charging the AceVolt, but after having used solar-specific generators like the Jackery 1000, I found myself feeling unimpressed by the Acevolt's solar technology. Previous solar models that I've tested can go from 0 to 100% over the course of 8 hours, but the AceVolt struggles in this arena. 
Warranties
The AceVolt Campower 2000 comes with a 30-day money back policy to ensure that customers are entirely satisfied with their purchase. It also comes with a 2-year warranty, which is more than most competitive generator companies. This offers a little bit of extra peace of mind to those who are making an investment like this one. 
Control Panel
When you're living on the road, you tend to spend a lot of time outside, which can make seeing a dull control panel difficult. The AceVolt's backlight on the control panel was fairly dim, which made it difficult to see the percentages while I was outside. I'd like to see future models of this device with a brighter light, even if it reduces the efficiency of the battery by a little bit. 

Personal Preferences
I really enjoyed testing the AceVolt Campower 2000. I think that it has great charging capacity. It's competitive in pricing. And it'd be the perfect addition to a campsite with 4-5 people. Each person would comfortably be able to charge their electronics using this device. And it wouldn't deplete extremely quickly. It felt like overkill for me and my partner. And it wasn't quite powerful enough for it to be sustainable in our camper long-term. So, I'd probably favor the AceVolt 700 over the 2000 for my specific needs. But we love the concept, and I found that it was fairly reliable.
Experience
I've tested a handful of generators over the past decade. I've had the AceVolt for about 3 months, and I tested it in several different environments. For the most part, these destinations were dry and sunny.
Source: tested or reviewed it for the manufacturer (Kept It)

The author of this review received a sample of the product from the brand or its representative in exchange for a review.
Your Review
Where to Buy
Help support this site by making your next gear purchase through one of the links above. Click a link, buy what you need, and the seller will contribute a portion of the purchase price to support Trailspace's independent gear reviews.
You May Like
Specs
| | |
| --- | --- |
| Capacity | 1997WH/2000Watt |
| Dimensions | 15.4 x 11 x 12.7 in |
| Voltage | 100 -120 Volts |
| Total Power Outlets | 13(6*-AC-Output 2* PD 100W Type-C ports 2* USB-A QC3.0 2* standard USB-A ports 1*-Car port) |
| 0-80% charging | Within 1.5H (wall charging) |