Ahnu Montara Boot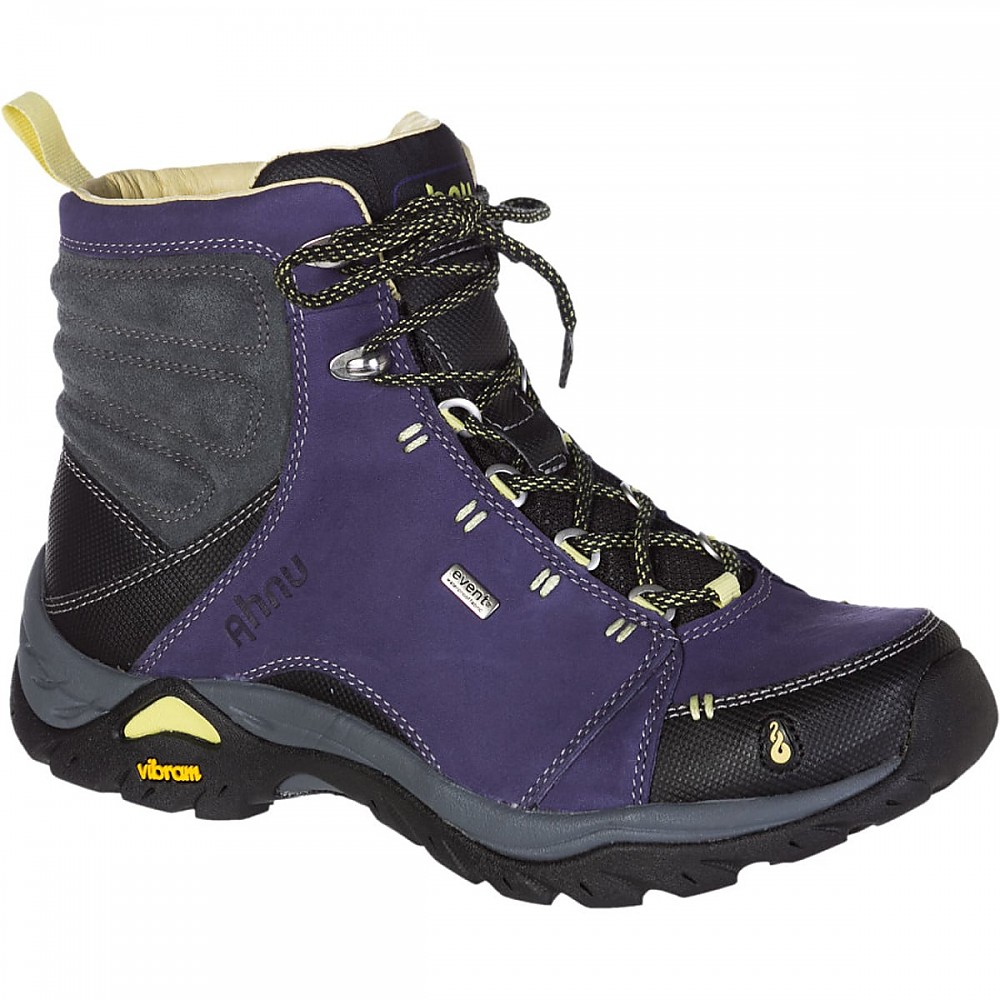 Comfortable boot with little protection for your soles.
Cons
Wimpy soles
Not really breathable
I have hiked around 300 miles of the AT in these now in every season (but no snow). That means over lots of rocks and roots and almost never a smooth trail.
I originally bought them because I was having a terrible time finding any hiking shoes that fit me well. I have a wide forefoot and narrow heels, and these actually felt good when I put them on. Compared to other midtop boots, these are very light, and they are indeed waterproof, at least so far.
Breathability: Not really, the insides are pretty much always damp when I'm hiking in hot weather, but I long ago gave up the notion that any shoe could be waterproof AND breathable, no matter what they say.
Construction:  The one complaint I have is that the ankle seems to be built around a piece of plastic that does not extend all the way down so for a long time anytime my foot skewed to the side a little, like stepping on a rock or root (ie ALL THE TIME) that plastic piece would jab me in the ankle. I finally lined the whole inside with duct tape. That helped and it seems to have softened up now.
The good news is the outside has held up great. Nothing is coming apart or wearing out. I did immediately replace the shoelaces it came with with sturdier ones.
Trail Feel - You feel ALL the trail in these. The soles are basically running shoe soles. There are no lugs to keep you from feeling ever rock and acorn in your path. However the Vibram soles seem to provide okay traction for what I'm doing.
Source: bought it new
Price Paid: $160

A superbly comfortable and lightweight boot. Impressive wearability for long periods of time.
Pros
Lightweight
Comfortable
Good traction
This is far and away the most comfortable hiking boot I have ever worn. You know that moment at the end of a long day of backpacking where you just can't wait to get your boots off, and when you finally due it's a palpable relief? Even after a record setting day (for me!) of trudging along Wisconsin's Ice Age Trail it *didn't even happen*.
At the same time, it doesn't feel like you are walking on a mattress, the boots have very good stability, excellent traction, and are incredibly lightweight. Break in was a cinch, the boot formed to my foot very quickly.
Note that these are not really waterproof, so don't go galavanting through a swamp, but the water resistance was very very good for normal hiking. Highly recommended. 
Source: received it as a personal gift

These boots aren't wide like many boots on the market. They have great ankle stability for rougher hiking terrain. I even did about 2.5 miles of trail running in these and they didn't kill my feet!
Pros
Narrow
Ankle support
Waterproof
Easy lace-up
Cons
Waterproof (lack of breathability)
Fit: These boots have a narrower fit, which was great, as I have struggled to find a boot that my foot and heel do not swim in. The lacing system helped keep the boot snug through the foot and ankle.
Comfort: I was nervous for the first time using these. I ended up going for a 9-mile hike and they didn't cause any blisters. No break-in felt necessary. A little bit of debris might end up inside the top of the boot tongue.
Support: My feet were fine without any additional foot inserts. The lacing kept the ankle supported.
Water Resistance: These are waterproof, and kept my feet dry in quick stream crossing and any morning dew. I haven't encountered anything more extreme, yet. As with many waterproof options that I have tried, they do get a little warm, but nothing unmanageable as they are made to breathe.
Traction: Traction has been great for climbing on open boulders, as well as dirt. They still slide a bit in super muddy conditions.
Ease of Use: Lacing up was simple and didn't shift or loosen during wear.
Features: They live up to expectations, so far.
Construction & Durability: I haven't put more than 100 miles on these yet and they have held up. I have read that they are better if you keep them as a day hike boot, or only use them with a lighter pack.
Conditions: I have a had these for a few months. So far I have hiked the Piedmont and Blue Ridge Mountains of North Carolina.
Source: bought it new
Price Paid: $131

Boots failed to remain water tight after only one year. Ahnu's response was, "Thanks for letting us know."
Pros
Comfortable on the foot
Wide toe box
Cons
Not best at wicking away moisture
Water tightness lasted only one year
Lack of satisfactory response from Ahnu
I purchased a pair of women's Ahnu Montara hiking books on November 19, 2015 (1 year and 10 days ago). I probably have about 400 miles on them. From day one, the shoes were very comfortable. There was no break-in period, and I experienced no problem with hot spots or blisters. They are extremely lightweight.
I have a wide foot (due to bunions), and these boots accommodated my foot very well. The boot style allowed me to tighten them about the ankle so that my feet didn't slide forward (and end up with bruised toes) while hiking down slopes. Traction was good. I had no problems slipping and sliding down steeper slopes or on stream crossing.
I hike in the Smoky Mountains, and typically any hike involves crossing a stream or two. These boots did a good job of keeping the water out (to start).
A negative I would point out is that they did only an OK job of wicking away moisture—my feet do sweat a lot, and I always came home from a hike with damp socks. And the smell from the boots was horrible!
Over most of the summer, I have had no reason to get my boots wet since we have been experiencing a drought here, and most of the streams have been dry. After hiking about 2 weeks ago, and crossing a couple of wet streams for the first time in months, I realized my feet were VERY wet. So, I decided to run a "test" on my boots.
I filled them with water, then watched to see what would happen. Very shortly, water started seeping out from where the sole joins the upper part of the shoe. I was very surprised and disappointed that there could be this kind of failure in the boots after only a year.
Now, I have only been hiking for a year, and this was my first pair of hiking boots, so if this is an unrealistic expectation, please let me know. After writing to Ahnu about the situation, their response was a generic, "Thanks for letting us know." Given that the boots were only 10 days out of warranty, I expected a little more than that. Needless to say, I will not be purchasing anything from Ahnu again.
Source: bought it new
Price Paid: $144

These boots are the best boots I have ever had for hiking. This past summer my boyfriend and I traveled out west on a cross-country road trip. Not only did these boots hold up throughout the whole trip, I also did not run into any blisters and they are completely waterproof. Everyone else I hiked with got blisters, as some of our hikes were 15+ miles a day, but mine were perfect and caused me no issues!
Pros
Waterproof
No blisters
Ankle support
Cons
The only issue was that I felt like the boots loosened really easily
I would recommend these boots to anyone in the future. Throughout all of my hikes these have not failed me.
The only issue is the fit around the ankle. My ankles are fairly small and the shoes loosen really easily, but they provide enough support. I have used these boots on all sorts of terrain, from walking on North Manitou Island in Michigan through the water, to the dry rugged terrain of Zion National Park. These worked for it all!
Source: bought it new
Price Paid: $110

A very comfortable boot with great stability in rocky conditions. Out of the box comfortable.
Pros
Good stability
Very comfortable
Fit true to size
Just put these on right out of the box and headed off for a five-day trip in the Rockies. The boots were comfortable right from the start and had good stability even in scree. I'm happy to say that we had perfect weather so I cannot be sure how waterproof they are.
I had the same pair of Vasques for 20 years and must say that these were a big improvement.
Source: bought it new
Price Paid: $165

I hike all the time for my job, and before I got the Ahnu Montara boot, I was still using a very old pair of worn-out hiking boots I had for years. The Ahnu was literally a breath of fresh air for my feet. They are super comfortable and durable. I can only describe them by saying, 'walking on clouds!'
The shoe fits really well. They have tons of support. I hike for work, and I can be out for a few hours, and really not feel anything. It is great! The ankle area is supported really well too! 
What is also another added bonus: they come in super cute colors. It really is a new way to do hiking boots. 
I've worn them in all types of weather, and my feet kept really dry and warm in the winter. In the summer they breathe very well! 
I would totally recommend this hiking boot for anyone. It's great for long backpacking hikes, small quick hikes, and everything in between. They are extremely versatile. 
Source: bought it new

This boot is waterproof, comfortable, durable and good looking. I've worn this boot all the way to the summit of Kilimanjaro and across various countries in Africa and South America and it has never let me down.
Pros
Waterproof
Super comfortable
Durable
This boot is true to size and does not need any break-in whatsoever. The day I first wore them felt as good as they felt yesterday, months after I purchased them. There was no chaffing. My ankles were well supported, even while descending Mt. Kilimanjaro.  
I have stomped through puddles and snow in these boots and they never leaked or allowed any water in. I have walked through sand and mud and my socks have always been fine afterwards. I've had to do some boulder climbing to get from point A to point B in a long hike and I had no problem with grip.
Despite wearing my boots for months, through all sorts of terrain and temperatures, they are still holding up. They have no tears or rips and the soles are still good.  
Source: received it as a sample, freebie, or prize (Ahnu gave me a pair to support my work in Africa)

These are by far the best hiking boots I have ever owned!
Pros
Supportive
No breaking in required
Waterproof!!!
Stylish even in the woods :)
Cons
Not recommended for large backpacking loads
They are very comfortable and supportive and required no breaking in at all! The inside of ankle support is soft leather almost like moleskin. So wonderful against your ankles during long rough hikes. They are waterproof...yes I REALLy tested them.
I have been hiking and backpacking for 20 years and have never loved hiking shoes like I love these!
Source: bought it new
Price Paid: $150

Your Review
Where to Buy
Help support this site by making your next gear purchase through one of the links above. Click a link, buy what you need, and the seller will contribute a portion of the purchase price to support Trailspace's independent gear reviews.
You May Like
Specs
Price
MSRP: $150.00
Historic Range: $22.00-$164.95
Reviewers Paid: $110.00-$165.00

Recently on Trailspace