AlpineAire Foods Wild Quinoa Pilaf With Hemp Seeds

Top 50 in Vegetarian Entrées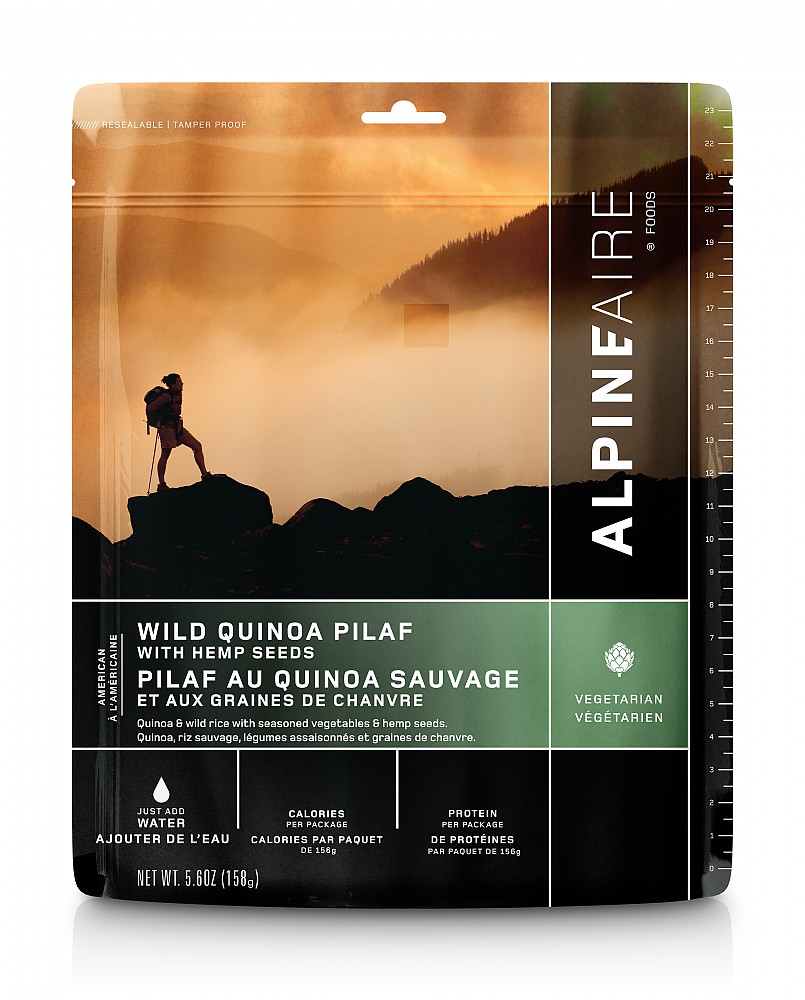 Specs
Price
MSRP: $6.50
Historic Range: $3.93-$5.95

Reviews
1

review

5-star:

0

4-star:

0

3-star:

0

2-star:

1

1-star:

0
A vegetarian pilaf freeze dried backpacking meal which may or may not be suited to your palate.
Pros
Lightweight
Easy preparation
All natural ingredients
Cons
15 minute prep time
Small portion size
Taste may not be for some
Freeze dried food — some are good, others downright terrible. The AlpineAire Wild Quinoa Pilaf - with Hemp Seeds  falls somewhere in the middle on that scale, primarily due to differences in people's palates.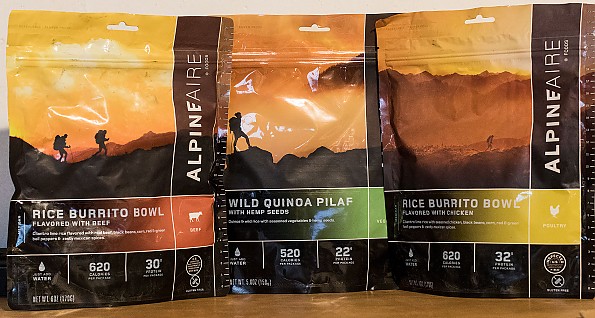 AlpineAire Freeze Dried Food Packets

Opening the package, I immediately smelled a nice blend of spices, but also detected a strong hint of something that reminded me of hay, most likely due to the hemp seeds. The ingredients — a mix of brown rice, quinoa, tomato flakes, carrots, onions, and spices — is quite colorful and actually looks quite appetizing.
Preparation, like most freeze dried meals, is quick and simple. Pour 1 3/4cups (14oz) boiling water into the pouch, reseal, and let stand for 15 minutes. Stir and it's ready to eat. I did find that 14 ounces of water was just about perfect for a nicely reconstituted meal.  
A nice feature, but one I didn't use, is that the package is marked on the outside with gradient lines. No way to measure out 1 3/4 cups of water? No problem, simply fill the package to the specified line in the directions on the back.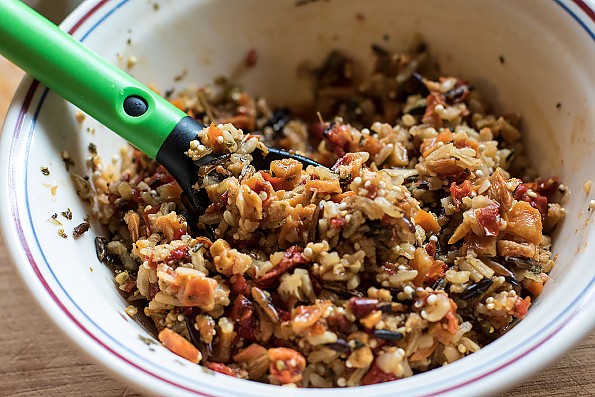 Wild Quinoa Pilaf with Hemp Seeds

OK, here's where the review gets subjective. I simply do not care for quinoa and I would never buy this meal when shopping for backpacking food. So, I shared this dish with my wife to get her opinion as well. Both of us agreed that the meal was much too salty. We also both agreed that the 15 minute cooking time wasn't long enough. The rice and quinoa was too al dente. Another problem was that, in the cool evening desert air, by the time the meal sat long enough to properly rehydrate, it was only just warm when it was ready to eat.
Serving size was quite small. The meal would be better as a side dish or, perhaps, mixed with some other ingredients to make it go farther. Personally, and again due to my palate, I simply could not see myself trying to eat this dish as a complete meal. As it was, I could not even finish my portion. Linda said it was quite tasty, but she did not eat her entire portion.  She said it wasn't something she wanted to fill up on.
Nutritionally, the AlpineAire Wild Quinoa Pilaf claims to be all natural, and contains 0 grams of trans fat. There are 260 calories per serving, with only 25 calories from fat.
Packaging is typical for this type of food. A bit bulky if you are crammed for space or are carrying a bear container. Weight of the product is 5.6 ounces.
The bottom line here, is, I was simply not the right person to review this meal. On the back side of AlpineAire food packets is a statement that reads, "Food for every palate." It certainly didn't fit mine. Perhaps it will fit yours.
I want to thank AlpineAire for sending me this meal, free of charge, to use in this review.
Source: received for testing via the Trailspace Review Corps (Samples provided by AlpineAire for testing and review)

You May Like
Recently on Trailspace