AlpineAire Rice Burrito Bowl with Beef

Top 25 in Meat Entrées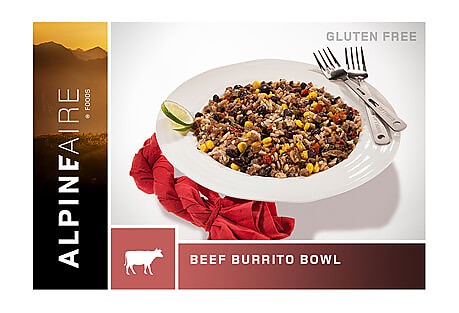 Specs
Price
MSRP: $8.50
Historic Range: $3.93-$8.49

Reviews
2

reviews

5-star:

1

4-star:

1

3-star:

0

2-star:

0

1-star:

0
A very tasty and satisfying freeze dried meal.
Pros
Very tasty once doctored up a tad
Good portion size
No artificial ingredients
Cons
A bit bland out of the package
Directions called for too much water
Freeze dried food — some are good, others downright terrible. The AlpineAire Rice Burrito Bowl Flavored with Beef easily falls into the very good category.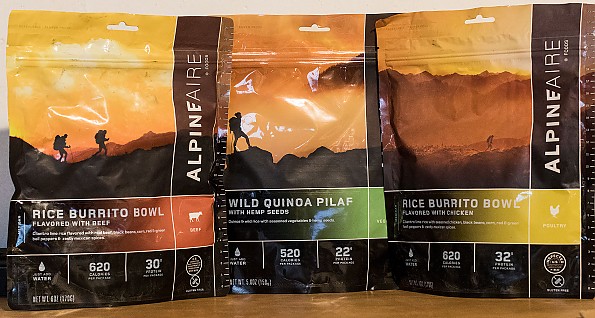 AlpineAire Freeze Dried Food Packets


Opening the package, spicy aroma fills the air. The Mexican-style spices — red peppers, taco seasoning, and jalapeños — are very poignant. The ingredients — a mix of rice, beans, corn, onions, beef chunks, red and green peppers, and spices — are quite colorful and actually looks quite appetizing.
Preparation, like most freeze dried meals, is quick and simple. Pour two cups boiling water into the pouch, reseal, and let stand for 10-12 minutes. Stir and it's ready to eat.  
I did find that two cups of water was a tad too much for my taste. Two ounces less would have been perfect.  A nice feature, but one I didn't use, is that the package is marked on the outside with gradient lines. No way to measure out two cups of water? No problem, simply fill the package to the specified line in the directions on the back.
I found the taste was a bit bland, despite all the spices. A little salt helped a lot. I have to admit that I'm not a backcountry chef. I usually just eat simple meals and rarely cook or combine ingredients. But with this meal I just couldn't resist making an actual burrito, it is called Burrito Bowl after all!
Each package contains two servings, which was plenty to make four 8-inch burritos. Topped with a dollop of salsa or peach habanero sauce and it was downright delicious! I can honestly say that I'd eat this meal anywhere, even at home. I found the meal to be quite filling (eating one serving of two burritos).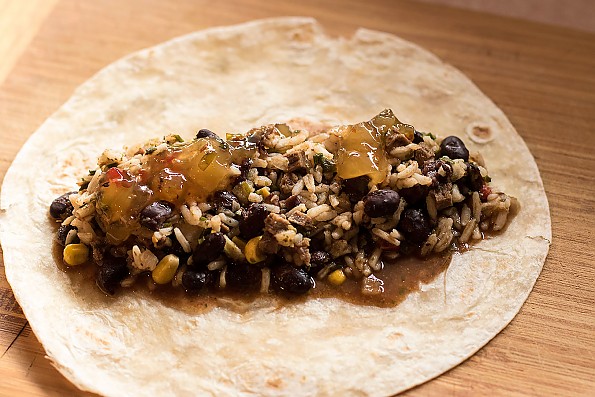 Serving suggestion with peach habanero sauce


Nutritionally, the AlpineAire Rice Burrito Bowl claims to be all natural, gluten free, and contains 0 grams of trans fat. There are 310 calories per serving, with only 20 calories from fat.
Packaging is typical for this type of food. A bit bulky if you are crammed for space or are carrying a bear container. Weight of the product is 6 ounces.
By the way, there are two other flavors of Rice Burrito Bowls in the AlpineAire line of freeze dried foods, one flavored with chicken and a vegetarian one without any meat added.  All are similar in taste.
Overall, I really like this meal. It tastes good, is easy to prepare, and the serving size was sufficient.  I'd recommend adding this meal, or any of the other flavors, to your backcountry kitchen.
I want to thank AlpineAire for sending me this meal, free of charge, to use in this review.
Source: received for testing via the Trailspace Review Corps (Samples provided by AlpineAire for testing and review)

A tasty, filling meal you can be nom nom nomming in 15 minutes. Ingredients are all FOOD, no added chemicals—all minerals and nutrients are naturally occurring in the ingredients.
Pros
Flavor
Texture
Package size
Received as part of my Reviewer of the Month prize package.
Today I went snowshoeing for a couple hours, and decided to bring along the AlpineAire Rice Burrito Bowl Flavored With Beef and eat it for review. From the pouch front:
Cilantro lime rice flavored with real beef, black beans, corn, red & green bell peppers & zesty Mexican spices.
I normally don't give a lot of thought to the food I bring hiking or camping, if it sounds appetizing I'll buy it based on the flavor without paying too much attention to the ingredients. However, since for many people the ingredients and nutritional information are just as important as the flavor, I've included the basics from the package labeling. 
Package size: 6oz/170g
Servings per package: 2
310 calories & 15g protein per serving
2.5g fat (4%DV), 0g trans fat, 15mg cholesterol, 400mg sodium (17%)
58g carbs (19%), 9g fiber (36%), 5g sugar, 15g protein.
I looked at the freeze-dried product when I removed the O2 absorber and saw there were a LOT of black beans and cubes of beef (which is a good thing.) The beef cubes were maybe 10mm on a side, the peppers maybe 8x8x4mm on average. I estimated by imagining which wrenches would fit. Maybe I've turned too many wrenches in my life. Corn and beans were, well, the size of corn kernels and black beans. Rice appeared to make up about half or a little more of the meal by volume. 
Firing up the trusty MSR WhisperLite, I had the recommended 16oz of water boiling in a few minutes and poured it into the bag. I always like to give the package a few shakes and stirs while reconstituting to help ensure there are no dry spots at the bottom. After about the recommended 10-12 minutes I checked the meal and found it be ready. I didn't use a timer because, well, who actually does when on the trail? Set up or tear down the tent or do other camp chores while waiting. Maybe next time I'll use a bit less water, but I like these kinds of meals a little thicker anyway. Following the instructions didn't make it watery in any sense of the word. I ate it with a plastic fork because I couldn't find any of my sporks. I hate moving!
I have the habit of putting hot sauce on everything before even tasting it, but I left it at home this time so I could taste the food as packaged. It was very tasty, the cilantro and lime were definitely noticeable but nowhere near overpowering. The Mexican spices added nicely to the flavor without covering anything up. The food texture was appealing as well, with the individual ingredients discernible in my mouth. The beef cubes could have been a little bigger, but that would have meant fewer bites with meat in them. 
310 calories per serving isn't a lot at all, especially when you're burning them like crazy hiking or keeping your body warm in the winter, so I ate the whole meal and didn't feel overfull. My prior meal was a bowl of raisin bran about 4.5 hours earlier and my stomach was ready for some food! I don't think I would have still felt empty if I'd only eaten half, though, at least not right away. A couple trail hours later might have been another story. In any case three of these per day doesn't even give you 2000 calories, so eat the whole thing without guilt. You won't get fat!
To the best of my knowledge this was the first AlpineAire meal I've had, and I was impressed. I'll definitely buy some if/when I see them.
Experience
Quite a few camping and hiking trips during which I ate.
Source: received it as a sample, freebie, or prize (Trailspace Reviewer of the Month prize package)

You May Like
Recently on Trailspace