Congratulations to Phil Smith of Jackman, Maine, our newest Reviewer of the Month!

Phil enjoys hiking, snowshoeing, and bagging peaks, and has been a member of Trailspace since 2014. He has most recently reviewed his The North Face Denali Etip Gloves, Osprey Manta AG 36 pack, and ALPS Mountaineering Nimbus Jacket.

In thanks for his contributions, Phil wins a $300 prize pack from AlpineAire, Black Diamond, EMS, Katadyn, Klean Kanteen, and Sea to Summit. Check out his prizes and get to know Phil below.
---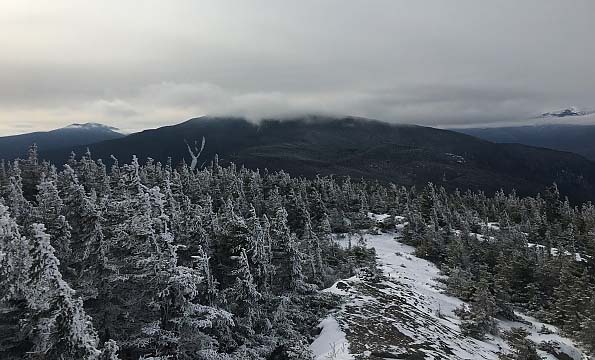 Mount Moriah hike, New Hampshire (December 2017)
Please tell us a little about yourself.
I'm a 50-year-old mechanic, former soldier, hiker, snowshoer, camper, and cat lover (house staff to Boo, Cleo, Domino, Rascal, Roscoe, Sasha, Snicker, and Trouble). I grew up in Maine and in 2006 moved back here from New Hampshire, where I'd lived since 1999.
How do you spend your time outdoors?
Jeeping, hiking, snowshoeing, camping, and getting firewood.
How did you become a Trailspace community member?
I think I came across the site while searching for some piece of gear.
What led you to start reviewing your gear on Trailspace?
Trailspace seemed to have the most honest reviews I'd seen, and I thought I could contribute by reviewing gear I had experience with.
What do you do when you're not at Trailspace?
Try not to spend all my disposable cash on new gear.
When and how were you introduced to the outdoors?
Boy Scouts, a long, long time ago.
What's a typical outing for you?
Meet up with a friend, hit the trail later than we should, spend a little time at the summit, making sure we get our traditional pic of our feet with the marker, then head back down and stop for a meal that contains three times as many calories as we burned that day.
Do you prefer to go out solo or with a partner?
With a partner or a small group (three to five people at most), hopefully of similar fitness levels.
Do you have any noteworthy history or skills?
I don't get cold very easily. I'll be hiking in a baselayer top when others are bundled up like the kid from A Christmas Story. Though I think it's less not getting cold and more knowing I'm not dangerously cold, so I can live with it.
Who has influenced your outdoor life?
A former Scoutmaster, André Gendron, who died in 1987, my hiking partner Chad, and more than a few of the Trailspace members.
What's your favorite outdoor place?
Anywhere, really, especially if I'm with my best friend and her dogs.
Describe your happiest moment outdoors.
Probably the first time I made it to the summit of 2006-foot Pleasant Mountain in Maine (1.7 miles/1,512 feet) without having to take a break along the way. This was in July 2017. I'd been doing training hikes on a big hill called Douglas Mountain two or three times per week and longer hikes on "real" mountains on weekends. Pleasant Mountain was the second "real" mountain I hiked. I think it was my third time up it that I made it without stopping.
Describe your ideal day outdoors.
Anything, really; if I have the right gear for the weather it'd have to be pretty miserable out for me not to enjoy it. Things that can make me miserable: baselayer cuffs getting wet, socks that keep bunching up, mosquitoes and black flies, and people who complain.
What is your dream outdoor adventure?
I'd like to hike, ski (once I learn how), and snowshoe out west—Wyoming, Montana, Idaho, etc.
Any plans on your horizon?
Not really. The things I do only need a week or two advance planning, more to get time off than anything else. But there are quite a few mountains within sight of my home that are calling to me!
Do you have any outdoor goals?
Hiking the New Hampshire 4000-footers would be nice, but the one goal I'm shooting for more than any other is to be able to get out and enjoy the outdoors till as close as possible to the day I die. I'd like to do a winter ascent of Mt. Washington, too.
Do you have any outdoor regrets? Fears? Mistakes?
Regrets? Letting myself get so out of shape. Fears? I REALLY don't like heights, and my sense of balance isn't the greatest. Mistakes? Overestimating my abilities, but thankfully not to the point of endangering myself or others.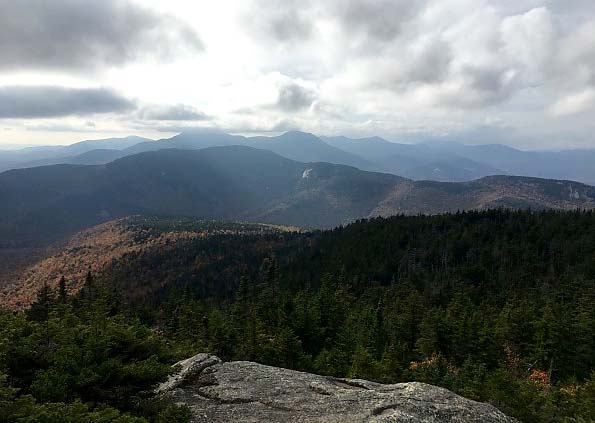 View from Mount Chocorua hike, New Hampshire (October 2017)
Tell us about the New Hampshire 4000-footers you've done.
I've done seven (of 48) so far—Monroe, North and Middle Tripyramid, Tecumseh, Moriah, Tom, and Field, but my move to Jackman, Maine, and its distance from the White Mountains means they'll probably be few and far between from now on. But they're not going anywhere.
What are some memorable hikes?
I've always really liked Chocorua, and my overnight hike to Jim Liberty Cabin last year was a lot of fun (trip report here). Well, except for being chilly most of the night.
Mt. Monroe via the Ammonoosuc Ravine Trail was a really nice one, too (trip report here).
I've only hiked a few mountains in Maine so far, Burnt Meadow Mountain and Pleasant Mountain. 3,500-ish-foot Boundary Bald Mountain is right in my backyard, though, and I plan on hiking it this winter once the snow is a little more consolidated.
Do you have a piece of outdoor gear you consider essential? What? Why?
A paper map and the ability to use it with or without a compass. It never, ever loses the signal.
Do you have a favorite piece of outdoor gear? What? Why?
I can't pick just one between my Osprey Manta AG 36 pack, Black Diamond Syncline trekking poles, Asolo Fugitive GTX boots, and Sorel Conquest boots. I've used all of them very hard and none have ever let me down.
What's in your backpack right now?
Hydration bladder and first aid kit, other contents depend on the weather and where I'm going.
What's the best outdoor or gear advice you've been given or heard?
Don't be afraid to turn back without reaching your goal; the outdoors is very unforgiving.
What advice would you give other gear reviewers?
You need real experience with something to write an honest review. One thing I like about Trailspace is that I've seen very few "I just got this and have never used it, but it looks like it'll work just fine. I'm giving it five stars" reviews.
What advice would you give other outdoor enthusiasts?
Being outdoors is one of the most satisfying things you can do, so take every opportunity you're given to get out there.
Do you have any interesting gear stories?
Once I used a pair of snowshoes as traction mats under the rear tires of my stuck Jeep, and was able to straighten them out with vise grips so that you can barely tell the frames were twisted and bent.
What's your favorite book?
It's hard to pick a favorite because I've read so many, but I'd have to say either Dune or Starship Troopers is the one I've read the most.
How would others describe you?
(I hope) helpful, generous, patient, humble, funny.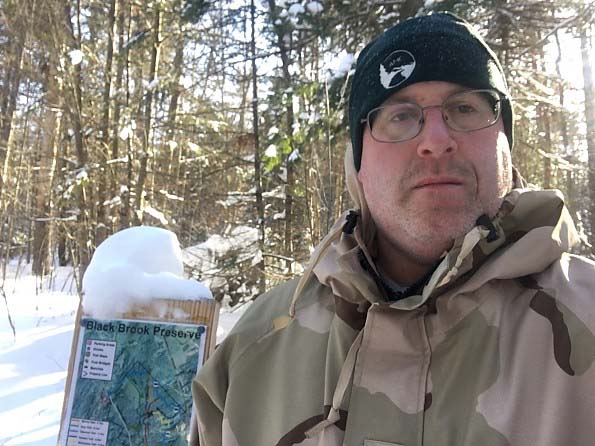 ---
Reviewer of the Month Prizes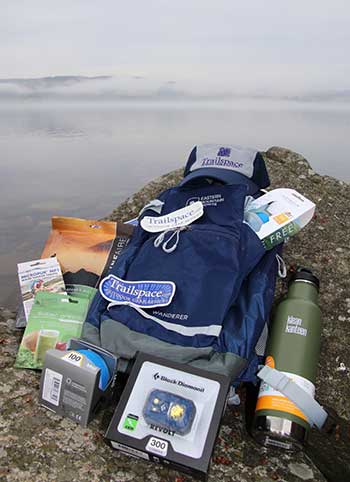 Congratulations, Phil!
To thank them for their essential contributions, we're giving Phil and every 2018 Reviewer of the Month more than $300 worth of gear, thanks to these generous brands: