ALPS Mountaineering Zephyr 2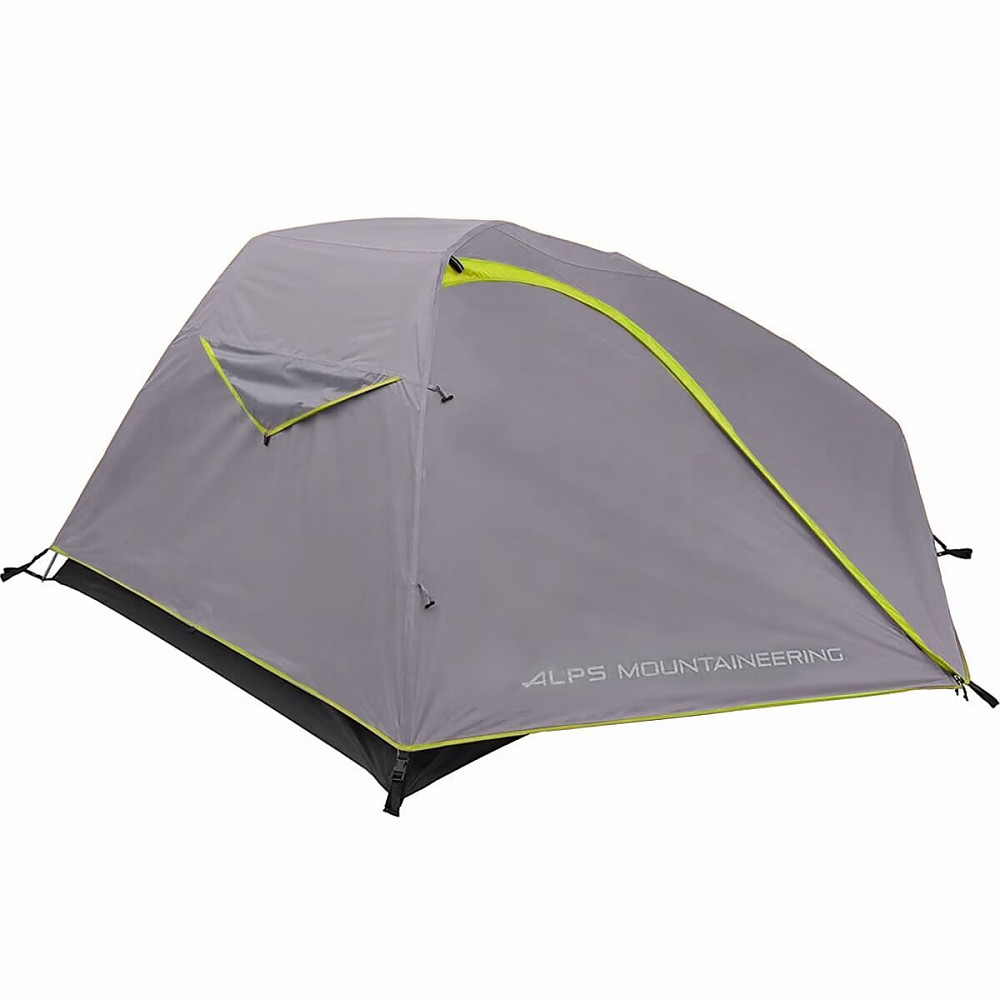 GREAT tent if under 100 USD. Recommended, but warning if you plan to use in heavy rain.

Pros
Easy to set up
Light for the bargain price and materials used
Handles condensation really well
Well built and nice design
Gear loft included
Easily available even at half retail price
True to its specs
Great customer service from its brand
It's free standing
Fly provides excellent coverage
Cons
A couple of critical seams are not sealed, but easily fixed.
Doors/vestibule easily allow water and condensation to fall into the tent went entering and exiting
Water that beads doesn't run off, not even on the most vertical wall of the fly, which seems to increase condensation in some spots.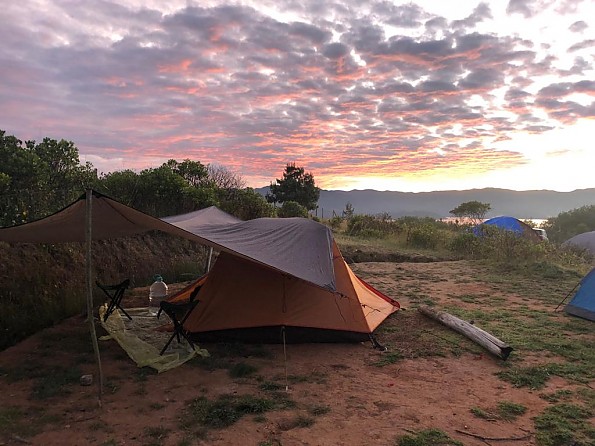 UPDATE AFTER HAVING USED IT ON 4 TRIPS:
The tent has been used for backpacking and car camping in four occasions; it has been used a total of 13 nights outdoors. Two occasions were hot weather (80's F) and two in cold, windy and rainy weather (around 30's F). It's still in perfect shape. I do use a polycro ground sheet and am very careful handling everything except for zippers which are doing great regardless. I plan on keep on using it for a while.
For cold weather the tent has worked, but in conjunction with a bag rated much lower than the temps I've been at. It's always chilly inside, you don't feel wind inside the tent, though. I'm thinking of buying some silnylon or lightweight fabric and adding some skirts to the fly, helping retain heat.
In hot weather it works great. I was actually amazed at how well it vents. The orange color sucks in the morning as well as the window, but is manageable.
Water resistance is just as I had expected from my park tests, and I'm very glad I seam-sealed it. Both my sealed seams as well as the factory sealed seams resisted very heavy rains (eight nights of more than six hours of heavy rains). Just for peace of mind, I might spray some DWR on the fly, because water does bead but doesn't run off easily, and since some parts aren't vertical enough, I believe that could worsen condensation in cold weather. The doors do have a bad design so, to be able to get in and out without getting things wet inside, I always bring a tarp to place over at least one of the entrances in case of rainy conditions.
Wind resistance is awesome, especially if you align the tent correctly (foot end facing the wind). As mentioned before, inside the tent winds are not felt.
Setup, ease of use, and packability are good. No complaints there.
So far I wouldn't change my rating of the product. I am one of those who doesn't mind hacking my gear a bit, so having had to seam seal it, or created a better vestibule doesn't bother me as much. If I had to do the same with a more expensive tent I might not like it as much, but this tent was quite inexpensive for what it is. Still would recommend it, if under or around 100 usd.
I'm a hammock camper, but I needed a backup shelter for when hammocking isn't possible, but it had to also fit my gf. I purchased the Alps Mountaineering Zephyr 2 on July 2018 from Steep&Cheap. The measurement specs do not lie, it's all as stated on Alps' website. I like that a lot.
Only set up a few times in the park and did a few personal tests for water resistance there. I will update my review as soon as I give it a good use backpacking. But in general my first impression is that for the price I paid ($89 tent, $16 for taxes & shipping) I'm quite happy and I would recommend it. 
Out of the box I give it 4/5, with a little modding, it turns into a 5/5.
I do have to say that I can't deny I was disappointed with a few details... some of which I blame on bad luck and others on the manufacturer, but I would definitely recommend this tent to anyone who can find it being sold for or less than 100 dollars.
My only warning would be: make sure to have and get ready to use some seam sealer (I had to buy a 1 oz tube - 5 bucks) if you plan to use under heavy raining... some seams are not sealed/taped, and others that are sealed-taped might arrive a little damaged as was my case with one little spot on the fly and one in a corner of the floor. (see phots bellow)
You will notice many reviews state they've had no leaking, and the brand firmly states that no additional seam sealing is needed. My "park tests" certainly—and surprisingly—revealed no leaking at the small parts with damaged taped-sealed seams, nor did it leak in any of the other 90% of the seams that are taped-sealed, but  I found the zipper-flap's seam on the fly does allow water to pass under prolonged heavy water exposure, and part of that zipper-flap is over the tent so it will leak into the tent over time. It shouldn't be surprising, though, since this seam (on either door) is not sealed at all! 
I must accept I think I understand why they don't seal that seam (it's curved, so tape-sealing it must be difficult/costly), but having been in the market for so long, I would have expected the brand to come up with a solution to this at this point.
But... it's not really that much of a deal breaker for me, even if I had known before i purchased it. Some reviews do warn about it, but I just thought they were fake reviews or people with bad luck who received those few factory mishaps. So, believe those critical reviews and just get a tube of seam grip which costs 5 dollars (at wallyworld) and you would only have to seal those two curved seams since all other seams are quite well sealed.... and that's it, you have a 5-star tent in my opinion... as long as you didn't pay more than 100 bucks for it. 199 bucks for this tent is quite absurd, I must say.

All that being said...
Here's a more organized initial review of my tent:
Setup: Very easy to set up. Don't forget to pass the small stabilizing pole through the black tab on the netting, not just stick into the  two grommets. Most videos you see on the tent don't do it.

Stability: Good. Strong winds don't affect it (specially if you set it up in the right direction) and it has good options to make it even more stable. I  do wish ALPS included just one more guy-line.

Weather Resistance: Wind is handled quite well. The fly covers the tent very well. Rain is handled well (both fly and floor) BUT I wouldn't trust the fly under heavy rain just as it comes out of the box. Neither the seam of the red flap that covers the zipper or the zipper itself are sealed/taped.

Ventilation: So far, ventilation is great.

Room & Storage: Just as the measurements indicate. Gear loft is included and works well. Great for small couples. Me and my girlfriend (both slim and under 5'5") fit with backpacks inside quite comfortable. We can sit up and play Rummy-Q comfortably.

Packability: Follow the tutorial videos on Alps' website, and it's a breeze. There's still room in the sack for a footprint if necessary.

Ease of Use: Quite easy. I wish I didn't have to seam seal some parts, though.

Features: Well designed to handle condensation and protect form the elements. Handy gear loft and its hooks.

Construction & Durability: Looks good. Will update after further use. I'm definitely using a footprint, not that I find it necessary, but just to take care of such a nice tent. Stitches and sealing look well done. The mesh gets snagged easily with male-velcro.


Some photos of the unboxing: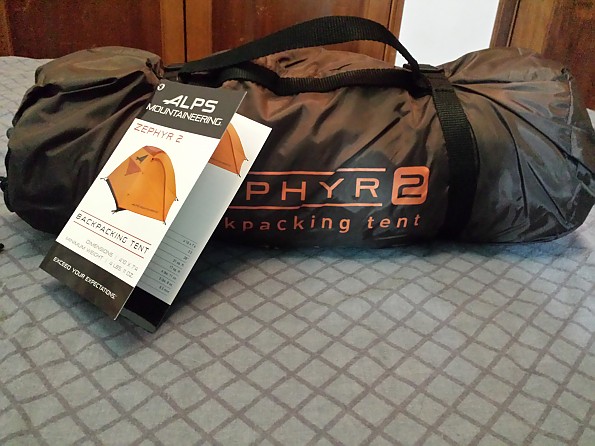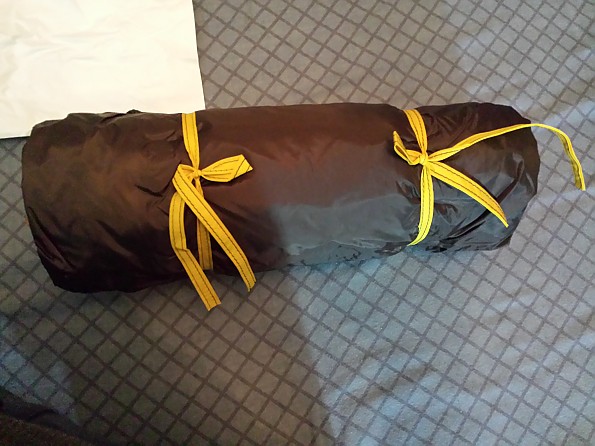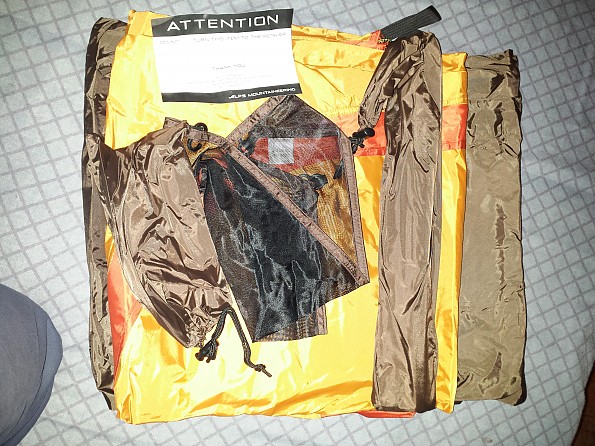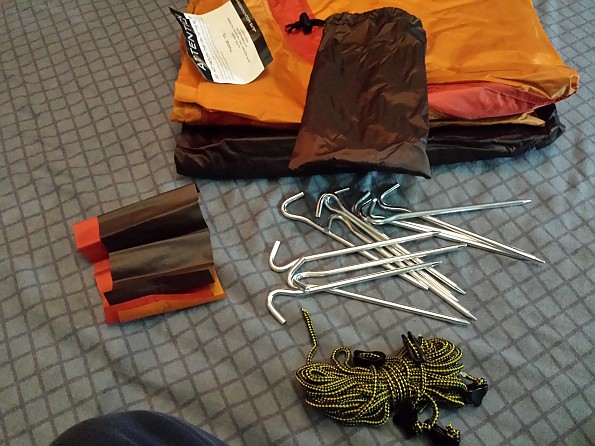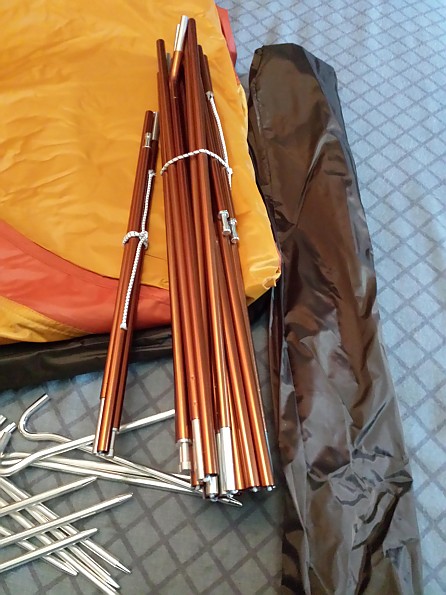 Photos of a little defect on the fly and the unsealed seams: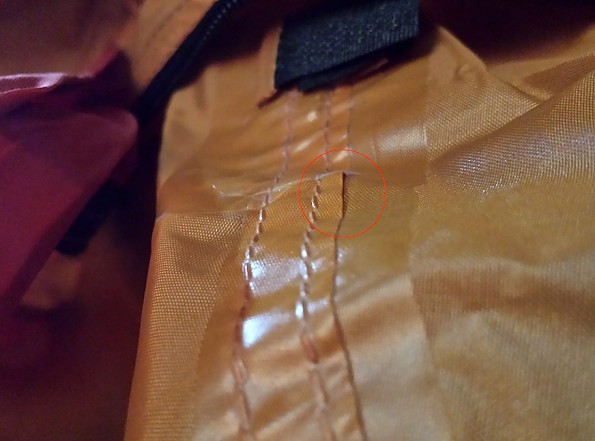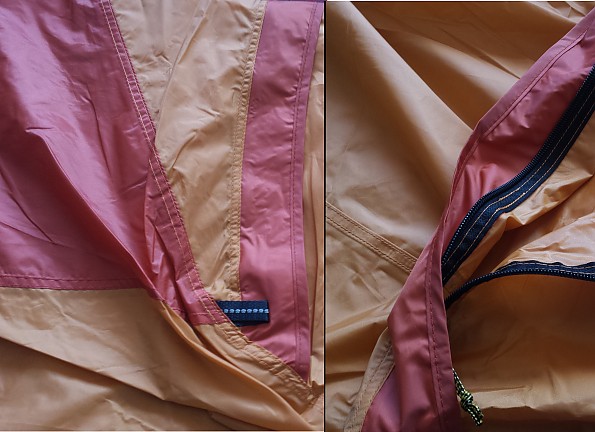 Photos the tent setup during its 4th trip:
Source: bought it new
Price Paid: 89 usd

At a little over four pounds, the ALPS Mountaineering Zephyr 2.0 will scare away all the very weight conscious wimps, but the price, durability, and simplicity of its two-pole system, more than makes up for the weight, as far as I am concerned.

I'd recommend Alps products as a nice alternative to anyone on an REI budget.
Pros
Roomy
Durable
Easy to set up, guy-out
Affordable
Cons
Heavy at four pounds, but who's counting...
I bought the Zephyr 2, for JMT #13, in 2013. It arrived just a few days before I took off and I didn't spend any time setting it up, but rather just accounted for all the parts and stuffed it into the bottom of my pack. End of day one came fast and hard in the form of an initial three hour hail and rainstorm, in which I played the "oh, it'll just last a few minutes" game.
By the time I realized the weather was really going to stick around I had precious little time to set up the Zephyr, but it went up easy and I spent a long windy, heavy-hailing night in complete comfort. 
The Zephyr is nothing new. There are other two-pole tents out there. I am a big fan of not having to fidget around and tweak things. I can set the Zephyr up in well under five if not three minutes, if need be. I use rocks, branches, trekking poles to guy-out my tent, rather than carry and play around trying to pound stakes into the ground, not to mention worrying about them coming out when the weather gets really raucous.
Rocks don't mess around and the Zephyr can be guy-ed-out nice and tight, with plenty of room under wing to leave whatever outside the tent, nice and dry. But I also like to bring my pack in with me at night and having a two-person tent fits the bill, for this. 
Meanwhile...with my tent all taut and my gear inside and dry, I have plenty of time to watch my partner set up his UL tarp tent, pulling this, pounding this, and ultimately having to leave most of his gear out in the rain, hoping the pack cover keeps it all dry. 
Again, this tent weighs a little more than others that you can spend a lot more money on (or in the case of some "UL Mom & Pop" tents, maybe just the same) but ease of setup is worth a lot more to me than shaving a pound or more. 
One note that's more "your problem" than the tents is in finding that just right spot, be it totally level or with a slight angle. I like my head to be on the uphill end and a few times, with bad judgement, I would end up setting up the high end of the tent at the wrong end, so that my head would be down at the narrow end. Don't do this! At 6'1" I would now and then find myself, or my forehead, constantly brushing the tent. Annoying but absolutely preventable. 
Love the two side doors. Again, lots of tents feature side doors and maybe you've never given it a thought, but having had all my other tents with a single front entrance, two side doors are a luxury, especially if you have two people in the tent. 
I have done many a winter snow trip with a single front-entry, or single side-entry tent and crawling over someone in the middle of the night, to get outside for a pee, is no fun. 
I also found on more than a few rainy nights of rapid setup that having two doors is great when all you can do is toss the fly on before the deluge  or if you just forget to clip them) — having access to the other side of tent is great for clipping the tent to the poles for more room/stability.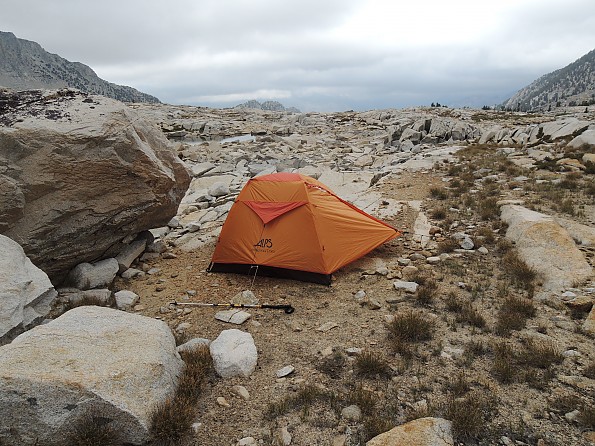 All in all, for the price and the weight, this is a fine tent, ready to take you through the night for many nights, until you decide that you want to spend a lot more money. 
Source: bought it new
Price Paid: less than $200

For the price, this tent is excellent. Easy to set up and pretty reliable when staked and guyed well, this is a great budget or beginner's tent.
Pros
Price
Easy to set up and take down
Not too heavy
Cons
The stuff sack isn't very durable
When not properly guyed out, rain can get in
Occasional condensation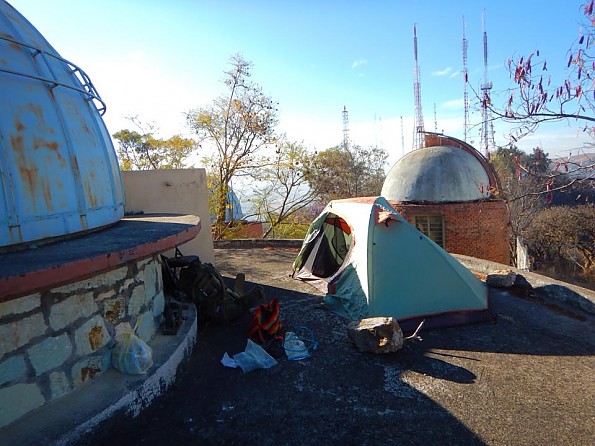 I have used this on multiple excursions, both for extended camping while fighting wildfires and for international backpacking trips in Mexico/Central America. I've never had problems in setting it up, even in the dark (provided I had a headlamp) thanks to its slightly asymmetrical design. On calmer nights, it is nice to have the insect mesh to see the stars, and having a free standing tent can be quite useful for pitching on hard surfaces such as rooftops or on rock.
I lived on the rooftop of an observatory in Oaxaca for a few weeks in this, and it performed fantastically, with plenty of room for all of my gear and a 70L+ pack. Although I have never shared this tent with another person (depending on the amount of gear between both people, it may be a bit cramped), I can say that it is quite livable even for a person at 6'1". The included "attic storage" mesh is also quite nice for drying socks/clothes and hanging a headlamp.
As far as stability goes, I've watched this tent handle 40+mph gusts and freezing rain in Washington, and it took it like a champ. I recommend facing the lower (foot) end of the tent into the wind if possible, as the teardrop shape will help it stay put easier and also prevent rain from entering the flap near the head if it isn't guyed out. In that same storm, I hadn't used any guy lines and rain came in solely from the vestibules and window flapping,  which is why I definitely recommend using guy lines if a storm is possible.
Providing you have your own cord, it is quite simple to find the reflective guy loops. Tensioning the fly is easy, as there are simple slip-style buckles on each corner of the tent. As far as condensation goes, I have had a few instances of condensation, but nothing where I was soaked or it was dripping. A crack in the vestibules usually remedied this problem.
The Zephyr 2.0 comes in a simple stuff sack, which is a little lacking in durability for my taste, as I have acquired holes in the bottom where I store my MSR stakes and paracord. I now forego the stuff sack and pack it loosely into my backpack, where it does quite nicely, taking about as much room as a large hoodie and a pair of denim jeans.
I have loaded/unloaded this tent at least 50 times and slept in it for at least 100 nights over the last four years, and although the stuff sack isn't holding up, the tent is still in perfect condition. I have no problems with the zippers (which are very easy to operate) or with the tension buckles on the rain fly.
Durable, affordable, and easy to use, Alps Mountaineering makes a fantastic budget backpacking tent with the Zephyr 2.0. Provided you use guy lines in foul weather, this tent will also keep you out of the elements when the going gets a little rough. And if you are a fan of watching the stars before bed, the large amount of insect mesh is the perfect accompaniment on a moonlit evening.
Source: bought it new
Price Paid: $120

For Scouts, it's the lightest double-wall tent I found in its price range.
Pros
Lightweight for design and price
Lots of ventilation
Two doors, each with a vestibule
Cons
Flat roof segment may gather rain
Setup: It's very easy to set up and free-standing. Two long poles crisscross over the middle and a small pole helps spread the roof. The biggest inconvenience are the sleeves at the top of the tent. The rest attaches with clips. The fly buckles to the tent with adjustable straps.
A minimum of two stakes are necessary to create the vestibules with the fly. Fast pitch is a bit more difficult because the poles must be velcroed into place after inserting the poles into the floor saver.
Stability: The tent pitches tautly and is stable in the wind. I haven't used it snow or heavy rain. 
Weather Resistance: I've only used it in light rain and haven't had an issue. Seams are taped. The top of the roof appears to create a flat triangle, I don't know if it would gather water in a storm. 
Ventilation: The walls are entirely mesh. The fly also has a vent with a stiff velcro bar to keep it open on one side and a mesh panel near the head with a flap to keep out the rain. 
Room and Storage:  The tent is designed for two people. There is room for two people to lie down and sit up.  When sharing the tent with someone on a 25" wide air mat, there was a little overlap over my 20" wide foam mat. Each vestibule is big enough for a pack and shoes or boots. There is a small plastic window in each door to see out.  Our newer models just have a single plastic window on the back wall.
Packability: I felt that the tent packed relatively small. It is a double-wall tent with poles and weighs under 5 pounds. I haven't weighed or measured the packed tent.
Construction and Durability:  It feels well made, though I've slept in it for six nights plus two nights using fast-pitch. The fast pitch set up leaves a small gap between the fly and the ground, though.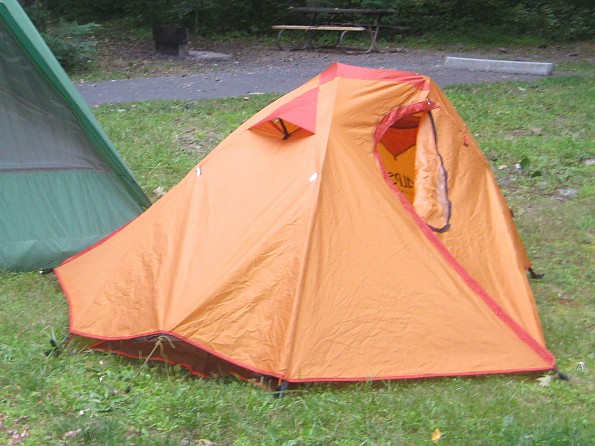 Conditions: I bought it two years ago and have used it on six different occasions in the spring and summer. I haven't used it in heavy rain or other bad weather. I've used it with the floor saver in fast pitch option for two nights. Our Scouts also comfortably used three of these on a snow free 25°F, night.
Source: bought it new
Price Paid: $105 through their program for Scout troops, we bought 5 more for $75 each

I owned a Zephyr 1 and was quite pleased with it, despite some bad experience with the company's attitude towards a non-US customer. (see my review of the Zephyr 1.0) I wanted something with a little more space for me and my GF, so when I saw the Zephyr 2 on sale at STP, I grabbed it.
First time I used it, we were caught in a heavy shower, and immediately the fly started leaking in a few areas.
Firstly, the seam between the zip of the vestibule and the fly was not tapped. There was no point taping it either, since the fabric part of the zip is not waterproof. The slanting design of the door meant that the top of the zip hangs above the side of the base of the tent. Water started seeping through the seam and dripped through the mesh and onto the floor.
Secondly, there is a ventilation mesh on flysheet in the front of the tent. Again, the seam is not tapped and leaked.
Thirdly, there was no attachment point on the bottom of the flysheet at the back, nor an extra short guyrope to pull the flysheet away from the tent body. Water started soaking through the flysheet, onto the mesh, and into the tent. The waterproof rating of the fly was not very high in the first place, so it's very important to keep the fly off the tent body.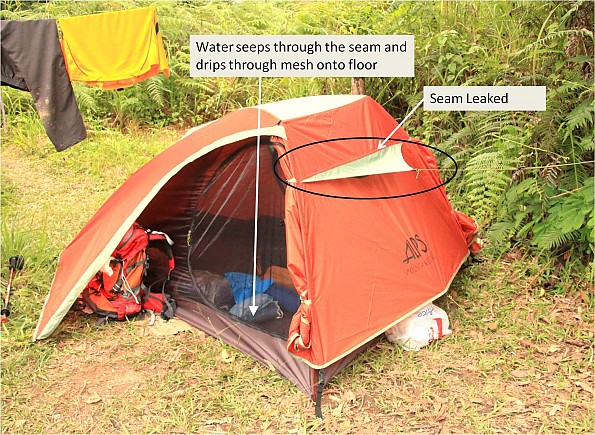 So my gf was frantically trying to dry out the tent from the inside, while I decided to brave the rain with my rain jacket on.
To the tent's merit, the ground it was on was waterlogged. The water was at least an inch above the ground, but somehow only seeped through the floor very slightly.
Luckily the rain only lasted half an hour, after that we dried out the tent as best as we could and had a relatively dry and peaceful night.
I studied the flysheet, and the only way to tape the leaking seams is on the outside, which means the seam will be exposed to sun and probably will not last as long.
So to me the tent is a mixed bag. On one hand, no where else can you find such value for money in a tent, and the light weight and spaciousness of the tent really appeals to me. But the few flaws just makes it hard to swallow.
Design: three-season freestanding
Sleeps: 2
Price Paid: $99

A good tent for the price. Packs down smaller than my Sierra Designs Electron 2. Slightly narrower near foot, and a little less vestibule space.
Cons
Triangle atop tent pools water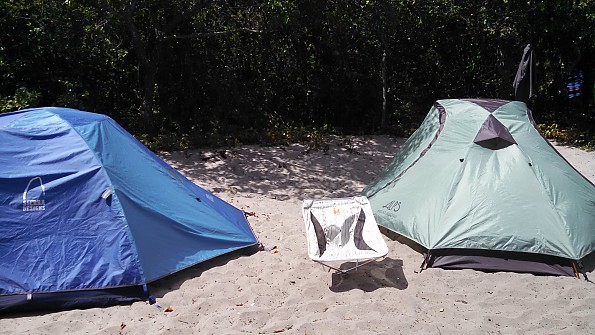 I bought with the deal flyer discount from Sierra Trading Post. A great low cost tent. Used it for the first time beach camping on Fire Island. A freestanding tent is necessary when pitching on sand. You'll also need sand/snow stakes. I used MSR stakes I got at REI. Tent performed great. 
Edit 2016: Have used it numerous times over the years (including in rain). Recently went on a 4-day trip to Letchworth State Park, and as I was hiking it began to rain (serious thunderstorms), and I was hours from my campsite. When I made it to my site, a good deal of water had pooled in the triangle at the tent's top. None leaked into the tent.
Make sure the tent's fly is tightened well. Make sure the fly is attached tightly to the front of the tent, and that the velcro attachments for the back guy lines are at the top of the poles.
Source: bought it new
Price Paid: around $100 STP

Great tent for moderate to warm weather.
Pros
Strong, durable
Very vented
Quick setup
This is a great tent for summer camping/backpacking.
I have taken this tent on a couple of weekend backpacking trips and it fits in my pack with all the rest of my gear.
I have used it just for me, and have had a tent mate, and there was still sufficient space for both of us.
It breathes really well, which is great in the heat, but is essentially a 60 degree + outdoor temperature tent. If it gets much cooler outside you would want something with a little less ventilation.
It is very easy to set up. Normally I do it by myself and don't struggle at all getting it set up, and it only takes a couple minutes alone.  
Last year we were out camping when a HUGE storm hit (lots of wind and rain) and this tent stayed up, with no bent poles.
I am VERY happy with this purchase after a couple years of use.
Source: bought it new
Price Paid: $100

Hard to find much to complain about here given the price. Excellent bang for your buck.
Pros
Easy to pitch
reasonably light
quality construction
Cons
Tight squeeze for 2 large adults
Really happy with the Zephyr 2. My other tent is a larger Big Agnes and I would say that the quality is actually close to comparable between the two, though the Alps Mountaineering tents are much less expensive — quite impressed with the bang for buck here.
Wanted something light enough to pack and carry by myself when tenting solo for a day or two, but big enough for me and my son, and this fit the bill. However, I'm 6'2" and wouldn't want to spend a night in the Zephyr 2 with another adult unless I'm married to her, as things would be pretty cozy with two grown ups.
This fits easily into my large daypack (32L), making it a great option for quick and light trips in addition to longer outings. There may be lighter tents out there but you pay big bucks for the relatively small weight difference — I'll take the few extra ounces and save the difference, thank you very much.
The mesh design makes it most useful in fairly mild temperatures. Footprint is not included but I made my own from an inexpensive tarp.  Setup is easy for one person to do following the intuitive lead of the color coded poles and clips. 
There are convenient storage pockets included inside the tent, and the rain fly provides two decently-sized vestibules that take advantage of the double-door design. Have had no issues with leaks or condensation. 
All in all I give the Zephyr 2 a big thumbs up: quality to challenge the more expensive brands, light enough to use solo, easy set up. Great tent for the price.
Source: bought it new
Price Paid: $80

This is a great tent for its price. Fairly lightweight and packable, but compared to other two-person tents it isn't very roomy inside. Additionally, when the wind starts blowing expect some water to blow under the vestibule and into the tent.
Pros
Lightweight
Packable
Inexpensive
Cons
Small interior
Rain fly is not large enough
No footprint
Setup: The tent is fairly easy to set up once you've practiced at least once. Goes much quicker with two people. Not a fast pitch design. Footprint is not included
Stability: There is a small air vent that requires its own line and stake. If you get lazy and don't stake this air vent open then it will flap all night (annoying). Beyond that, however, the entire fly is very taught and stays quiet in the wind — tent feels secure. 
Weather Resistance: I've only used it in the rain once so far, and it kept water out (except the rain fly isn't large enough so water can blow up and under the fly)
Room & Storage: The tent is pretty small for a 2-person tent. Luckily I mostly use this with my wife, so we are okay being that close, but I'd hate being crammed in this tent with a stranger. The vestibules are not large enough. 
Packability: Not only does the tent pack up small, it's easy to get in its stuff sack, so you don't spend hours cleaning up camp. 
Source: bought it new
Price Paid: $140

Going on my third year with this tent and it has performed better than expected. Great for two people and better if you're solo.
Pros
Price
Packs small
Two door entry
Light
My son and I recently backpacked a 7-day, 60-mile loop with the Boy Scouts in the Weminuche Wilderness in Colo. We had nice weather along with a few rainy days. Tent performed flawlesly.
The two door vestibule is really nice as we each had our own entry and plenty of space to keep our backpacks.  No crawling over each other to go to the bathroom in the middle of the night.
On other occasions I used the tent on hot nights living in the SW. The mesh on the entire part of the tent is really nice as well as the heat is not trapped. I also purchased the footprint, great addition to the tent.
I shopped around a long time before I decided on this one. It not as light as the superduper lightweight tents out there, but it was as light as many others in the same weight range. The hundred plus I saved I was able to put towards a light weight sleeping bag.  Got a great deal at Steepandcheap.
The only minor flaw was the small overhang inside the tent to store your personal items. Items kept slipping off.  No big deal, I just put my watch, glasses, etc. in my shoe. 
Eitherway, great buy and I would definetly recommend. 
Source: bought it new
Price Paid: $120 (including footprint)

This tent cannot be beat for the money.
Lightweight...check.
Two doors and two vestibules...check.
Full length fly...check.
Waterproof...check.
You could easily spend another $200 and save a whopping 5-6 ounces.
Some people just cannot get over the name on the label.
I will dock it slightly for the roof design which creats a flat spot if you are not careful where water can pool.
Design: three-season freestanding wedge
Sleeps: 2
Ease of Setup: easy
Weight: 4.8
Price Paid: $115

Great tent, especially for the price.
Pros
Fairly light
Affordable
Durable
Roomy
Cons
Heavier than some
Bulky
Cheap stakes come with the tent
Overall this tent has served me very well. I bought it for bike touring originally and it has seen at least 60 nights of use in the two years I have owned it. Overall, it has held up well over time.
I am careless with leaving it up in the sun and the fabric has still held up fairly well. I have used it in temperatures from 30-90 degrees and it has worked well in all conditions. Even in downpours, the tent has remained dry on the inside. With the fly off, it has excellent ventilation, but on a hot summer night with the fly on it can get very warm.  
The biggest negative are the stakes that come with the tent. They are very weak and I probably bent half of them after 5 nights of camping.  
Overall, I would highly recommend picking this tent up. 
Source: bought it new
Price Paid: $100

I spent months looking for a backpacking tent that could give me some extra space for solo trips but also suffice for Father-son trips as well. A scout leader had told me about Alps Mtnrg. Got it online as a Zenith (same but slight color difference).
I have friends w/ MH, NF, BA's, and they were so impressed with the value of this baby - they couldn't believe that quality for the price. It breathes so well and is loaded with features - pockets, windows w/ adjustable visors, gear loft, etc. The serious, weatherproof fly turns this cool cat into a great 3 season tent, 4 w/ the right bag.
Plenty of room for me (6'2") with negligible weight penalty vs. a solo tent. It's a little cozy for 2 adults, but that's a plus when camping w/ my bride. Only takes a couple of minutes to put up, and despite it's all-mesh construction, has never leaked in water even under frightening rain conditions(great buckle-in fly).
The best value in its class, backed by a helpful, committed company. Don't pass it up!

Design: 3 season freestanding
Sleeps: 2
Ease of Setup: cake
Weight: 4lb8oz
Price Paid: $77 @ STP!

I like this tent, not ultralight but reasonable weight for the price.
Pros
Aluminum poles
Roomy
Vestibules are large
Window is nice feature
Well vented
Easy to set up
Hasn't leaked
Well made
I have used this tent a few times so far, and have had nothing but good experiences.  It fits myself, my girlfriend and my 70 lb dog no problem. The walls are pretty straight up, so you don't have to worry about your face being in the tent side like some standard dome tents.
It's well made, especially for the price. Cool looking tent with a ton of vestibule space. Very well vented. It's a little heavier than other 2p backpacking tents but it's made very well and is quite roomy, I would recommend it.
Source: bought it new
Price Paid: $100

Good small lightweight tent. Perfect for any outing.
Pros
Lightweight
Easy to setup
Great ventilation
Cons
Packs a bit big for backpacking
I bought this tent for a backpacking trip last year and it delivered. Had great ventilation and was just big enough for me, my wife, and our 2 beagles to all sleep comfortably.
We had traversed 21 miles on day 1 of our trip and by the time we decided to setup camp, it was dark and we were scrambling to get setup.  This tent took no time to throw up even in the dark with virtually no light.
We were happy with our purchase and would certainly reccommend it to others. 
Source: bought it used
Price Paid: $75

Your Review
Where to Buy
Help support this site by making your next gear purchase through one of the links above. Click a link, buy what you need, and the seller will contribute a portion of the purchase price to support Trailspace's independent gear reviews.
You May Like
Specs
Price
MSRP: $199.99
Current Retail: $90.00-$179.99
Historic Range: $47.99-$219.99
Reviewers Paid: $75.00-$200.00

Weight
4 lb 12 oz

Tent Area
31 sq ft

Vestibule Area
17 sq ft

Sleeps
2

Recently on Trailspace