Altra Superior

The Superior has been discontinued. It was replaced by the Altra Superior 4.0.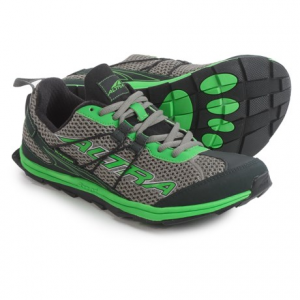 The Altra Superior is THE door-to-trail running shoe. It combines a great mix of protection and lightweight speed. and with its removable rock-plate, you can customize the fit and ground feel you desire.
Pros
Lightweight
Low profile
Removable rock plate
Cons
Upper can rip
Tread not very aggessive
*Disclosure: I own a running specialty store and Altra is a brand that I sell. I did pay for these shoes, but at retail.*
The Altra Superior is my favorite offering from Altra (I own about every model). It is the perfect mix of rugged, gritty trail and lightweight speed that come together to form a Voltron of wonderful.
Like most Altra shoes the fit on this shoe runs about a half size small, so you will need to size up. However once you lock down the sizing, you will find that your feet have enough room to play in the spacious toe-box and that the heel conforms so well to the back of your ankle.
These shoes offer great protection in the mid-sole with an option to add/remove a rock-plate. It is a semi-bendable yet rigid piece of foot-shaped plastic that slides right in and out of the shoe. I have opted to keep mine in since I run on some fairly rocky single track. Even so the shoes are very flexible and my feet don't feel confined. 
The uppers on the shoe are very breathable and take in and expel water with ease. This is a great quality for a trail shoe and something that needed to be addressed with the lack of drainage in the Altra Lone Peaks. The one issue I did encounter with the upper was that it ripped pretty significantly during a long run. I am not sure how it happened but I must have rubbed it against a sharp rock and it sliced the fabric open.
Another small issue I had was with the tread. It is definitely more aggressive than a road shoe but at times on steep climbs, the traction wasn't there. However, I know that Altra was looking to create something of a trail racer when they cam out with this and more tread equals more weight.
So, if you are in the market for a lightweight, minimal trail shoe, this shoe is the way to go.
Source: bought it new

This would be a great mid-distance, less aggressive trail shoe for anyone who's into zero drop.
Pros
Tread is nice on gravel/dirt roads
Zero drop
Less cushion
Light and fast
Cons
Water doesn't drain as fast as Lone Peak
The Altra Superior is a relatively slim zero-drop trail shoe. While they do take a beating (aside from the questionable cords on the upper), it provides a lighter and less-cushioned alternative to Atra's other trail line, the Lone Peak.
Those of you who are looking for more toe room and a bit more protection than barefoot shoes should give the Superior serious consideration. For being a shaved down trail shoe these sure are light, fast, and comfortable.
Honestly, it is kinda tricky to tell the difference between these and my beefier Lone Peak 1.5. The Superior has been more comfortable on mid distance gravel or dirt roads. They even do pretty well on the, gasp, roads. Everything is great on them.
Being a less hardcore trail shoe I've found they don't drain the water quite as well. 
Source: received it as a sample, freebie, or prize (Maine Running Company)

Your Review
You May Like
Specs
Men's
Price
Historic Range: $37.98-$95.00
Reviewers Paid: $95.00

Women's
Price
Historic Range: $42.73-$47.48