Amundsen Women's Peak Knickerbockers

Top 25 in women's Waterproof Pants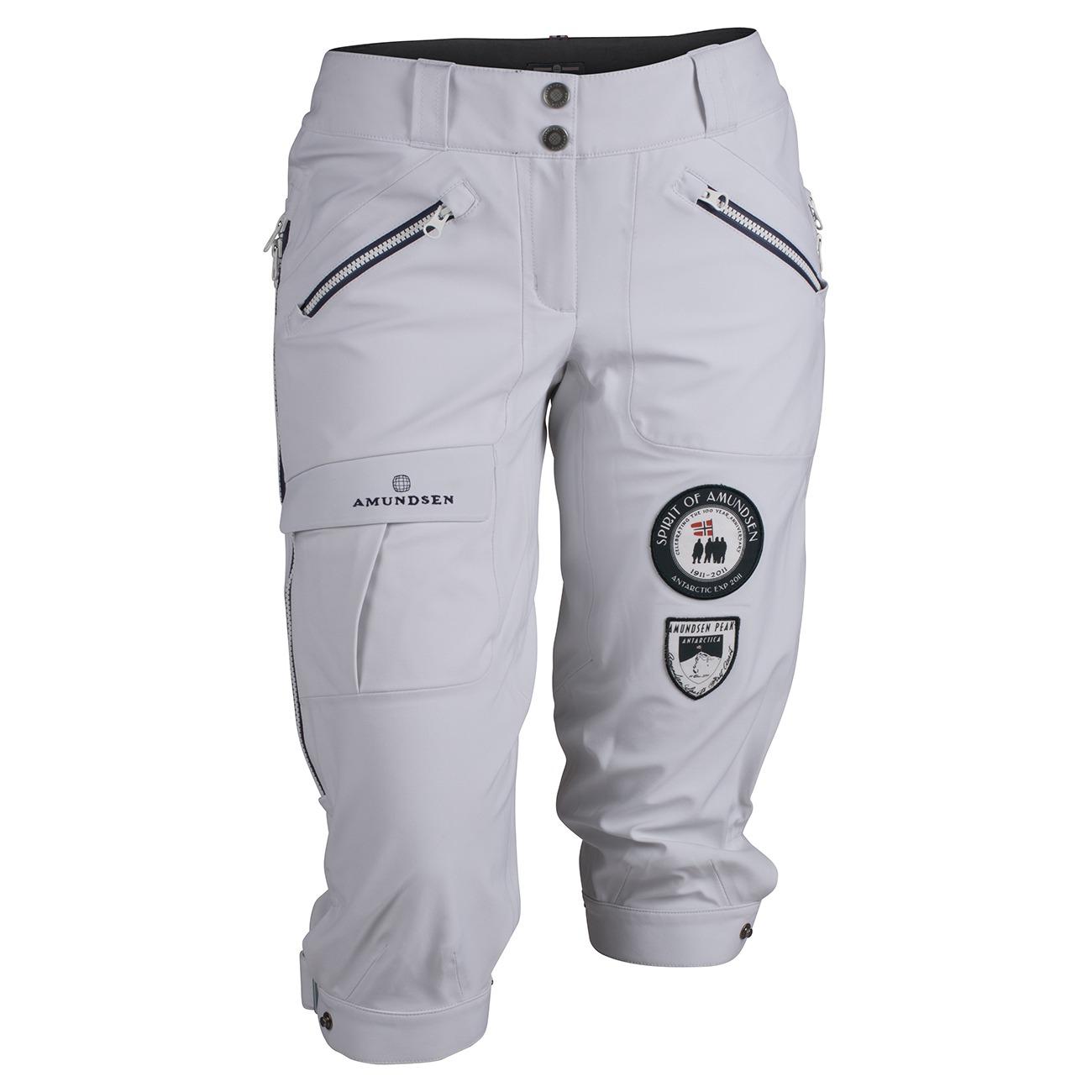 Specs
| | |
| --- | --- |
| Price | MSRP: $359.00 |
| Materials | Stretch 3-layer fabric from Schoeller Switzerland / 73% polyamide, 21% polyurethane, 6% elastane |
Reviews
1

review

5-star:

1

4-star:

0

3-star:

0

2-star:

0

1-star:

0
The Amundsen Peak Knickerbockers are designed to stand up to some of the most extreme winter conditions on earth. The quality of construction and materials is obvious out of the box and comes through in the wearing experience. They'll stand up to any winter condition and are surprisingly wearable during the summer, too. A great investment if you prefer fewer, high-quality pieces in your outdoor gear collection.
Pros
High quality design and materials
Can work in all seasons
Flexible, breathable fabric
Mesh covered leg vents
Adjustable leg openings
Very comfortable, even when inactive
Cons
Large investment
Front pocket not suitable for cell phone
LoneStranger was lucky enough to be assigned the Men's Peak Knickerbockers for review by Trailspace's Review Corps. However, the first pair Amundsen sent was a Women's large. Since they fit me, Amundsen was kind enough to let me try them out. You can read LoneStranger's more comprehensive review with all the technical specs here. 
LoneStranger has more opportunity for adventure than I do and we didn't have too much cold, snowy weather left in the season when these arrived. The first time I wore these was snow tubing with my daughter. I wore them with insulated tights underneath to keep my calves cozy. In this picture you can see where the Knickerbockers stop and the tights begin. You can also see the white zipper for the side vents and adjustable clasps at the bottom.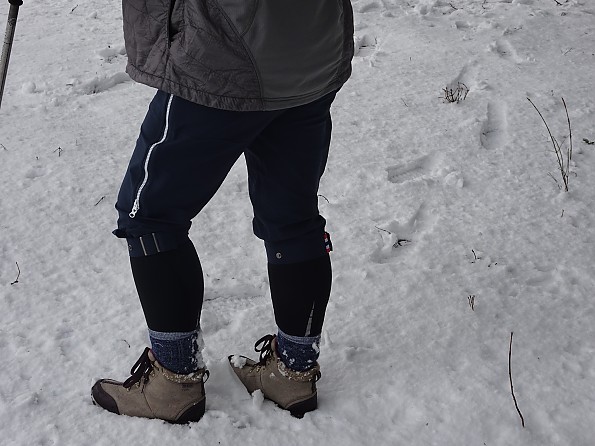 ADJUSTMENTS:
Here's a closeup of those buckles below the knee. I doubted these European pants would fit around my large-even-by-US-standards calves. But they did, with a little room to spare. Fear not, my strong-legged sisters, your gams will be fab in these. They can also cinch down so I don't think the long and lean among you would feel like they were flopping around. All over, the pulls are easy to grasp even wearing gloves.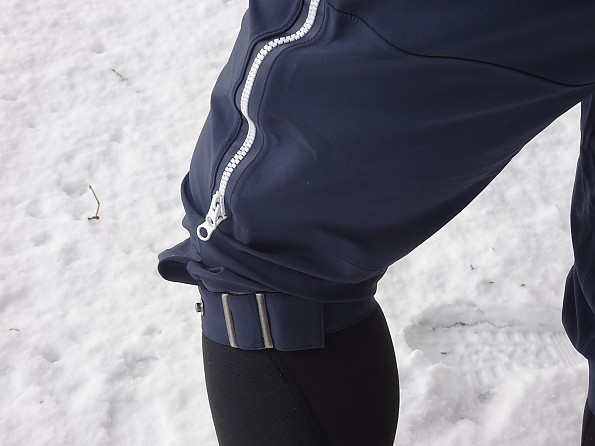 Here's a front view with all the snazzy patches. Usually I like to keep my cell phone in my front pocket so it's handy when I'm hiking. My phone won't fit in these. That's fine in the winter when I'm wearing a top layer, but it meant having to wear a waist strap to carry my phone in warm weather.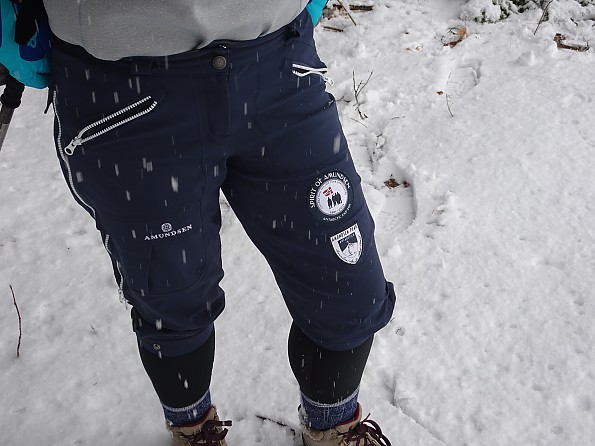 FIT:
The fit on the Knickerbockers was great, even with thick fleece-lined tights underneath.  This was another pleasant surprise, since I'm on the curvy size and European sizing tends to run small. No trouble here. I'd say these are true to size with a little room to spare. I definitely feel like a true adventurer when I put these on. They're way more high-tech and fancy than I need, but I'm totally smitten. The day I wore these tubing I was running around a lot. The Knickerbockers kept me warm and covered the entire time. See how happy!?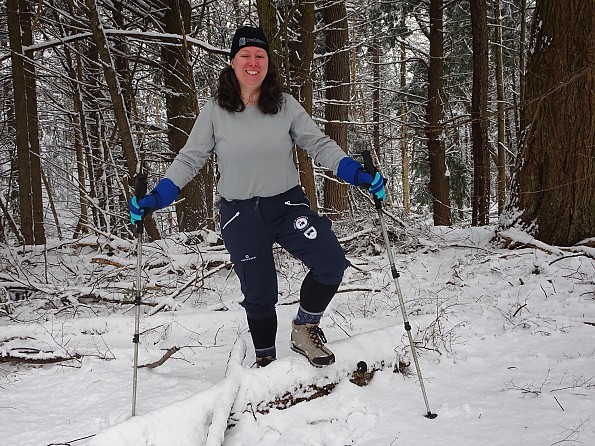 WATER/SNOW RESISTANCE: 
Snow did not stick to these at all. I can't say anything about heavy rain because I haven't been rained on in them yet. I'll update if I get soaked.
After LoneStranger came back from a summer trip reporting that the Knickerbockers had been great in hot weather I decided to test his theory. I tested them with a base layer in the house before going outside. They were so comfortable I wore them working at my desk for several hours on a hot day without meaning to. Oops. But good for testing. 
For our hike I wore a light 3/4 length base layer underneath the Knickerbockers with my Outdoor Research gaiters. I fully expected to be miserable wearing two layers hiking up (and down) the side of a mountain on a nearly 90-degree day.  I wasn't. Far from it. The large side vents allowed the breeze to flow through the pants cooling my legs. 
Thanks to the venting on the Knickerbockers, the base layer did a better job wicking moisture than my standard hiking pants. My knees were only covered by the base layer so I added extra bug repellent to keep the biters away.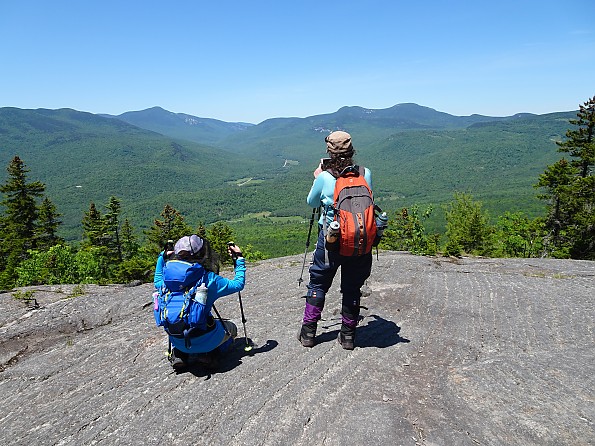 The Puzzle Mountain hike in Grafton Notch had me taking big steps over large rocks and the Knickerbockers offered no resistance at all. I appreciated the thickness and durability of the Knickerbockers the few times I had to crawl onto my knees or slide down rocks. I was confident the Amundsen Knickerbockers could handle that abuse and they did so beautifully. Not a scratch on them.  
CONCLUSION: 
The Amundsen Peak Knickerbockers are a versatile, durable, and high-quality bottom layer for winter and summer adventures. Though bargain shoppers might balk at the price, these should be considered a long-term investment. In the last few years I've shifted to being a more conscious consumer, favoring fewer, higher quality pieces that I can wear year after year. The Amundsen Knickerbockers are like having two pairs of pants in one. That is great for adventuring and the sustainability of the planet. If the first few seasons of wear is any indication, these will be going many, many more trips.
Experience
I tested this product while snow tubing, casual snowshoeing, and on one 6-mile mountain hike on a 90-degree day. This is my first experience with a product like this.
Source: received it as a sample, freebie, or prize (Trailspace Review Corps and Amundsen Sports, due to a shipping mistake)


All Amundsen Peak Knickerbockers versions
In addition to the 1 women's review above, there is 1 review for another version of the Amundsen Peak Knickerbockers. Read all reviews »
You May Like
Recently on Trailspace