Amundsen Peak Knickerbockers

Top 25 in Waterproof Pants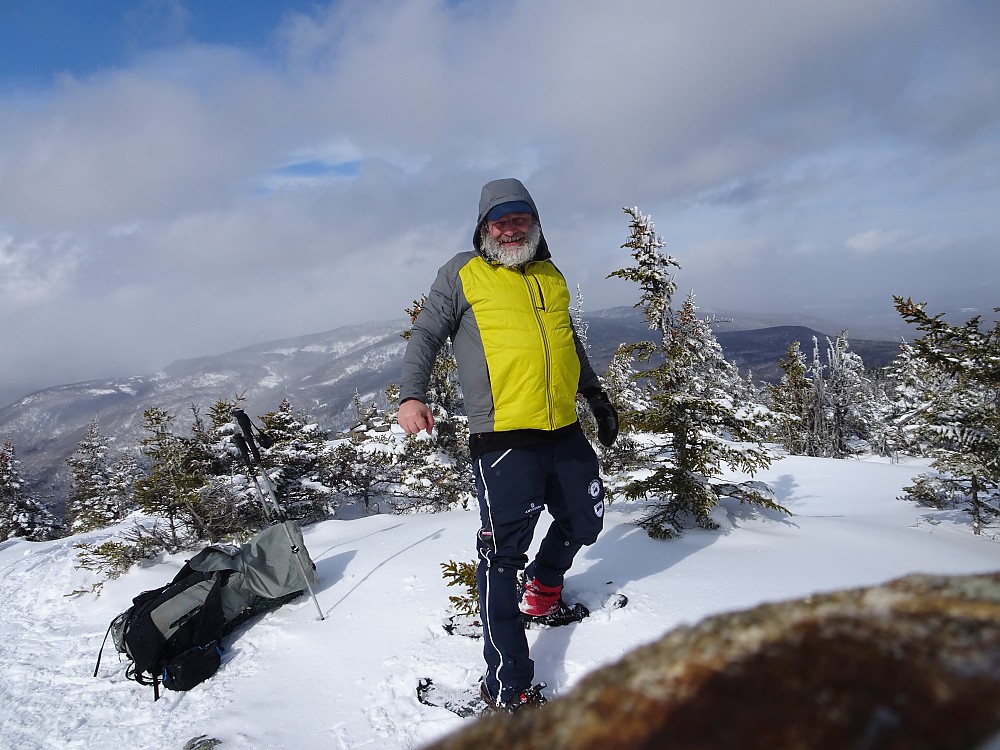 The Amundsen Peak Knickerbockers are designed to stand up to some of the most extreme winter conditions on earth. The quality of construction and materials is obvious out of the box and comes through in the wearing experience. They'll stand up to any winter condition and are surprisingly wearable during the summer, too. A great investment if you prefer fewer, high-quality pieces in your outdoor gear collection.
Pros
High quality design and materials
Can work in all seasons
Flexible, breathable fabric
Mesh covered leg vents
Adjustable leg openings
Very comfortable, even when inactive
Cons
Large investment
Front pocket not suitable for cell phone
LoneStranger was lucky enough to be assigned the Men's Peak Knickerbockers for review by Trailspace's Review Corps. However, the first pair Amundsen sent was a Women's large. Since they fit me, Amundsen was kind enough to let me try them out. You can read LoneStranger's more comprehensive review with all the technical specs here. 
LoneStranger has more opportunity for adventure than I do and we didn't have too much cold, snowy weather left in the season when these arrived. The first time I wore these was snow tubing with my daughter. I wore them with insulated tights underneath to keep my calves cozy. In this picture you can see where the Knickerbockers stop and the tights begin. You can also see the white zipper for the side vents and adjustable clasps at the bottom.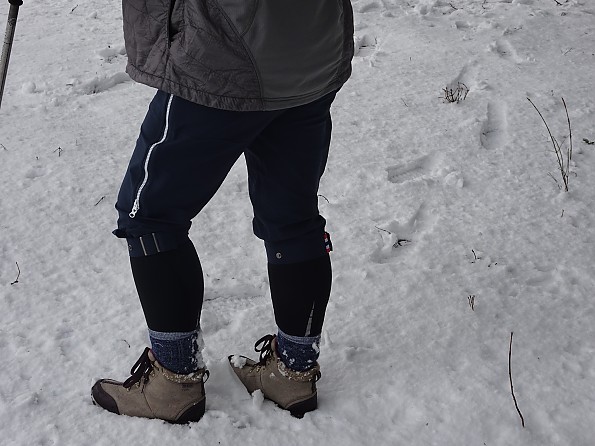 ADJUSTMENTS:
Here's a closeup of those buckles below the knee. I doubted these European pants would fit around my large-even-by-US-standards calves. But they did, with a little room to spare. Fear not, my strong-legged sisters, your gams will be fab in these. They can also cinch down so I don't think the long and lean among you would feel like they were flopping around. All over, the pulls are easy to grasp even wearing gloves.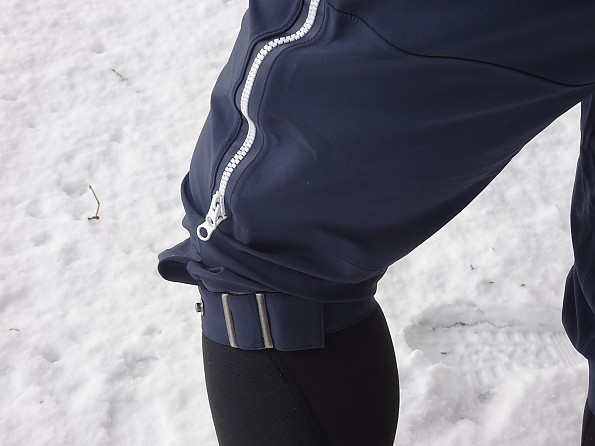 Here's a front view with all the snazzy patches. Usually I like to keep my cell phone in my front pocket so it's handy when I'm hiking. My phone won't fit in these. That's fine in the winter when I'm wearing a top layer, but it meant having to wear a waist strap to carry my phone in warm weather.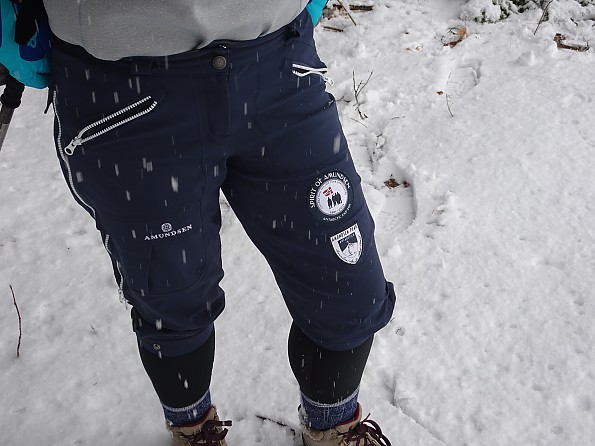 FIT:
The fit on the Knickerbockers was great, even with thick fleece-lined tights underneath.  This was another pleasant surprise, since I'm on the curvy size and European sizing tends to run small. No trouble here. I'd say these are true to size with a little room to spare. I definitely feel like a true adventurer when I put these on. They're way more high-tech and fancy than I need, but I'm totally smitten. The day I wore these tubing I was running around a lot. The Knickerbockers kept me warm and covered the entire time. See how happy!?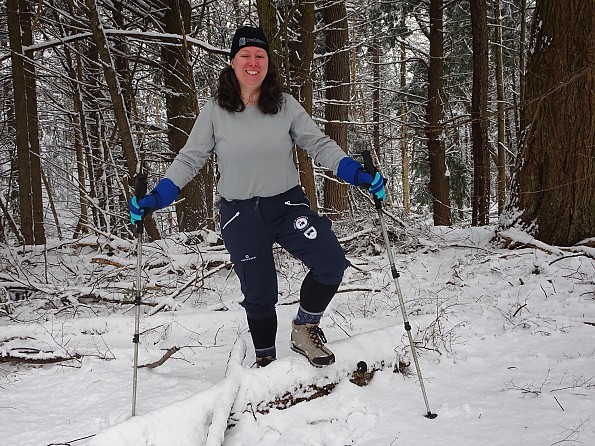 WATER/SNOW RESISTANCE: 
Snow did not stick to these at all. I can't say anything about heavy rain because I haven't been rained on in them yet. I'll update if I get soaked.
After LoneStranger came back from a summer trip reporting that the Knickerbockers had been great in hot weather I decided to test his theory. I tested them with a base layer in the house before going outside. They were so comfortable I wore them working at my desk for several hours on a hot day without meaning to. Oops. But good for testing. 
For our hike I wore a light 3/4 length base layer underneath the Knickerbockers with my Outdoor Research gaiters. I fully expected to be miserable wearing two layers hiking up (and down) the side of a mountain on a nearly 90-degree day.  I wasn't. Far from it. The large side vents allowed the breeze to flow through the pants cooling my legs. 
Thanks to the venting on the Knickerbockers, the base layer did a better job wicking moisture than my standard hiking pants. My knees were only covered by the base layer so I added extra bug repellent to keep the biters away.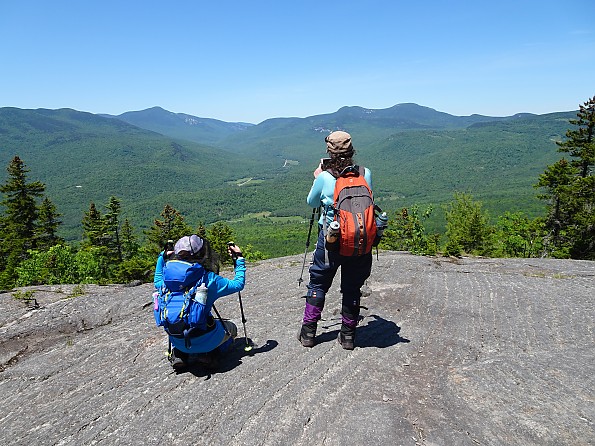 The Puzzle Mountain hike in Grafton Notch had me taking big steps over large rocks and the Knickerbockers offered no resistance at all. I appreciated the thickness and durability of the Knickerbockers the few times I had to crawl onto my knees or slide down rocks. I was confident the Amundsen Knickerbockers could handle that abuse and they did so beautifully. Not a scratch on them.  
CONCLUSION: 
The Amundsen Peak Knickerbockers are a versatile, durable, and high-quality bottom layer for winter and summer adventures. Though bargain shoppers might balk at the price, these should be considered a long-term investment. In the last few years I've shifted to being a more conscious consumer, favoring fewer, higher quality pieces that I can wear year after year. The Amundsen Knickerbockers are like having two pairs of pants in one. That is great for adventuring and the sustainability of the planet. If the first few seasons of wear is any indication, these will be going many, many more trips.
Experience
I tested this product while snow tubing, casual snowshoeing, and on one 6-mile mountain hike on a 90-degree day. This is my first experience with a product like this.
Source: received it as a sample, freebie, or prize (Trailspace Review Corps and Amundsen Sports, due to a shipping mistake)

The Amundsen Peak Knickerbockers are designed to protect from the elements on a cold winter peak yet vent well enough to climb mountains in full pack on a hot summer trip. Combined with gaiters or just calf length socks knickerbockers are a versatile and different option to consider that brought a surprising amount of functionality to the trail in all seasons. Wide waistband, articulated knees, and five zippered pockets combined with a durable, four-way stretch, 3L fabric make these technical gear, not just nice looking short pants.
Pros
Great wind block
Sheds snow and rain pretty well
Mesh covered 17" zipped leg vents
Stretch 3L fabric reacts to heat/cold
Really wide belt loops
5 zip pockets
4-season use
Articulated knee
Comfortable
Cons
Waistband slow drying
Fly leaked during extreme wind/rain testing
Hefty investment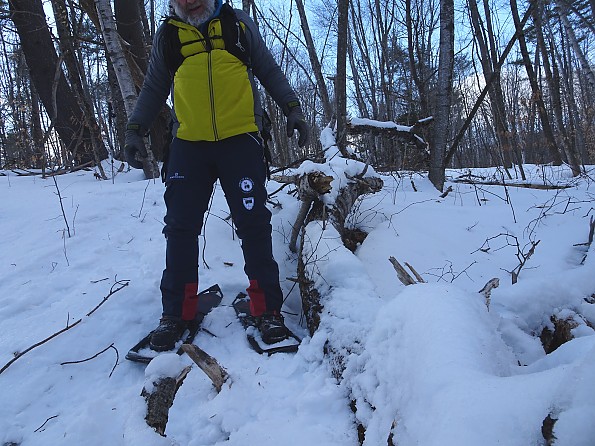 When you hear the name Amundsen you can't help but think of adventure. Amundsen Sports was started in 2010 by Jørgen Amundsen based on his family heritage. Roald Amundsen had quite a few adventurous accomplishments in his day including leading the first successful expedition to the South Pole. They say the gear they make today tries to live up to that sense of adventure and I've had some fun testing their Peak Knickerbockers over the last four months along with the Amundsen Peak Slim Fit Gaiters, which attach directly to the legs. While I expected them to perform in the snow I found they really are four-season gear. Let's take a look at the details, and there is a lot to look at here.
Fit & Comfort: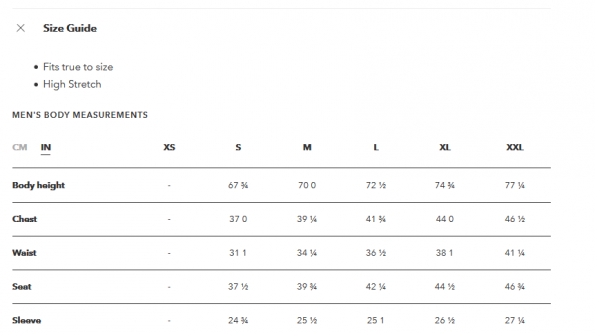 Due to a string of circumstances I can tell you quite a bit about the fit of the Peak Knickerbockers. When the test pants first arrived I was shocked to find that while they were the requested size L, I was just barely able to squeeze into them. The legs were tight around my quads and closing the double clasp at the waist required serious abdominal control. Embarrassed that my American-shaped body apparently didn't fit into their European-shaped pants I requested the XL size. It was only when they arrived and I found them to be too big that I discovered the first pair was in fact the Women's size Large.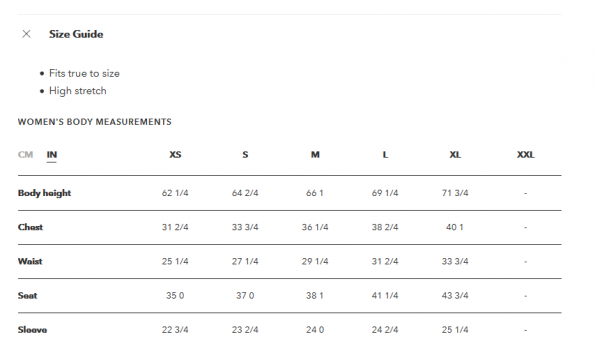 Taking a look at the Women's sizing chart you can see that means I was able to squeeze my fat old man's body into a garment that the size chart recommends for a woman with a 31.5" waist. I'm not saying it was comfortable, but I felt a lot better about myself when I found that out heh. Frau Stranger tried them on and having found they fit her the Amundsen folks asked her to give her opinion as well. She's written her own review on her experience covering much more than fit. You can find it at this link if you don't see it by scrolling.
Since it was already February at this point I opted to test the slightly oversized XL knickerbockers rather than delay testing waiting for the right size. That means I can't speak with experience about exact sizing, but based on what I did experience in the two fits I am pretty sure the size chart is accurate. Given the oversized waist I had issues keeping them up at times, especially in warmer weather when I didn't have layers to stuff in there. When my belt did its job and kept them in place the knickerbockers rode with my legs well, though if they pants slipped down I noticed the legs were a bit long. Again, this supports my theory that the correct size would have fit very well.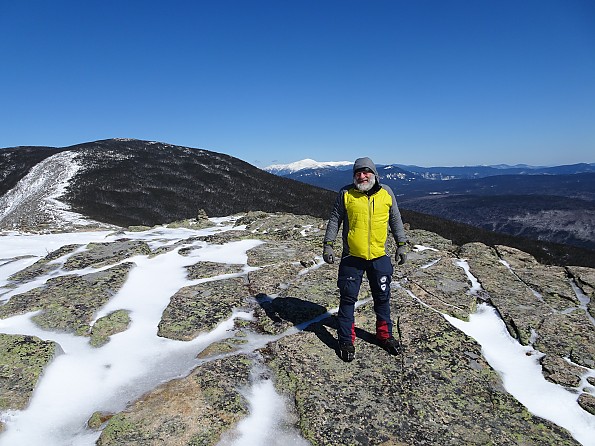 Bondcliff with Bond on the left and the Presidentials over my shoulder.
As far as comfort I had no issues at all despite the size being slightly off. The material is slightly stiff feeling in the hand, yet wrapped around thighs and buttocks without strain. We'll talk more about this later, but I noticed that I felt protected inside, yet not sealed in. In almost all conditions the interior environment seemed capable of self-balancing leading to a surprising feeling of comfort. With my special talents it was possible to steam it up in there if I forgot to open the vents in time, but I consider that a personal problem.
The adjustment system for the base of the leg is incorporated into the same buckle used to secure it in place. This allowed setting the strap-like hem at the right size to wrap around the circumference of the calf muscle tightly but without restriction. My calf measures roughly 18 inches around, so being able to adjust the cuff to fit my leg was nice. Since the buckle holds so securely I'd feel comfortable using at least another two inches of that strap if needed, so there is room for bigger legs in there.
Once secured at that base the articulated knee was positioned perfectly to flex without straining material above or below. All this led to the legs of the knickerbockers moving with my legs in all manner of terrain from snow, to mud, to rocks.
Adjustability:
Since we're on that subject already, let's take a closer look at that mechanism. When held on one end while pressing on the other, the buckle scissors open, allowing easy adjustment of the length of this hem.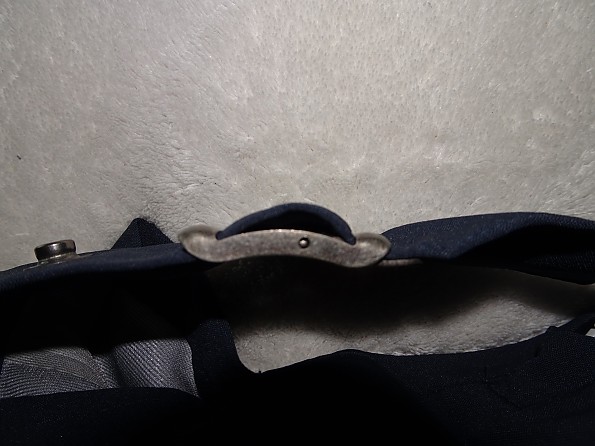 Buckle locking adjustment strap in place.
Once pressed flat it holds the material with total security. This is not going to move around while you are out there doing what you do. This entire process was pretty easy to do with the knickerbockers on or off my legs.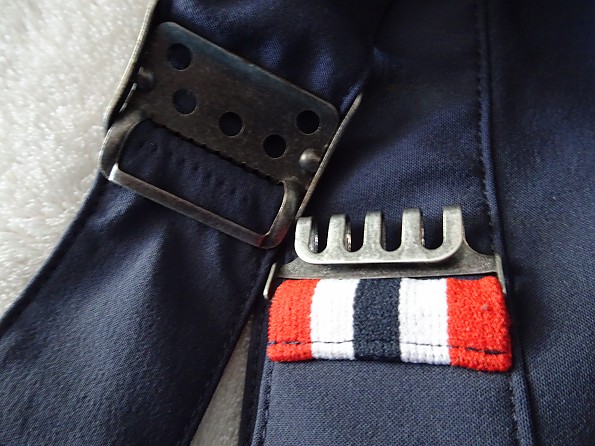 The bottom of the adjustment buckle on the left latches securely to the hook on the right.
Along with that function, the end of the buckle latches securely to a hook-shaped latch sewn into the other side of the base of the leg. Again, once in place, this is not going to come lose unexpectedly.
Water Resistance:
With one exception, I found the Amundsen Peak Knickerbockers lived up to their claim of being waterproof. They claim the material has a greater than 20,000mm water column rating, which means it is designed to withstand heavy rain and/or wet snow under high pressure. In the real world that pressure is generally applied by wind force and I subjected the Peak Knickerbockers to a variety of extreme conditions during my months of testing. While there were many trips to the mountains to test in the snow, two days of local testing in the rain provided a lot of valuable information too.
Check out this short video to see what water resistance training looks like when you take it seriously.
Both of my heavy windblown rain test sessions produced the same basic result. The material itself is highly wind and water resistant. The zippers, despite not appearing to have rubberized teeth, kept pocket contents dry. Seams, which have an interior taped material seal as part of their construction, held water and wind out with one unfortunate exception. There was a spot at the base of the fly that seemed to collect water, eventually wicking it to the interior leading to soaked base layers which continued to distribute the wetness down the legs uncomfortably.
On my second attempt at this test I used my Enlightened Equipment Rain Wrap to extend my upper body rain gear a few inches as the cut of my The North Face Venture 2 Jacket rain jacket only extends to the waist. Despite the additional coverage I had the same result with water collecting at the base of the fly. At this point I can't say that is indicative of the product's capabilities or if this is an issue with the specific unit I tested. It definitely was consistent though. Lighter, brief rain exposure was not an issue. It was extended heavy rain and especially wind-blown rain that seemed to cause trouble.
Breathability & Moisture:
The 3 Layer fabric that Amundsen uses in the Peak Knickerbockers has a built-in membrane layer that despite blocking wind and water, reacts to temperature by opening or closing its pore structure. We'll look at that closer in the Construction & Durability section, but think of it as automatic louvers that close in reaction to cold and open in reaction to heat. Even in deep cold, if your body heats up the material too much it begins to let some heat vent through. The Swiss made fabric is rated as <2 RET (Resistance to Evaporative Transfer) If you follow that link you can get more details, but 0-6 RET is considered to be the Very to Extremely Good end of the scale so that less than 2 rating is top notch.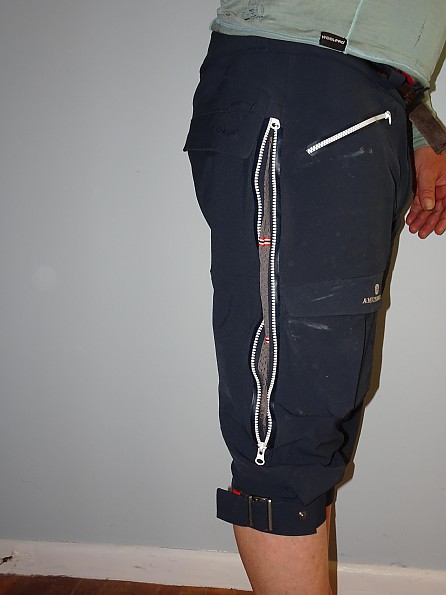 Double pull 17" vent zips let you control size and location of opening.
When things get really steamy it is time to open up the 17-inch vents that run down the outside of either leg. Amundsen used a thin mesh material with open holes to allow maximum airflow while still keeping snow and debris out. Look for the pic below when you get to the Features & Functionality section. There was a bit of a natural bellows effect while walking that increased the air exchange through the mesh.
After experiencing how effective this combination was during sweaty winter climbs I was curious to see how it worked in warmer weather. I expected to have to abandon testing as temperatures climbed in later spring only to find that after multiple 80°+ days of backpacking in them I was still pretty comfortable. The same system that breathes and vents heat and moisture during the cold seasons was able to keep up pretty well during hot, sweaty climbs. All I needed to do was swap my thermal wool base layer for something lighter.
Update April 21, 2021: As I continued using the knickerbockers in warm weather I acquired some 3/4 length base layer bottoms in a very light wool. Extending to the just beyond the knees they absorbed water vapor and used it for evaporative cooling with the leg vents zipped open. This combination kept me surprisingly dry on long, hot days. I used this combination on last year's Cohos Trail hike with great results.
Warmth:
While the Amundsen Peak Knickerbockers have little in the way of insulation, their wind blocking ability allowed for trapping plenty of heat inside without having to resort to multiple or heavy base layers. During the cold months I wore only the Smartwool Intraknit Merino 250 Thermal Bottom underneath and never felt cold. The thin layer of wool was enough to keep my legs warm inside the knickerbockers even while hanging around a winter camp for hours. Again, they are not an insulator so much as a barrier that holds heat in, if that distinction makes any sense. That shell effect makes any insulating layer you wear inside very effective.

Standing on a windblown summit is where this concept was best illustrated. Buffeted by ice cold winds, but only feeling it in terms of force trying to blow you over with no sense of lost heat. It was an unusual feeling that I grew to enjoy with a grin on my face.
Layering:
During cold weather testing I wore the Amundsen Peaks with the Smartwool Intraknit Thermal as I mentioned and the two worked together really well. If a person wanted or needed to add thicker layers it felt as though there was plenty of room in the seat and leg areas. During warmer weather I have been wearing Under Armour 3/4 length Heatgear 2.0 which are really low profile. They help transfer moisture from body surface towards the vents during hot climbs.
I haven't had the guts to try wearing them in warm weather without at least a 3/4 length base. If I work up the nerve I'll report back, but I think a longer base layer makes sense even in the heat. The UA Heatgear collected moisture as vapor from the legs and the Peak Knickerbockers moved enough air through to create a cooling effect. The Heatgear was by no means dry when I got to camp heh, but the two worked together to create a nice cooling system.
Update April 21, 2021: The 3/4 length wool base layer bottom became my favorite to combine with the knickerbockers until temps fell enough that I wanted more. Around 20°f it was time for the Smartwool 250s but, I found the lightweight wool knickers preferable to the UA Heatgear because of how they handled moisture and created a nice cooling system.
Features & Functionality: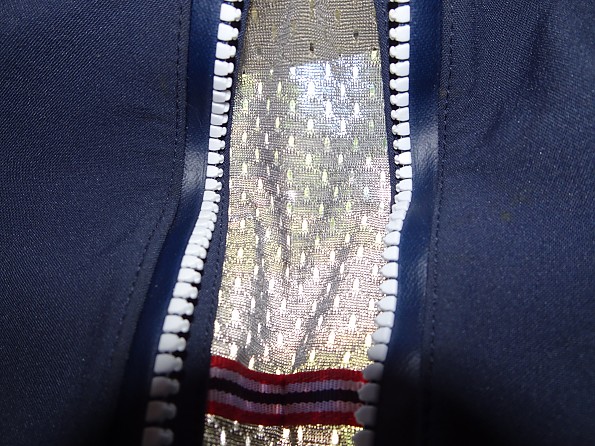 Close look at vent mesh and zipper. Note striped support bar.


First, let's take a closer look at those leg vents and zippers. You can see here how the mesh material keeps snow and debris out but is designed for maximum air movement. With a double pull on the YKK zipper you can create any sized opening exactly where you want it. The red white and blue striped support bar seen in the pic above is one of two on either leg. They prevent the opening from being stretched far enough to pull the more fragile mesh apart. A minor detail that prevents major damage.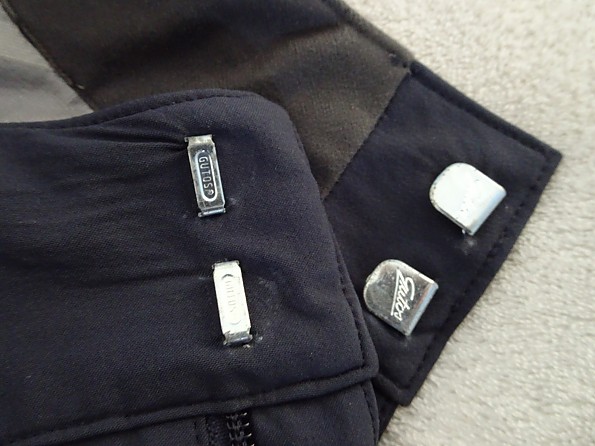 Secure double clasp at the waist. Wide band didn't roll and held up well despite the size issue.
The five pockets—two front, two rear, and one more on the right thigh—all have similar YKK zips to keep your stuff in and other stuff out. The thigh and rear pockets are also protected by a large 2-inch flap while the front waist pockets have their zips and openings angled for ease of hand access. You won't want to carry large items in these pockets, but they are great for small items you need ready access to.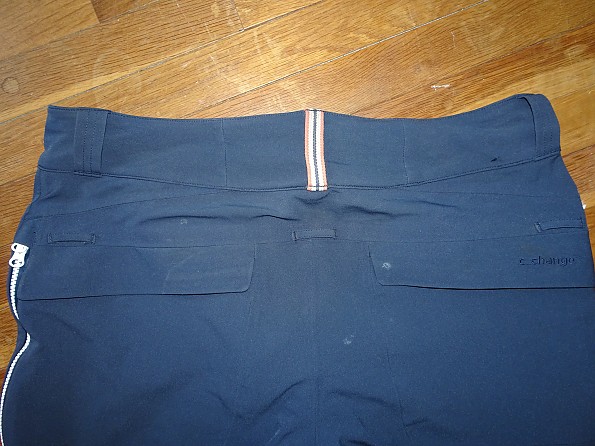 Rear pockets protected by both zipper and flap.

These extra wide 2.5-inch belt loops will accommodate pretty much whatever you've got for a belt or other gear that you need to run through them. The entire waistband is of that same size and rides comfortably flat all the way around. The soft, comfortable lining of this waistband was also a real joy, except that if it got wet from rain or sweat, it dried very slowly.
The three horizontal loops across the back were a mystery to me until Alicia contacted the Amundsen folks to find out what they were for. They are attachment points for a technical jacket the company makes which allows you to connect the two layers to keep snow out without a snow skirt.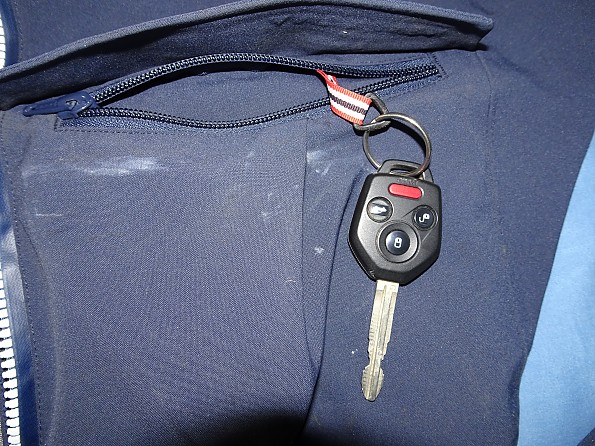 This little clip point in the lower thigh pocket really made me happy. Not worrying about losing your keys on a snowy mountain is a small, but valuable, bit of certainty I find comforting.
I guess bling counts as a feature for some, but maybe we'll give it its own category.
Bling: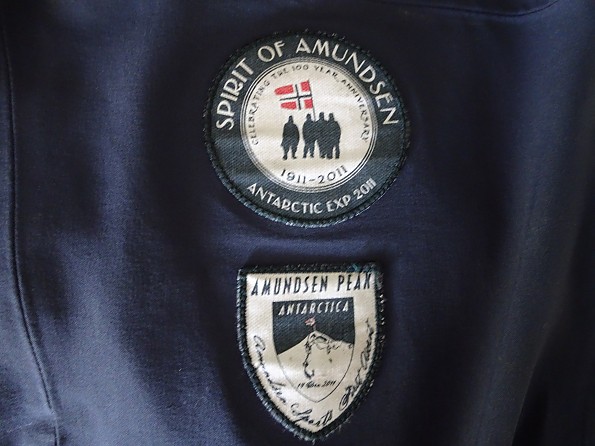 Lower left thigh.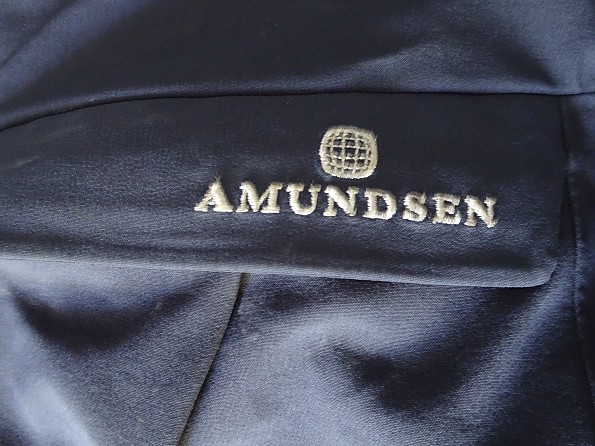 Lower right thigh pocket flap.

Construction & Durability:
Amundsen made their Peak Knickerbockers from Swiss company Schoeller Textiles' 3L fabric which is comprised of 73% polyamide, 21% polyurethane, and 6% elastane. This fabric features Schoeller's c_change technology. They compare this system to a pinecone, opening and closing in response to temperature and moisture. This material really is a key to the success of these knickerbockers at handling such a wide variety of conditions.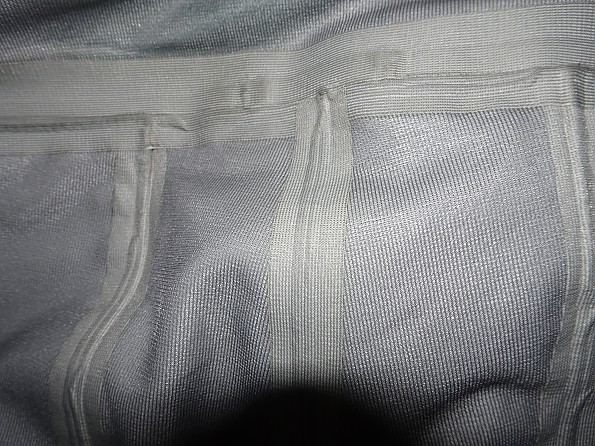 Sewn seam sealing is used throughout creating low friction waterproof seals.
The stitching and tailoring of the garment is of high quality. Seams appear visually even and show no sign of wear despite months of heavy use. The inner sewn tape seam sealing is almost a work of art, creating a functional seal while maintaining a smooth surface that neither wears nor causes friction against the body.
The solid feeling YKK zippers surprised me with their ability to keep water out even under high wind pressure. They do not appear to be of the rubberized type, so I'm not sure how they do what they do. I do know that I carried a single sheet of TP in each pocket during water resistance testing and not a one became damp.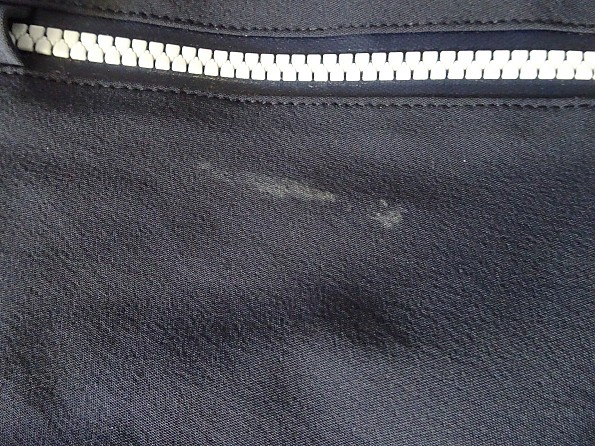 The only sign of wear after four months of heavy use are these pine pitch stains which actually are fading with continued use. Despite dealing with the winter washing machine of hiking through snow covered trees and summer bushwhacking in vicious pine forests, the Peak Knickerbockers show no other signs of wear.
Care:
Other than the waistband the material does not absorb sweat and the outside resists collecting dirt. This means that the Peak Knickerbockers require almost no washing. I used them for the entire winter season without a wash. After one spring trip left them with some pine sap stains I followed instructions and ran them on a warm, gentle setting. It didn't entirely remove the stains, but the magical 3L fabric wasn't negatively impacted that I could tell.
Conditions: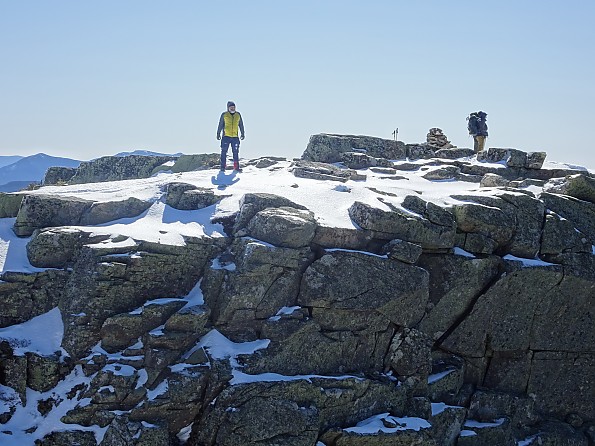 Bondcliff in the White Mountains. Photo credit to Whispers.
I didn't receive the Amundsen Peak Knickerbockers until February, but that motivated me to hit the mountains frequently during the late winter and early spring months. They were worn for numerous day hikes and snowshoe trips closer to home, but the serious winter testing involved multi-night trips to the Mahoosuc and White Mountains. As the season progressed I also wore them for day hikes as well for an overnight on the Bay of Fundy and multi-night trips to the Whites and on the Grafton Loop Trail in Maine. On these trips temperatures were in the 70s and 80s Fahrenheit during the day.
Beyond field testing I also subjected the Peak Knickerbockers to the water resistance test seen in the video above and ran them through the washer twice.
Conclusions:
As I mentioned earlier, I was expecting the Amundsen Peak Knickerbockers to perform in the winter months, but I was really surprised at the four-season application. The same breathing and venting capability that let a steam engine like me climb less sweaty in the snow made these short  pants some of the most comfortable warm weather hiking pants I've ever worn.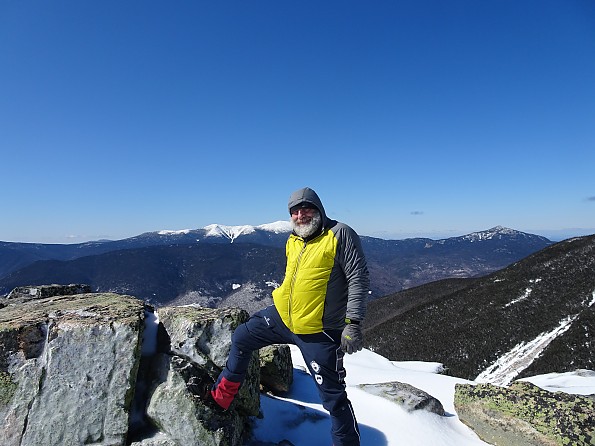 Bondcliff with Franconia Ridge behind. Smiling despite the sub-zero wind.
That ability to shield from a -20°f windchill on Bondcliff in the Whites, but also vent well enough to wear hiking through a humid forest on an 80°f day astounds me. Combining cutting edge materials with smart design and a well-executed build makes the Peak Knickerbockers seem worth their hefty $359USD MSRP. For folks headed to places where your life depends on your equipment, these knickerbockers remove a lot of doubt. For folks who are willing to pay for comfort I'd say they work pretty well, even when your life isn't on the line.
The other two issues I had were primarily a concern in warmer weather when dealing with rain or sweat. While snow was kept at bay just fine, that crotch soaking fly leak was a definite issue despite only happening in extreme rain conditions. The slow to dry waistband was really noticeable on sweaty warm weather trips. In the cold it rarely got even slightly damp, but once soaked with sweat or rain it took a long time to dry. Socks and other items would be fully recovered, but that soft lining remained damp.
Given my expectations for gear like this I still rated the Amundsen Peak Knickerbockers as Very Good despite these somewhat minor issues. A soaked crotch at the wrong time could be a real problem, but the overall performance of this garment in the field was excellent. I found they worked really well with the Amundsen Slim Fit Gaiters which are designed to attach directly to the legs of the knickerbockers. See my forthcoming review of the gaiters for full details, but I really have enjoyed hiking in this combination. In warmer weather, lighter weight gaiters or no gaiters at all were an option. Giving up some leg protection by exposing some of the lower leg really helped with keeping cool.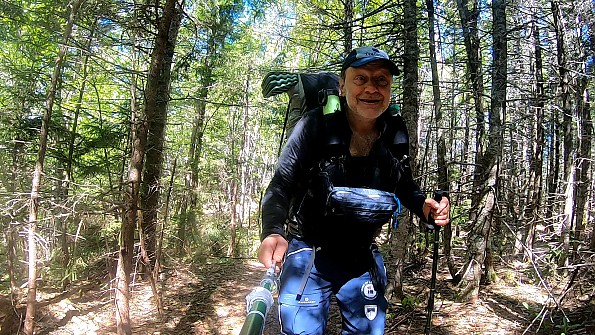 Early June on Red Rocks Trail in the Caribou Speckled Mtn Wilderness.
I'm seeing no wear despite the abuses winter hiking can entail and my summer season has involved a lot of bushwhacking and rough trail. I'm thinking that while the Amundsen Peak Knickerbockers are indeed a bit of an investment, I would expect to see long-term returns. Folks who are out there in all seasons could definitely use these in all seasons. Those who travel more rugged trails where contact with rock and wood is more frequent will appreciate the protective nature of the material and of course the Peak Knickerbockers add a bit of style to any summit photo.
Update April 21, 2021: These knickerbockers remain my first choice when heading out on trail in all seasons. I did a 10-day hike on the Cohos Trail in New Hampshire last Fall seeing heat, cold and a little rain. By the end I was convinced that this system of combining the Peak Knickerbockers with their matching gaiters and wool knickers inside was, to me at least, far preferable than the hiking pants I've worn most of my hiking life. The ventilation provided by the open side panels of the knickers, and also by opening the zippers on the gaiters, kept me feeling cooler and maybe even smelling a little better.

After continued use the Peak Knickerbockers are still looking mostly new besides a few pine tar stains. The inner lining has remained intact and still seems to do its magical temperature control thing. I still acknowledge that these short pants are a big investment, but given the function and durability I'm thinking they are worth the price.
Experience
This was my first experience with knickerbockers. I am an avid winter hiker and camper who gets to the snowy mountains when I can.
Source: received for testing via the Trailspace Review Corps (Sample for testing and review provided by Amundsen)

Your Review
Where to Buy
Help support this site by making your next gear purchase through one of the links above. Click a link, buy what you need, and the seller will contribute a portion of the purchase price to support Trailspace's independent gear reviews.
You May Like
Specs
Men's
Price
MSRP: $359.00

Materials
Stretch 3-layer fabric from Schoeller Switzerland / 73% polyamide, 21% polyurethane, 6% elastane

Women's
Price
MSRP: $359.00

Materials
Stretch 3-layer fabric from Schoeller Switzerland / 73% polyamide, 21% polyurethane, 6% elastane

Recently on Trailspace