Amundsen Peak Slim Fit Gaiters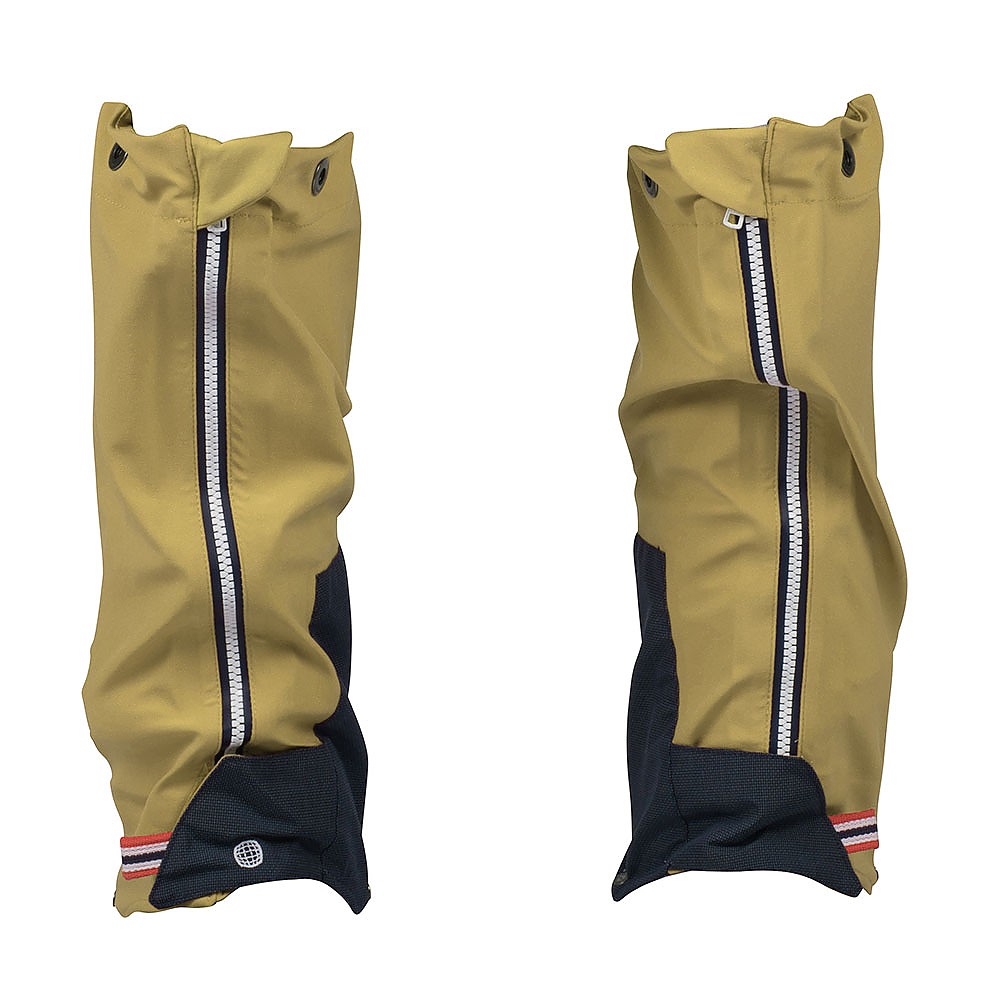 The Amundsen Peak Slim Fit Gaiters can be connected directly to the Amundsen Peak Knickerbockers or worn separately. Either way they provide protection from just below the knee to the top of the boot. Securely attached yet providing easy access to boot laces if needed. Wind, snow, and water proof to a high degree making them four-season gear.
Pros
Comfortable fit
Highly wind and water resistant
Crampon/snowshoe guards on ankles
Effective calf seal
Easy entry and exit
Access to boot laces
Inner ankle skirt
Snap on to Amundsen Knickerbockers
Cons
Postholing is their kryptonite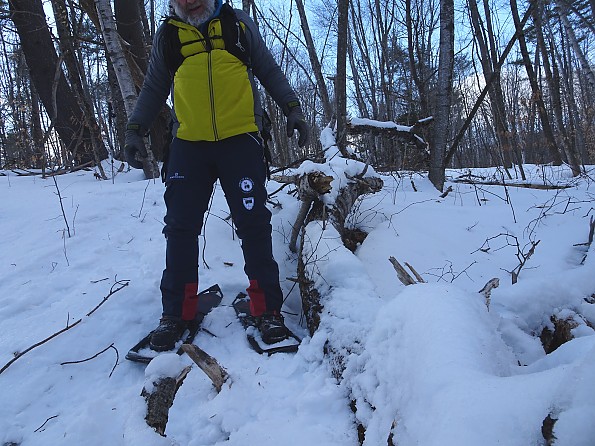 When you hear the name Amundsen you can't help but think of adventure. Amundsen Sports was started in 2010 by Jørgen Amundsen based on his family heritage. Roald Amundsen had quite a few adventurous accomplishments in his day including leading the first successful expedition to the South Pole. They say the gear they make today tries to live up to that sense of adventure and I've had some fun testing their Amundsen Peak Slim Fit Gaiters over the last year along with the Peak Knickerbockers which feature snap attachment points on their legs to connect the gaiters. While I expected them to perform in the snow I found they really are four-season gear.
Fit & Comfort: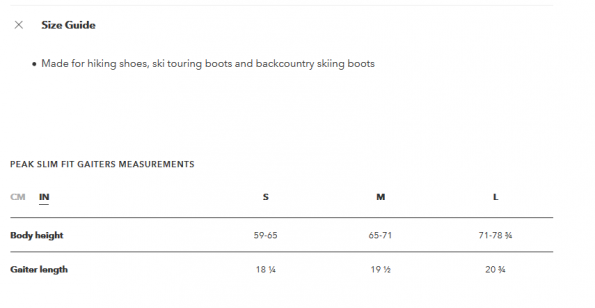 Sizing for the Amundsen Peak Slim Fit Gaiters was pretty simple and based only on body height. With an easily adjustable elastic around the top, length is all that really was important for sizing. I measure about 67" tall and about 18" from floor to hinge of the knee when sitting with it at a 90° and bare foot flat for reference. For me the Peak Slim Fit Gaiters rode comfortably, neither seeming too short nor too long. I suppose there might be some folks with odd dimensions, but in general I'd say go with the sizing chart and you'll be fine.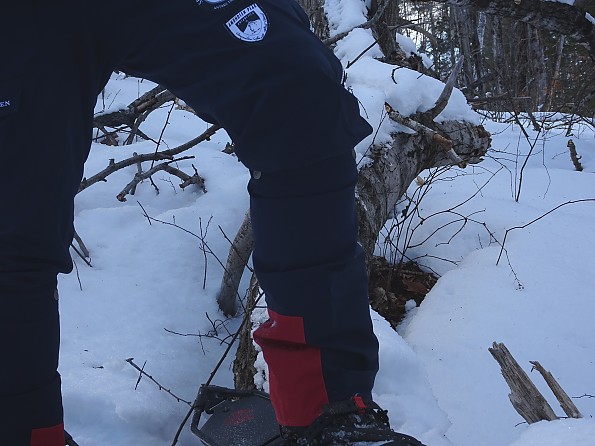 In terms of comfort there were several reasons I liked these gaiters including the fit. The snap attachment to the knickerbockers and the adjustable elastic around the top kept the Peak Slim Fits right where they were supposed to be without feeling restrictive. The four-way stretch 3L material used let the gaiters move with the legs.

Adjustability: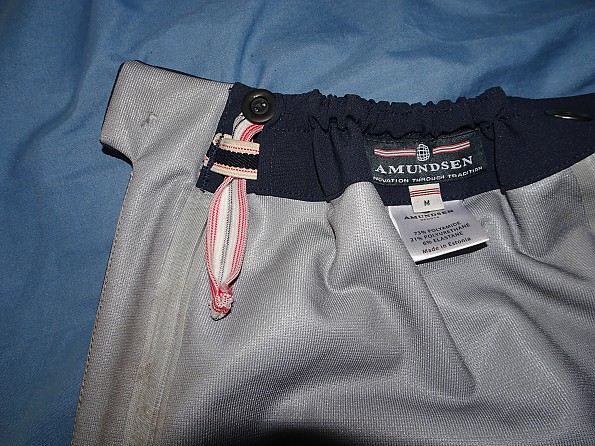 For the most part the Amundsen Peak Slim Fit Gaiters are fiddle free. You just put them on and go. They do have one adjustable part and it is a pretty good one I think. They used a buttonholed elastic band in the top cuff that fits around the top of the calf. I counted eight available holes, though there may be more as I didn't want to pull on the elastic too hard.
Combined with a button on one end this lets you set the amount of tension around the legs to the desired amount. Every leg is different, so this ability to fit the cuff to your leg means no matter your specifics, you should be able to get a tight, yet comfortable fit. As elastic tends to wear over time, losing its tension, this also will let folks tighten it down if the fit ever loosens.
I really liked the little loop for tucking the tail of the elastic into. A minor touch that showed someone was thinking. That end flopping around would be annoying and a possible source of irritation.
Water Resistance:
You may have already seen this video in my review of the Peak Knickerbockers, but if not, check this out to see what water resistance testing looks like heh.
The four-way stretch, three-layer material Amundsen used in the gaiters is the same used in the knickerbockers. It has a claimed water column rating of greater than 20,000mm, which means it is designed to withstand heavy rain and/or wet snow under high pressure. Seams are all sealed internally with a sewn in seal.
Neither melting snow nor wind driven rain posed any problems for these gaiters as far as the material itself. There was no wetting of the material even after prolonged exposure.
I'll talk about this area more later in the review, but the fit of the upper cuff around the calf needs to be mentioned in terms of water resistance. When dealing with heavy rain I have come to expect water to eventually enter from the top of my gaiters, soaking my legs.
The design of the Amundsen Peak Knickerbockers and Gaiters seems to have almost entirely resolved that issue. The two worked together so that water flowing down the upper leg kept flowing down the gaiters, even after hours of rain. I had a tiny bit of water get through a gap at the knee during my first heavy rain test, but this was minor. By making a minor adjustment to the elastic mentioned earlier I was able to close that gap. Subsequent testing showed no more leaking at all.
Breathability & Moisture: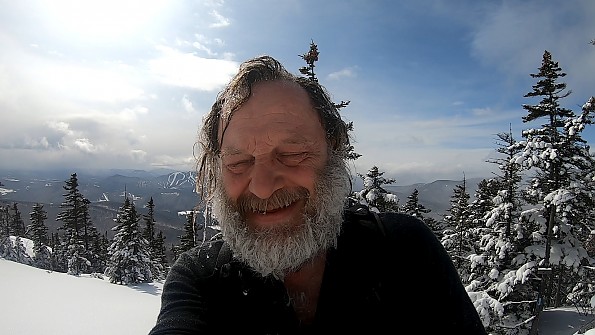 The three-layer fabric that Amundsen uses in the Peak Slim Fit Gaiters has a built-in membrane layer that despite blocking wind and water, reacts to temperature by opening or closing its pore structure. We'll look at that closer in the Construction & Durability section, but think of it as automatic louvers that close in reaction to cold and open in reaction to heat. Even in deep cold, if your body heats up the material too much it begins to let some heat vent through. The Swiss made fabric is rated as <2 RET (Resistance to Evaporative Transfer) If you follow that link you can get more details, but 0-6 RET is considered to be the Very to Extremely Good end of the scale so that less than 2 rating is top notch.
Given the body area covered and venting of the open bottom, the gaiters likely take less advantage of this heat reactive material because less heat builds up. While I could seem to feel the pores breathing in the knickerbockers I didn't get that sensation below. The somewhat loose fit of the gaiters over my boots created a lot of opportunity for air exchange out the bottom.
Wherever the moisture was going I definitely noticed that things felt drier. My upper socks which normally capture lower leg moisture felt drier when I took them off in camp.
Warmth: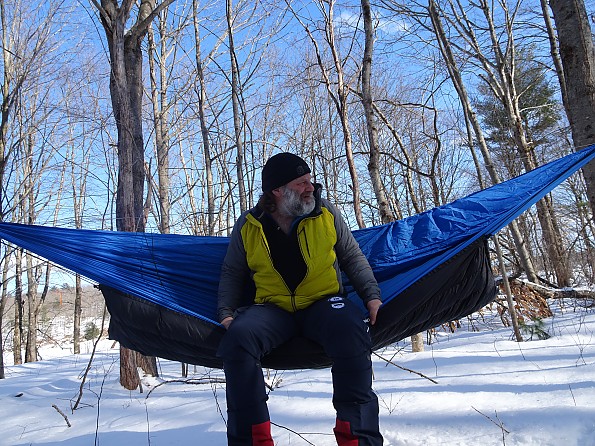 The Amundsen Peak Slim Fit Gaiters are not insulated so most of the warmth they provide comes from blocking the wind from stealing your heat. This shell effect was enough to keep my legs warm without resorting to multiple layers. Wool socks and Smartwool's Intraknit Merino 250 Thermal Bottom were plenty even in sub-zero temperatures or wind chills.
On the other end of the spectrum, warm weather testing provided me with multiple opportunities to hike in full pack on days in the mid and upper 80s. A day like that is going to be a bit wet for  a steam engine like me, yet I never felt the heat in my legs. Having worn Outdoor Research Crocodile Gaiters and Hillsound Armadillo LT gaiters in warm weather for many years I am used to paying the price for protection. The legs get steamy in there and come out partially cooked heh. I didn't get that sensation from wearing the Peak Slim Fits in warm weather. Partly that was due to the adjustability the double zipper provides. The zippers could be partially opened creating a lot of air exchange for the lower legs.
Layering:
As mentioned, I wore the Smartwool Intraknit Merino 250 Thermal Bottoms in cold weather along with my preferred double layer of wool socks. In warm weather I tried using my thinnest base layer, an old, stretched out pair of something from Champion, but found it got too soggy. I sweat a lot in warm weather so hunted down a couple pairs of Under Armour's 3/4 length Heatgear 2.0 bottoms which still got wet, but didn't feel as warm or soggy.
Eventually I found some very lightweight wool knickers that came just beyond my knees. This light wool did an excellent job of turning moisture vapor into evaporative cooling. In normal pants I'm often soaked in sweat on a hot day, but this system kept me much dryer even on really hot days.
In all cases, the gaiters draped over socks and other layers without restriction. Movement was free and there was no feeling or visual signs of friction between layers.
Abrasion: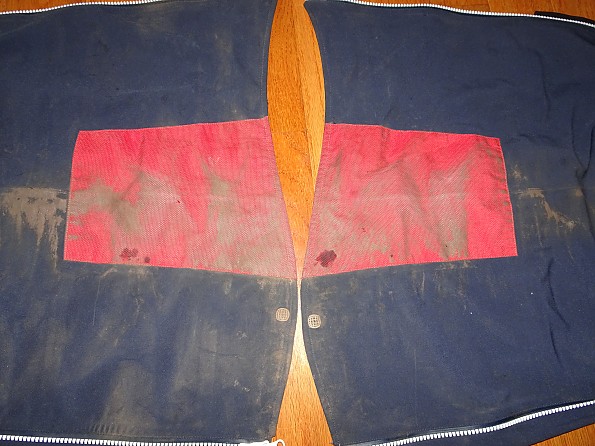 These things are meant to take abuse and they do it well. Ice, rocks, sticks and traction devices all took their shot and there is little sign of wear. The material added to the inside of the ankles to keep crampons and snowshoes from destroying that spot flexes comfortably, yet does the job well.
Function & Features:
Let's take a quick look at how the Peak Slim Fit Gaiters attach directly to the Peak Knickerbockers.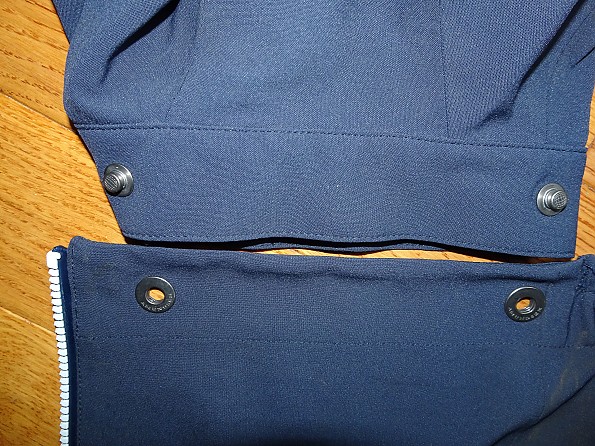 These two snaps make a solid connection that totally eliminates any issues with gaiter sag. Gravity will naturally pull down on gaiters with each step compounding the effect. Connecting them to the knickerbockers, much like connecting stockings to a garter, takes gravity out of the equation. Gaiters stayed where they belonged on trail. In camp or on a break they could be entirely disconnected other than the snaps, letting air flow, but not risking losing or forgetting them.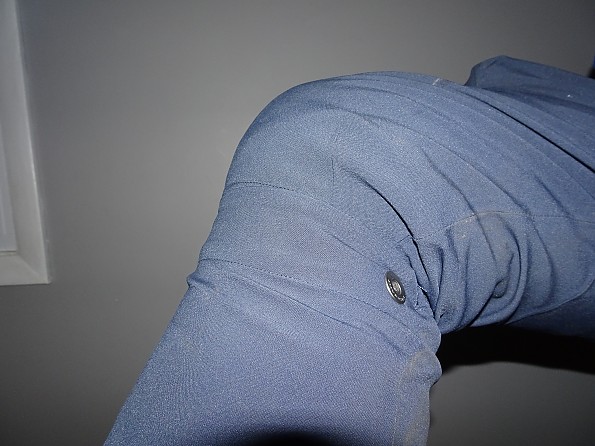 I have to talk about that adjustable upper cuff again because it counts as feature and function, not just comfort. When attached to the Peak Knickerbockers and properly adjusted, this cuff kept my legs dry in a deluge. If water pouring down my body in a driving wind couldn't find its way through you know snow didn't have a chance. Even when snowshoeing in deep powder or in blowing wind, snow didn't get inside. Considering it did this without needing to be painfully tight or restrictive in any way I'd say it is a feature worth mentioning several times.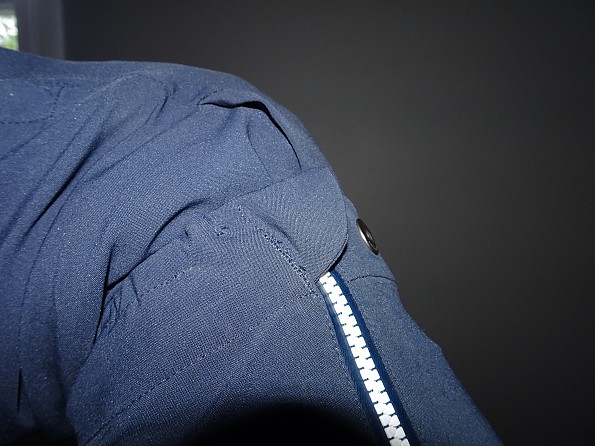 The double pull zipper running down the front was easy to attach and pull. A top zipper garage kept the pull from snagging on things or icing over. This YKK Vislon 5VS zipper combined with the flap of 3L material behind it did an amazing job of keeping water out. As seen in that video earlier, I subjected these gaiters to some serious wind driven rain and this zipper did its job.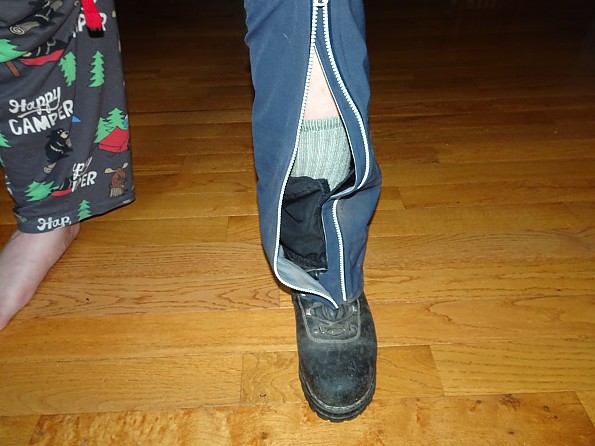 Amundsen could have stopped there, but they added a solid clasping snap at the top and the bottom of the zipper. These snaps help to secure things when  you've battened down the hatches, but they also serve another function. In warmer weather you can open the top, bottom or both ends of the zipper to trade a little protection for a lot of venting and the snaps keep the gaiter in place.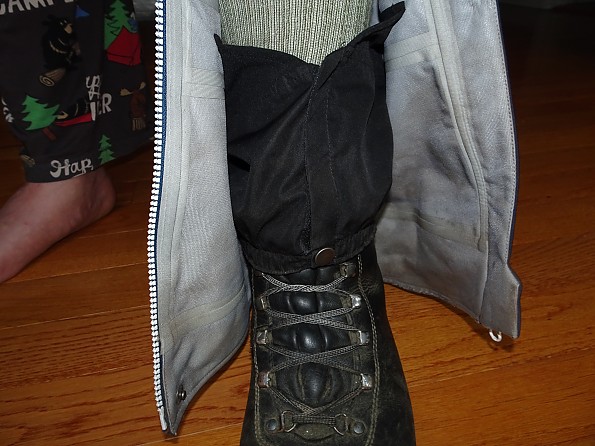 One other feature I really liked was the internal ankle skirt. With a snap at the bottom of its front hook/loop closure, it held securely. This acted as a last line of defense, keeping any debris or snow from sneaking into my boots in most situations.
Construction & Durability:
Amundsen made their Peak Slim Fit Gaiters from Swiss company Schoeller Textiles' 3L fabric which is comprised of 73% polyamide, 21% polyurethane, and 6% elastane. This fabric feature's Schoeller's c_change technology. They compare this system to a pinecone, opening and closing in response to temperature and moisture. This material is a key to the success of these gaiters at handling such a wide variety of conditions.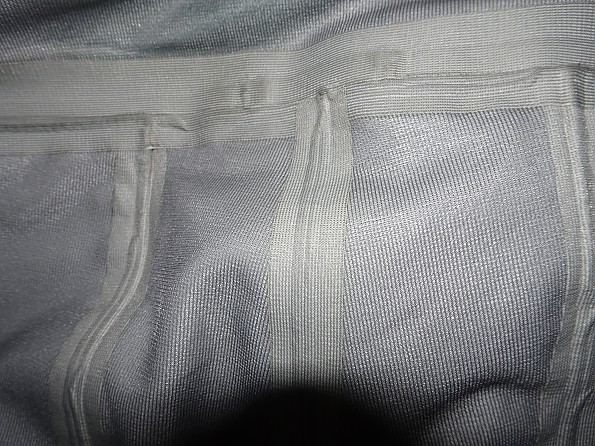 The stitching and tailoring of the garment is of high quality. Seams appear visually even and show no sign of wear despite months of heavy use. The inner sewn tape seam sealing is almost a work of art, creating a functional seal while maintaining a smooth surface that neither wears nor causes friction against the body.
As far as durability (pun warning) I don't think I've even begun to scratch the surface when it comes to wearing the Peak Slim Fit Gaiters out. Despite banging and scraping off of ice, rocks, and sticks for months of use they show some dirt, but little wear.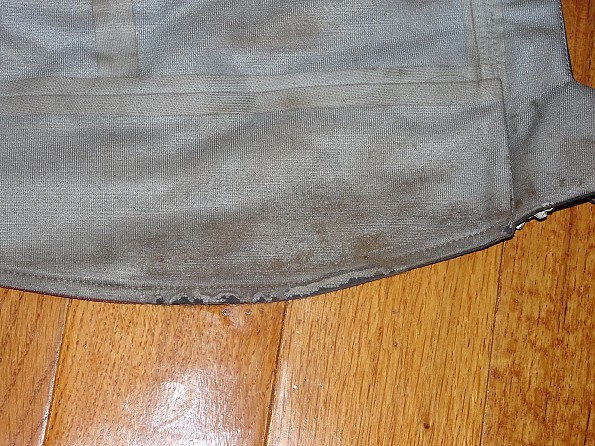 This closeup of the bottom cuff edge shows the only real wear I can find. Opposite snowshoes seem to have chewed it a bit or perhaps rock scraping. It really is a tiny bit of wear and doesn't appear like it is spreading at all. Considering what I know I've done in these things I take this as a sign they will hold up for at least a few years of heavy use or perhaps a lifetime for less frequent users.
Ease of Use:
There was nothing about using the Amundsen Peak Slim Fit Gaiters that I didn't find to be intuitive. The different color of the inner ankle guards made it easy to see which leg to put them on. Lacking any underfoot or lace attachments it was just a matter of affixing the inner boot sleeve snap and hook/loop and then pulling up the zipper, snapping top and bottom along the way. The top cuff adjustment is a one-time thing unless you change your layers or body significantly. Taking them off was again very simple and there was the option to leave them attached via the snaps if desired.
Conditions: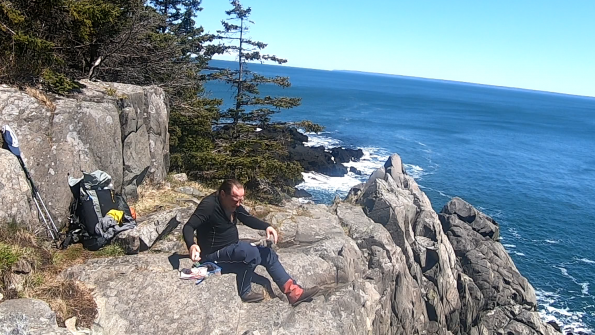 The Peak Slim Fit Gaiters have been tested for over a year due to an odd combination of events. During that time I used them almost exclusively with the Peak Knickerbockers, though I did try them a few times alone. Winter day hiking and multi-day trips exposed the gaiters to sub-zero temperature and wind chill, deep snow, icy crusted snow, and a bit of slush. Warm weather hiking saw the gaiters accompany me on multi-day treks in the Whites and Mahoosucs of Maine in weather than ranged from just above freezing to the high 80s. They were also my attire of choice for a summer family Katahdin ascent, a hundred miles or so on the Cohos Trail in New Hampshire, and just about every other hike I've been on over the last year.
Conclusions:
This extensive testing has shown me that these gaiters can take abuse in cold weather or hot. Combined with the Peak Knickerbockers they worked as a team to keep snow, rain, and general trail debris at a safe distance. Comfort is a word that comes readily to mind when thinking about the experience. The open bottom combined with the breathable three-layer fabric kept my socks drier, yet kept out snow in most all situations.
I did find the lack of an underfoot strap or even a lace hook unusual. Previous versions of the Peak Slim Fit Gaiter had both, but the current model stayed in place pretty well without. The one situation where they failed was postholing without snowshoes on my feet. Sinking into deep snow with snowshoes didn't cause any problems, but without them the Peak gaiter slid easily up the leg, taking the inner ankle skirt with it. That left an exposed boot collar to grab snow on the way up. The Amundsen website mentions this feature, so I may have had a test model that was missing the strap.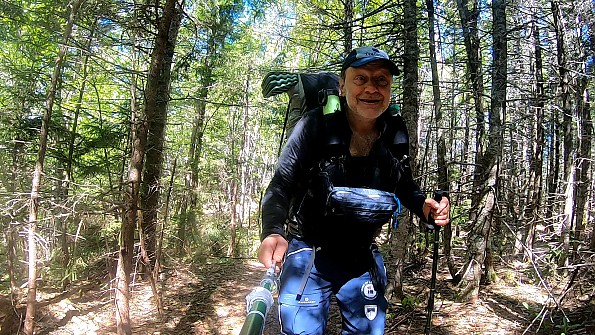 The breathable 3L fabric was not very thick, but it did provide some protection. Stomping through ice crusted snow was no issue and minor rock contact was at least partially cushioned. On a warm weather trip I think the Peak Slim Fit Gaiters kept me from impaling my leg on an unseen pointy stick hiding on the far side of a step over. I ended up with a bloodless skin break that I discovered getting undressed for bed that night which I'm pretty sure would have been a deep wound if not for the gaiters taking the brunt of the contact.
Having recently hiked using the Hillsound Armadillo LTs I previously reviewed I have really noticed how much heat and moisture they trap compared to Peak Slim Fits. The open bottom design combined with the breathable material and ventable zippers really makes a difference.
Combined with the Peak Knickerbockers they made a comfortable, functional, outer shell that left me feeling protected, but not impeded or hindered in my actions. The double zip made it easy to access boot laces by just opening the bottom a few inches. Overall I was pretty happy with the Peak Slim Fits and have no qualms about recommending them, along with the Peak Knickerbockers, to folks who spend a lot of time on rugged trails or off trail completely.
Experience
I've been using gaiters in all four seasons for many years now. I prefer to have a little lower leg protection against contact with obstacles on trail and when bushwhacking. Previously I have reviewed the Hillsound Armadillo LT and Outdoor Research Crocodile Gaiters.
Source: received for testing via the Trailspace Review Corps (Sample for testing and review provided by Amundsen)

Your Review
Where to Buy
Help support this site by making your next gear purchase through one of the links above. Click a link, buy what you need, and the seller will contribute a portion of the purchase price to support Trailspace's independent gear reviews.
You May Like
Specs
| | |
| --- | --- |
| Price | MSRP: $149.00 |
| Material | Stretch 3-layer from Schoeller Switzerland, c_change membrane / 20.000mm watercolumn / 12% polyamide, 30% polyurethane, 58% polyester |
Recently on Trailspace